While it has been a bumpy week for urea, there is no indication that the market will deviate from the current upward trend.
The PWNI saw a modest gain to 161.59 from 160.51. Profercy's quoted price ranges for urea saw a small depreciation in the Yuzhnyy index value, while the Egyptian and Arab Gulf ranges saw either an increase or no change on last week. Indeed, the conclusion of today's Pakistan purchasing tender above $350pt cfr confirmed the stability in the urea market in the East.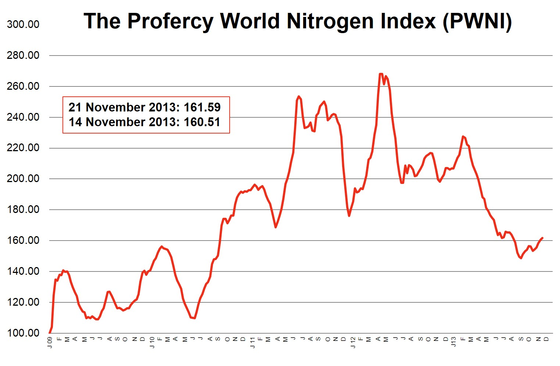 Notably, Yuzhnyy ammonia values were responsible for 0.75 of the PWNI increase this week. While the ammonia market has been weak of late (as witnessed by the recent drop in the Tampa cfr price), supply curtailments in North Africa and elsewhere have seen high spot prices paid by those requiring prompt cargoes from the Black Sea. This saw an increase in the range for ammonia prices in the latest Profercy Nitrogen Weekly Report. Without the increase on last week, the PWNI would have seen an even more modest increase of just 0.33 points.
---
The Profercy World Nitrogen Index is published every week and is based on price ranges provided by the Profercy Nitrogen Service. This includes prilled and granular urea, UAN, AN, ammonium sulphate and ammonia. For more detailed information on specific products and individual markets, please sign up for a free trial or for more information on the Profercy Nitrogen Service, please click here.
The methodology behind the Profercy World Nitrogen Index can be found here.