The last full week of business in 2013 has been relatively quiet. Following the run-up in prices in recent weeks, Yuzhnyy prilled urea prices and Egyptian granular urea prices fell back. Despite an increase in Profercy's price range for Yuzhnny ammonia, the Profercy World Nitrogen Index fell back to just over 170.
A more detailed analysis of the PWNI throughout 2013 is available here, with the methodology behind the Index available here.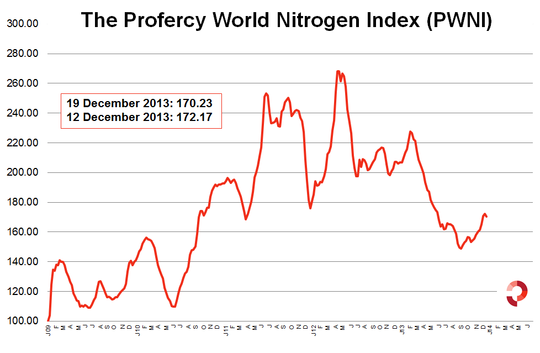 ---
The Profercy World Nitrogen Index is published every week and is based on price ranges provided by the Profercy Nitrogen Service. This includes prilled and granular urea, UAN, AN, ammonium sulphate and ammonia.
Profercy's Nitrogen Service includes daily news, weekly analysis and monthly forecast reports. For more detailed information on specific products and individual markets, please sign up for a free trial or for more information on the Profercy Nitrogen Service, please click here.
The methodology behind the Profercy World Nitrogen Index can be found here.