As we noted earlier in the week, urea markets have been firm since December, with prices in the US Gulf having jumped nearly 21% since the beginning of the year.
This week saw the market cool. While demand is evident, buyers paused and were not prepared to meet earlier price increases. The slight change in mood primarily affected prilled urea, although the impact was felt for granular in the East and West. Consequently, Profercy's World Nitrogen Index saw a modest decrease (0.23) and is currently 191.46.
Only ammonium nitrate saw an appreciation in the range quoted in Profercy's Weekly Nitrogen Report largely due to limited export availability from the FSU.
The cooling in the urea market this week does not come as a surprise and is in line with Profercy's latest short-term forecast for urea. The report was published through the Nitrogen Service on Monday, with a brief overview of the approach available here.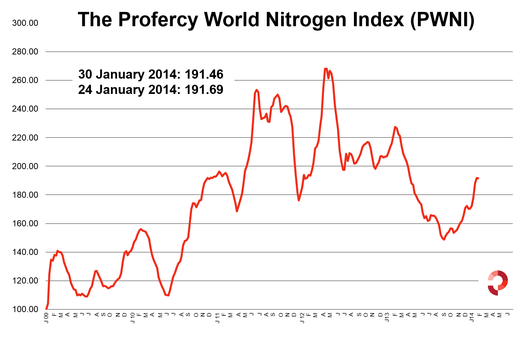 ---
The Profercy World Nitrogen Index is published every week and is based on price ranges provided by the Profercy Nitrogen Service. This includes prilled and granular urea, UAN, AN, ammonium sulphate and ammonia.
Profercy's Nitrogen Service includes daily news, weekly analysis and monthly forecast reports. For more detailed information on specific products and individual markets, please sign up for a free trial or for more information on the Profercy Nitrogen Service, please click here.
The methodology behind the Profercy World Nitrogen Index can be found here.