Profercy's World Nitrogen Index increased by a massive 10 points this week on the back of strong gains in global urea prices.
With both the US and Europe competing for urea, fob prices for Egyptian granular urea surged by $40pt. The latest Indonesian sales tender for granular product saw a price increase of over $60pt on the previous tender.
While granular prices have driven the increase in the PWNI, prices for prilled urea have also increased, partly in anticipation of switching from granular in some urea markets. The top-end of Profercy's price range for Yuzhnyy prills increased by $25pt.
There have also been increases for both UAN and ammonium nitrate prices, with ammonia proving to be the only negative element of Profercy's Nitrogen Index. The index has now increased by 18 points since the beginning of the year and now stands at 188.29.
For full price details and analysis of nitrogen prices in all major markets, readers can request a free trial of Profercy's Nitrogen reports. These provide daily updates, weekly analysis and price ranges, in addition to monthly forecasts.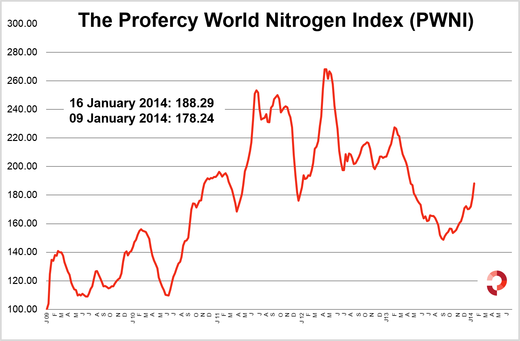 ---
The Profercy World Nitrogen Index is published every week and is based on price ranges provided by the Profercy Nitrogen Service. This includes prilled and granular urea, UAN, AN, ammonium sulphate and ammonia.
Profercy's Nitrogen Service includes daily news, weekly analysis and monthly forecast reports. For more detailed information on specific products and individual markets, please sign up for a free trial or for more information on the Profercy Nitrogen Service, please click here.
The methodology behind the Profercy World Nitrogen Index can be found here.