Despite ups and downs in the US over the last week, urea markets remain firm. With price increases witnessed in all major export areas and markets, the Nitrogen Index moved up three points. The increase of three points this week is modest compared to those of the last two weeks – over 6 and 10 points respectively. 
While urea has again driven the increase in the PWNI, the market also remains firm for both UAN and ammonium nitrate. Black Sea prices for both these products are utilised in the PWNI.
The only downward pressure on the Nitrogen Index this week was again the Yuzhnyy ammonia price. This saw the low end of Profercy's quoted range down a modest $5pt.
Profercy's latest urea forecast is due out shortly and will be provided to subscribers of the Profercy Nitrogen Service. Those interested in the service can apply for a free trial by clicking here.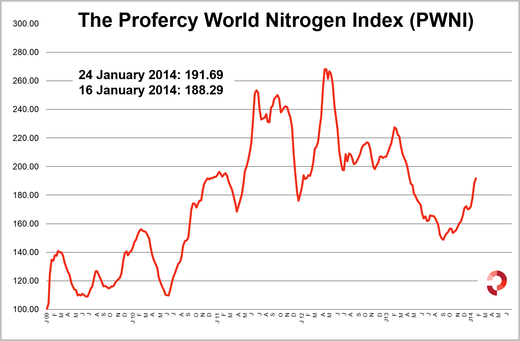 ---
The Profercy World Nitrogen Index is published every week and is based on price ranges provided by the Profercy Nitrogen Service. This includes prilled and granular urea, UAN, AN, ammonium sulphate and ammonia.
Profercy's Nitrogen Service includes daily news, weekly analysis and monthly forecast reports. For more detailed information on specific products and individual markets, please sign up for a free trial or for more information on the Profercy Nitrogen Service, please click here.
The methodology behind the Profercy World Nitrogen Index can be found here.