It has been a challenging week for many urea markets despite the continuation of healthy granular prices in the USA. The bottom end of Profercy Nitrogen's price quote for Yuzhnyy prilled urea fell by a further $10pt, with the low end of the quoted range for Egyptian granular falling by a greater amount.
However, other nitrogen products (such as Black Sea UAN and Yuzhny ammonia) saw price improvements, while others prices for nitrogen products remained stable. The gains for UAN and ammonia products did not counter the drop in urea prices, with urea prices forcing the PWNI to fall by 2.47 points to 188.35. This is the first time since mid-October that the PWNI has fallen in two consecutive weeks.
The downward trend is more evident when the urea elements of the PWNI are separated from other nitrogen products. The black line on the graph below is derived from Profercy's separate urea index and is based on the price ranges for Yuzhnyy prills, Egyptian granular and Middle East granular. The fall in urea prices saw a 4.64 point fall in the Urea index – nearly twice the fall of the Nitrogen Index.
The trend is normally very similar to the Nitrogen Index, primarily because urea has a heavy weighting in the nitrogen index as the most traded nitrogen product.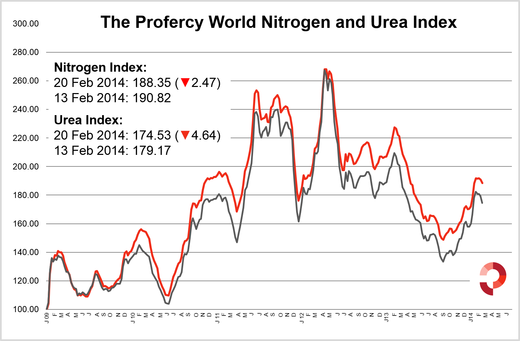 ---
The Profercy Nitrogen Service provides daily updates, weekly analysis and monthly forecasting on global nitrogen markets, alongside key prices for all major products and markets. This includes prilled and granular urea, UAN, AN, ammonium sulphate and ammonia.
Free trials of all Profercy's fertilizer market reports are available here, including Profercy Nitrogen, Profercy Phosphates & NPKs and Profercy Potash.
The methodology behind the Profercy World Nitrogen Index can be found here.