News emerged this week that CHS, a major US co-operative, was delaying a decision on its proposed urea project in Spiritwood, North Dakota. Commenting in the local Jamestown Sun newspaper, a company spokesperson noted that:
"At the current cost estimate, the project would not generate the targeted returns on capital and would not be viable".
The nitrogen facility was listed as an 'uncertain' project in Profercy's latest long term outlook for urea and the news adds to the list of US and Canadian projects cancelled or put on hold this past year. Escalating construction costs plus lower nitrogen prices have played a key role throughout offsetting the expected benefits of relatively cheap shale gas.
Looking beyond the USA, a brief insight into Profercy's mid-term supply forecast is provided in the graph below. Our analysis suggests that while projects currently in the public domain have the potential to provide a 10%pa urea capacity increase in 2016 and 2017, the likelihood is that less than 4% pa increases will be seen.
A full assessment of US projects and expansions is available in Profercy's Urea Outlook to 2030 report, alongside detailed analysis of global supply, demand and trade. The report also offers price forecasts for all major export and import origins. The report is available now, with more information available here.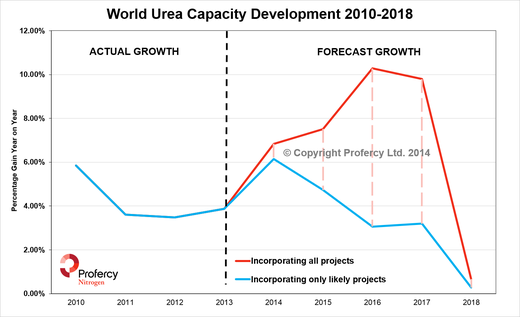 About Profercy's Long Term Forecasts
Published annually since 2005, the latest report adds to Profercy's catalogue of long term forecasts. The reports have been well received for nearly 10 years and are vital reading for all those affected by changes in urea and nitrogen prices across the world.