Profercy's Nitrogen Index fell over 6 points this week – the greatest fall since August last year. The temporary stability in urea markets seen in April is now a distant memory. Indeed, Middle East granular urea prices fell by a range average of  $25pt this week. Egyptian prices have come under similar pressure with European markets losing interest as season end approaches.
Elsewhere, the impact of Chinese urea continues to be felt well before the low export tax window opens in July. Prilled urea has been sold as far afield as East Coast Mexico.
It is worth highlighting again that many in the market believe ammonia prices to have peaked. Further evidence of this came yesterday with the news that a major monthly contract price for ammonia was concluded $40pt lower for June than the agreed May price.
At 157.41, Profercy's Nitrogen Index is now 35 points below the year high seen at the end of February. 
For further information and market analysis on nitrogen markets, a free trial of the Profercy Nitrogen Service can be obtained by clicking here and providing your details.
[tabs][tab title="Profercy Nitrogen Index – 2012 Onwards"]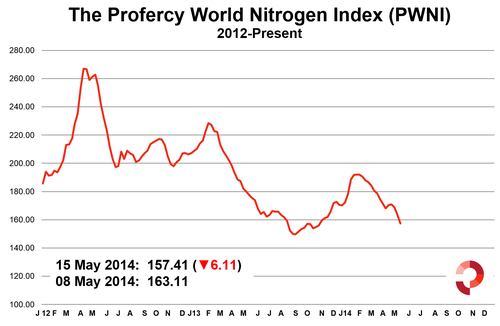 [/tab][tab title="Profercy Nitrogen Index – 2009 Onwards"]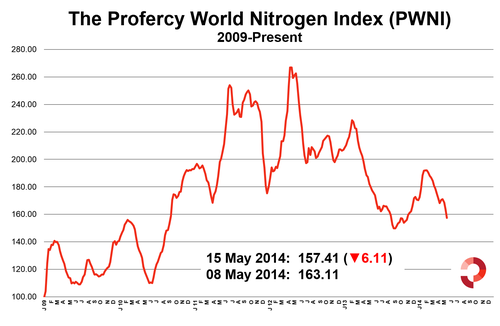 [/tab][/tabs]
The Profercy World Nitrogen Index is published every week and is based on price ranges provided by the Profercy Nitrogen Service. This includes prilled and granular urea, UAN, AN, ammonium sulphate and ammonia.
Profercy's Nitrogen Service includes daily news, weekly analysis and monthly forecast reports. For more detailed information on specific products and individual markets, please sign up for a free trial or for more information on the Profercy Nitrogen Service, please click here.