Lower urea prices have been evident over the last week, forcing Profercy's Nitrogen Index down 5 points – the largest single drop this year. The fall has been driven by easing urea prices in the Middle East, where netbacks for US cargoes have fallen further, and by the notable drop in Egyptian prices. Indeed, our quoted range for Egyptian granular urea was down by around $30pt on last week.
The bearish sentiment in the market remains despite a number of nitrogen production shutdowns in Ukraine affecting urea, ammonia and ammonium nitrate production. While some of the shutdowns in Ukraine are a consequence of low urea prices and production economics, further shutdowns have taken place owing to the continued turbulent position in the country. This is one of the factors supporting  prilled urea prices in the Black Sea and Baltic for the moment.
The Index has now fallen to 163, bringing an end to the brief rally in April that was aided by high Egyptian and US Gulf prices.
[tabs][tab title="Profercy Nitrogen Index – 2012 Onwards"]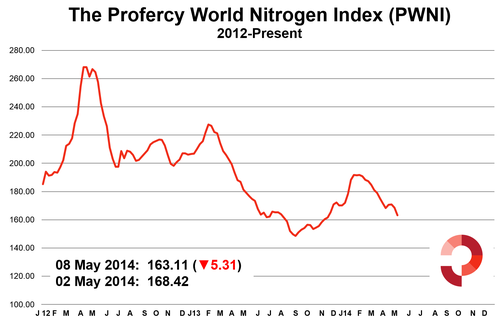 [/tab][tab title="Profercy Nitrogen Index – 2009 Onwards"]
The Profercy World Nitrogen Index is published every week and is based on price ranges provided by the Profercy Nitrogen Service. This includes prilled and granular urea, UAN, AN, ammonium sulphate and ammonia.
Profercy's Nitrogen Service includes daily news, weekly analysis and monthly forecast reports. For more detailed information on specific products and individual markets, please sign up for a free trial or for more information on the Profercy Nitrogen Service, please click here.