In line with expectations, Profercy's Nitrogen Index fell back over two points to 168 this week. The decrease was primarily a consequence of our quoted price range for Egyptian granular urea falling by $15pt fob. In addition, the low end of Profercy's price quote for Middle East granular urea fell by the same amount.  Despite prices for granular urea easing, the fall in the Index was limited by price stability for prilled urea in the West for May.
The outlook for May and June appears negative for suppliers with the recent downturn in US granular urea prices providing evidence of this. As we noted online yesterday, second half May barges have fallen to around $330ps ton fob, with June lower.
It is also worth noting that there is speculation that the recent stability in ammonia markets may be coming to end despite high prices being achieved by a producer this week.
[tabs][tab title="Profercy Nitrogen Index – 2012 Onwards"]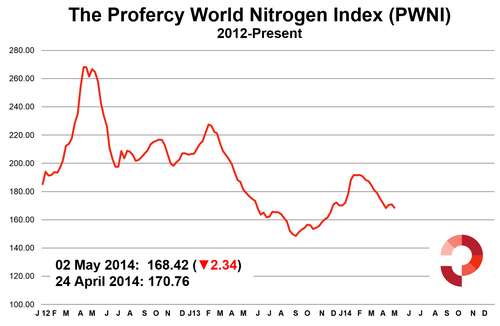 [/tab][tab title="Profercy Nitrogen Index – 2009 Onwards"]
The Profercy World Nitrogen Index is published every week and is based on price ranges provided by the Profercy Nitrogen Service. This includes prilled and granular urea, UAN, AN, ammonium sulphate and ammonia.
Profercy's Nitrogen Service includes daily news, weekly analysis and monthly forecast reports. For more detailed information on specific products and individual markets, please sign up for a free trial or for more information on the Profercy Nitrogen Service, please click here.
The methodology behind the Profercy World Nitrogen Index can be found here.