US prompt values ease, tempering Nitrogen Index
Supply problems drag on, limiting product available in the short term
Big week for urea as India books nearly 1.5m. tonnes of prills at $275-280pt cfr
CAN prices up in Europe, Ammonia prices set to increase
Urea modestly firm, while US prompt price eases
The global urea market continues to feel the impact of supply constraints in the Middle East, North Africa and most recently Latin America. With supply cut, demand has been sufficient to support prices for August product in key markets. This is despite some concerns in the market that farmers in the US and Latin America may limit volumes purchased in the coming months due to the recent dip in corn prices.
Although the urea market is modestly firm, the Nitrogen Index eased back by nearly two points to 159.74. This is primarily owing to reduced netbacks available to Middle East contract cargoes in the US Gulf this week following a fall in prompt barge prices there. With August approaching, our prompt US Gulf barge quote dropped some $30ps ton.
India buys big at low China fob prices
India moved swiftly this week to purchase up to 1.5m. tonnes of prilled urea through the third  purchasing tender of the year. Nearly 4m.tonnes of urea were offered at prices up from $274pt cfr. 10 companies agreed to meet the lowest offers with minor price changes factored in to accommodate differing discharge ports.
As widely anticipated, the majority of product offered was of Chinese origin. Large volumes were available at Chinese ports in advance of the tender. It is understood that there is continued disquiet amongst producer groups in China regarding the prices offered. The producer's association is pressing for prices over $270pt fob China, but the Indian cfr price reflected $10pt below this.
It is worth noting the unique nature of this trade and its limited influence on global urea prices. Put simply, China is the largest producer of prilled urea, with India the only major market for large volumes of this product.
CAN up in Europe; Tampa Ammonia rollsover
Looking to other nitrogen products, the week saw an increase in CAN prices in Europe and a rollover of the monthly Tampa ammonia price between a major Trinidadian producer and US consumer. Ammonia prices are now set to increase.
As ever, further information regarding movements in global fertilizer markets can be found in Profercy's latest Weekly Nitrogen Report (published every Thursday). To apply for a free trial of Profercy's Nitrogen Service, please contact us here. The service covers all major nitrogen products and also provides regular market updates and forecasts.
[tabs][tab title="Profercy Nitrogen Index – 2012 Onwards"]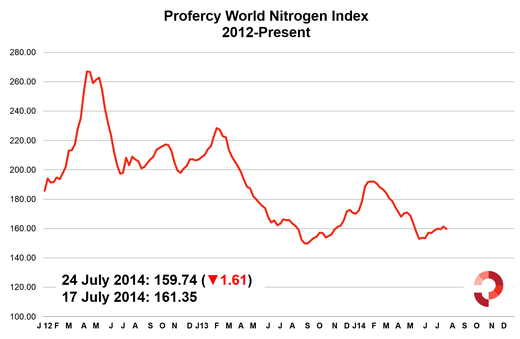 [/tab][tab title="Profercy Nitrogen Index – 2009 Onwards"]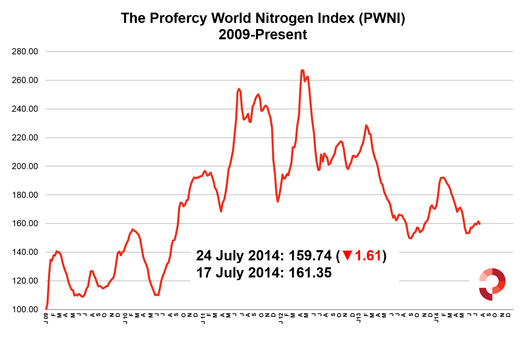 [/tab][/tabs]
Methodology
The Profercy World Nitrogen Index is published every week and is based on price ranges provided by the Profercy Nitrogen Service. This includes prilled and granular urea, UAN, AN, ammonium sulphate and ammonia. A full methodology can be found here.
Free Trials of the Profercy Nitrogen Service
Profercy's Nitrogen Service includes daily news, weekly analysis and monthly forecast reports. For more detailed information on specific products and individual markets, please sign up for a free trial or for more information on the Profercy Nitrogen Service, please click here.