North African prices up over $10pt for August product
Arab Gulf prices up $17 on improved US prices and slim availability
Big week for Chinese prilled producers as prices gain
Ammonia set for big price increases
Limited supply pushes North African granular prices up $10pt, Arab Gulf gran up $17pt on back of US gains
Global nitrogen markets remain firm, with urea leading the charge and ammonia set to follow. Profercy's World Nitrogen Index gained a further 3 points this week with further price increases for granular urea worldwide. Supply cutbacks have been a running theme in the West for both prilled and granular product for some time now and continue to support the market.
Bolstering the Nitrogen Index this week was a jump of over $10pt in Profercy's Egyptian granular urea quote. Gas supply issues in Egypt and domestic demand for product continue to limit product available to the export market. Hence, traders moved early in the week to secure the small volumes available.
For the second week, improving prices in the US Gulf supported a further increase in our price quote for Arab Gulf granular urea. This rose by nearly $20pt basis US netbacks. The US market has seen prompt prices increase, while an uptick in prices for September is encouraging the bulls in the current market.
China prilled urea gains $15pt
Profercy published the graph below online last week, noting that Chinese prilled urea was set to follow the price appreciation for Chinese granular. While the latter is more attractive to global urea markets, with the largest single market for the lower grade prills being India, prilled prices have now gained at least $15pt in the last week.
One to watch: Ammonia set for big price increases
Ammonia prices have gained steadily over recent weeks with ongoing supply problems in the FSU supporting prices. Many buyers have opted to secure product ahead with little, if any, product available from major export origins for August.
Ammonia prices in the Arab Gulf have now comfortably surpassed $500pt fob for September product. The ammonia market is relatively small compared to the market for urea, with fewer export origins offering product. As such, the increase in Arab Gulf prices for September points to significant price increases for FSU product for September, and equally the Tampa cfr level due to be settled later this month.
[tabs][tab title="Profercy Nitrogen Index – 2012 Onwards"]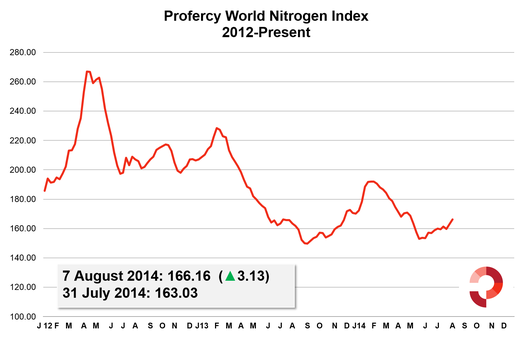 [/tab][tab title="Profercy Nitrogen Index – 2009 Onwards"]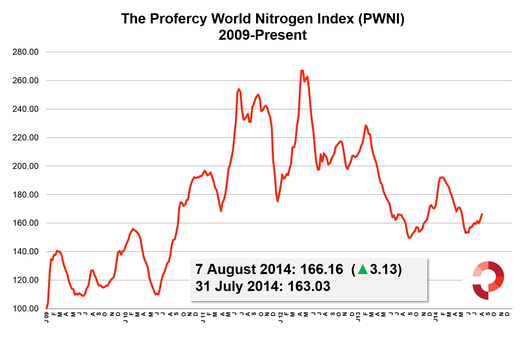 [/tab][/tabs]
---
Profercy World Nitrogen Index: Methodology
The Profercy World Nitrogen Index is published every week and is based on price ranges provided by the Profercy Nitrogen Service. This includes prilled and granular urea, UAN, AN, ammonium sulphate and ammonia. A full methodology can be found here.
Free Trials of the Profercy Nitrogen Service
Profercy's Nitrogen Service includes daily news, weekly analysis and monthly forecast reports. For more detailed information on specific products and individual markets, please sign up for a free trial or for more information on the Profercy Nitrogen Service, please click here.