Price gains for prilled and granular urea support a further increase in the Nitrogen Index
First ever Chinese urea cargo sold to the EU
Middle East ammonia sees price gains with producers confident
Urea markets remain bullish and prices have risen again for granular urea in the Middle East and in China. The market has now seen urea prices rise by up to 25% since the Q2 market floor. Prills have followed with Chinese prilled urea prices now $25pt higher than before July's Indian purchasing tender. Consequently, Profercy's World Nitrogen Index has moved up 15 points since the 22 May low when Yuzhnyy prills were around $280pt fob.
The oft-mentioned supply cutbacks continue to provide producers with comfortable positions with few in the market expecting the situation to change in the short term. Chinese producers have secured higher prices for September, with Middle East granular producers also achieving higher spot sales.
First Chinese urea cargo destined for Europe
This year has seen Chinese granular product more readily accepted in the West, particularly in the USA. Latest reports from Spain now suggest that a major cargo of Chinese prilled urea has been purchased – the first ever large cargo of Chinese prilled product destined for the EU.
Ammonia: Middle East gains point to higher FSU prices and Tampa cfr increase
This week's Nitrogen Index partly masks the firm nature of global ammonia markets, with Middle East prices not included in the Index. Middle East ammonia has seen notable price appreciation in the last two weeks, reflecting tight global supplies. The increases are expected to be reflected soon in Western prices, including the influential Tampa cfr price as well as the Yuzhnyy ammonia price utilised by Profercy's Index.
Profercy's World Nitrogen Index
[tabs][tab title="Profercy Nitrogen Index – 2012 Onwards"]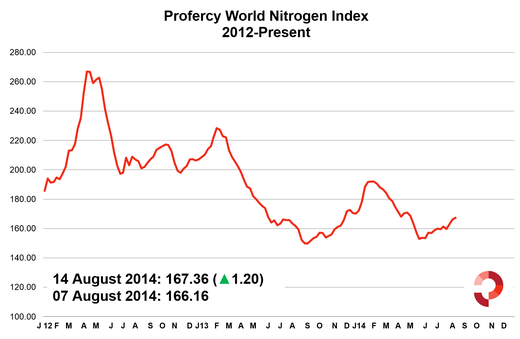 [/tab][tab title="Profercy Nitrogen Index – 2009 Onwards"]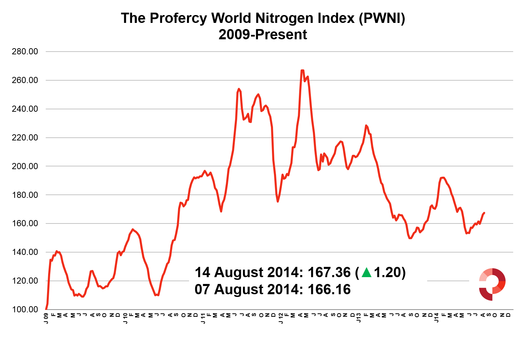 [/tab][/tabs]
---
Profercy World Nitrogen Index: Methodology
The Profercy World Nitrogen Index is published every week and is based on price ranges provided by the Profercy Nitrogen Service. This includes prilled and granular urea, UAN, AN, ammonium sulphate and ammonia. A full methodology can be found here.
Free Trials of the Profercy Nitrogen Service
Profercy's Nitrogen Service includes daily news, weekly analysis and monthly forecast reports. For more detailed information on specific products and individual markets, please sign up for a free trial or for more information on the Profercy Nitrogen Service, please click here.