Urea market remains firm: prices advance in China, Middle East and in West
Granular market sees greatest advances, while prills advance slowly
PWNI up 3.29 points to 163.03
India considers new feedstock subsidy to boost urea production
Urea market tight with price increase for granular
The trade balance assessment in our latest urea market forecast pointed to a tight urea market in the coming weeks. Indeed, the firmness in the market was evident this week with Chinese granular urea now offered at higher prices and with a modest price increase for September granular urea barges in the US. With little product available from major export origins for August, producers are also confident.  The key question is now: how high can prices go?
Prills advance at a slower pace
As evidenced in the graph below, granular urea prices in China are well above those for prilled urea. This despite the efforts of producers who had targeted above $270pt fob China ahead of the recent Indian purchasing tender. In the West, prills are expected to fare better where they can compete as an alternative to the more expensive granular product in markets such as Brazil.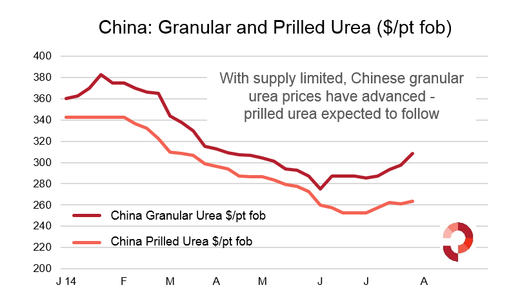 Profercy's World Nitrogen Index up 3.29 points
The PWNI is now at 163.09, up over 3 points on last week and regaining the ground lost by a temporary dip in US granular prices last week. Graphs charting the series since 2009 and 2012 are provided below.
[tabs][tab title="Profercy Nitrogen Index – 2012 Onwards"]
[/tab][tab title="Profercy Nitrogen Index – 2009 Onwards"]
[/tab][/tabs]
India considering new feedstock subsidy to support domestic production
Further to our earlier blog entry on Indian urea subsidies, sources in India indicate that the new Government is reviewing a number of policy options with a desire to increase Indian domestic urea production. It has been suggested that officials are keen to see an increase in domestic production of 2 million tonnes by 2015 and 5 million tonnes by 2017. The drive is intended to reduce India's reliance on foreign urea, and in particular on purchasing through public tenders. The current import requirement is 8m. tonnes.
Proposals under consideration include plans to reimburse producers reliant on imported LNG feedstock with any subsidy covering the cost difference between $8.2mmBtu and a maximum price just short of $20mmBtu. It is of course early days as the new Government considers its options, but the debate is worth following given the significance of Indian demand to prilled urea suppliers in the East.
---
Profercy World Nitrogen Index: Methodology
The Profercy World Nitrogen Index is published every week and is based on price ranges provided by the Profercy Nitrogen Service. This includes prilled and granular urea, UAN, AN, ammonium sulphate and ammonia. A full methodology can be found here.
Free Trials of the Profercy Nitrogen Service
Profercy's Nitrogen Service includes daily news, weekly analysis and monthly forecast reports. For more detailed information on specific products and individual markets, please sign up for a free trial or for more information on the Profercy Nitrogen Service, please click here.