Global urea markets cooled last week
Ammonia markets remain firm – no let up in sight
India securing large volumes despite initial concerns over low price offer
Profercy's Nitrogen Index saw only a 0.31 increase last week – the smallest gain since the urea price rally began in July. The market has witnessed a drop in granular urea prices in the East which came at the same time as key import markets in the West achieved lower prices. While notable given the recent bullish trend in global urea markets, the average drop in urea prices utilized by the Nitrogen Index was a modest $4pt.
Ammonia markets supported the increase in the Index this week and have seen further price gains in both the East and the West. These were followed by confirmation of a $70pt increase in the Tampa contract price. There is no sign of weakness in the market.
Indian urea tender: Over 1 m. tonnes secured
A major test for Chinese prilled urea prices came this week with the latest Indian urea purchasing tender. India offers the biggest outlet for Chinese prills and going into the tender it appeared that India would attempt to secure large volumes. Indeed, the country is well behind on urea imports for the year. 22 offers were submitted with over 2m. tonnes offered firm.
A low price offer around $303pt cfr initially raised concerns that this price level would be too low for India to secure the volumes required. However, 10 traders have now confirmed awards, and India has secured at least 1m. tonnes.
For further information regarding the latest Indian urea tender, including Profercy's analysis and details on estimated netbacks in China, please contact us for a free trial of the Profercy Nitrogen Service. 
[tabs][tab title="Profercy Nitrogen Index – 2012 Onwards"]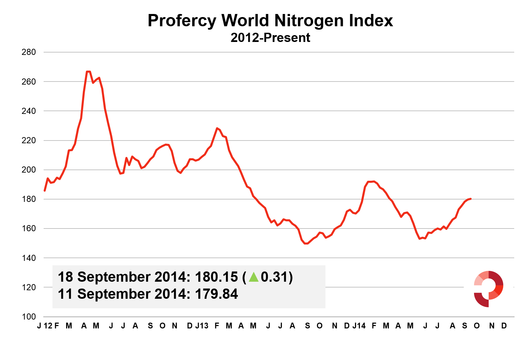 [/tab][tab title="Profercy Nitrogen Index – 2009 Onwards"]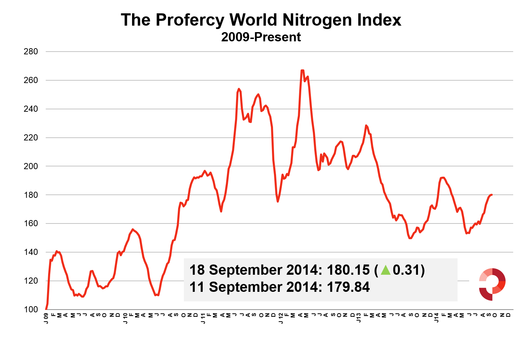 [/tab][/tabs]
---
Profercy World Nitrogen Index: Methodology
The Profercy World Nitrogen Index is published every week and is based on price ranges provided by the Profercy Nitrogen Service. This includes prilled and granular urea, UAN, AN, ammonium sulphate and ammonia. A full methodology can be found here.
Free Trials of the Profercy Nitrogen Service
Profercy's Nitrogen Service includes daily news, weekly analysis and monthly forecast reports. For more detailed information on specific products and individual markets, please sign up for a free trial or for more information on the Profercy Nitrogen Service, please click here.