The Nitrogen Index and the analysis below draws on the prices and insight provided in the Weekly Profercy Nitrogen Report, published through the Profercy Nitrogen Service. For more information and a free trial, please click here and provide your details.  The Service includes, daily news and updates, comprehensive weekly analysis and prices, as well as monthly price forecast reports. 
Nitrogen Index slips by one point – urea markets directionless
Pakistan and Bangladesh secure over 450,000t of urea through tenders
Flat Chinese export tax expected for 2015
Global urea markets remain confused and largely directionless. Consequently, Profercy's World Nitrogen Index saw little change this week. Prices for other nitrogen products were relatively stable, although ammonia markets are set for change in the coming weeks as global supply improves. However, with our price quotes for Yuzhnyy prilled urea and Egyptian granular urea dropping slightly this week, the Index moved down by 0.96 points and currently sits at 170.18.
The majority of activity over the last week took place in the East, with Pakistan and Bangladesh holding tenders for a total of over 450,000t of urea. Four consecutive tenders in Pakistan saw lowest considered offers within a narrow $2pt range. Pakistan is a key market for Chinese prilled urea and, after India, is the greatest single market for the product.
The market still awaits confirmation of China's 2015 export tax policy. Reports have consistently pointed towards a flat export tax for 2015 with fertilizers also expected to be subject to VAT. As per recent years, China's export tax policy in 2014 saw an 8 month period of high export tax broken up by a four month low export tax period starting in July. As such, a move to a flat tax represents a significant change in policy that will have a notable impact on global urea markets given China's role as the biggest single exporter of urea. Further news is expected in December, with analysis of the implications to be published through the Profercy Nitrogen Service.
The Nitrogen Index is also available throughout the week here. 
[tabs] [tab title="Profercy Nitrogen Index – Year to date"]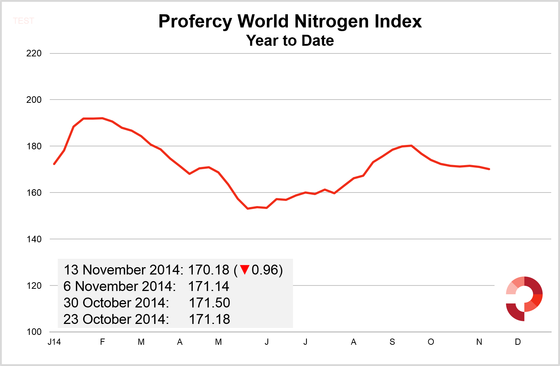 [/tab] [tab title="Profercy Nitrogen Index – 2012 Onwards"]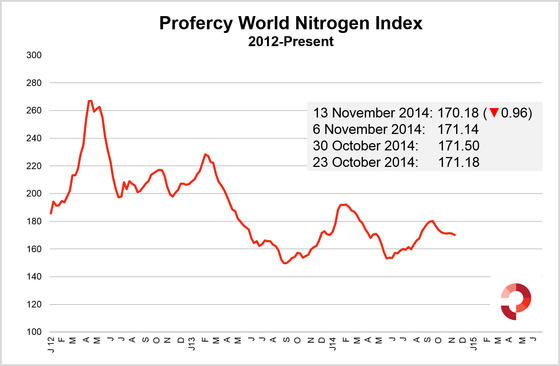 [/tab][tab title="Profercy Nitrogen Index – 2009 Onwards"]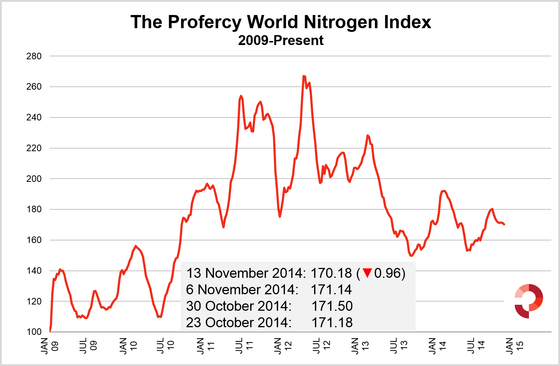 [/tab][/tabs]
---
Profercy World Nitrogen Index: Methodology
The Profercy World Nitrogen Index is published every week and is based on price ranges provided by the Profercy Nitrogen Service. This includes prilled and granular urea, UAN, AN, ammonium sulphate and ammonia. A full methodology can be found here.
Free Trials of the Profercy Nitrogen Service
Profercy's Nitrogen Service includes daily news, weekly analysis and monthly forecast reports. For more detailed information on specific products and individual markets, please sign up for a free trial or for more information on the Profercy Nitrogen Service, please click here.