Mixed fortunes for nitrogen markets
It has been another lacklustre week for global urea and ammonia markets. A number of our price quotes for global prilled and granular urea markets have either shifted sideways or eased. With ammonia markets also suffering from increasing supply levels, Profercy's Nitrogen Index fell a modest 1.24 points this week, continuing the negative trend that began mid-October.
Yet, the drop has been limited by price gains and stability in other nitrogen markets.  UAN prices have benefited from increased demand in the US, while nitrate prices in Europe also gained this week.
IPL moves quickly to secure Chinese prilled urea
As covered earlier in the week (here), IPL tendered on Wednesday for an unspecified volume of urea for shipment by 12 January 2015. As expected, offers of Chinese product dominated with the lowest tender offer of around $300pt cfr some $8pt below the lowest offer in the previous Indian tender of 29 October.
As of this morning, award volumes were just shy of 1m. tonnes. While all awards are yet to be finalised, with Indian cfr prices down a number of Chinese producers have since accepted lower prices. Many will be aware that beyond India there are few prospects for vast quantities of Chinese prilled urea in the East beyond China's domestic market.
The significance of India's import programme to global urea prices has been covered on a number of occasions through this blog. With Chinese prilled urea only exported in large volumes into India, Pakistan and Bangladesh, the bearish result of the latest IPL tender will not have a direct impact on global urea prices worldwide. This said, there is only muted optimism in the market regarding the prospects for granular urea in the West into Q1, a theme that will be reviewed in our next Forecast report, due shortly.
[tabs] [tab title="Profercy Nitrogen Index – Year to date"]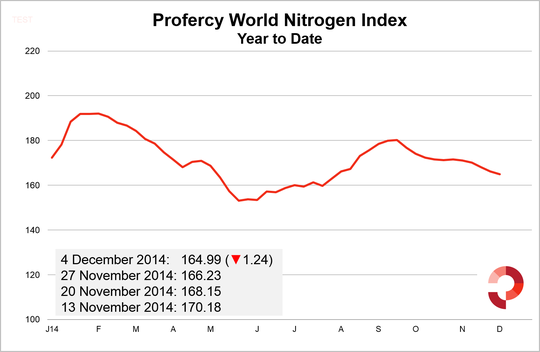 [/tab] [tab title="Profercy Nitrogen Index – 2012 Onwards"]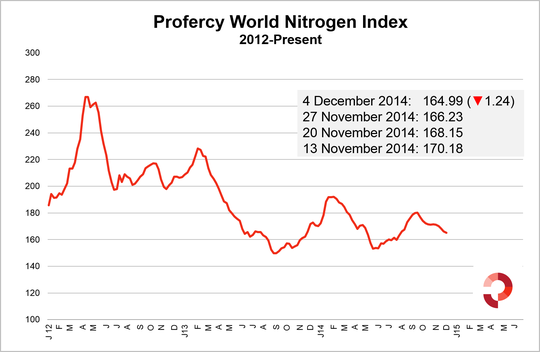 [/tab][tab title="Profercy Nitrogen Index – 2009 Onwards"]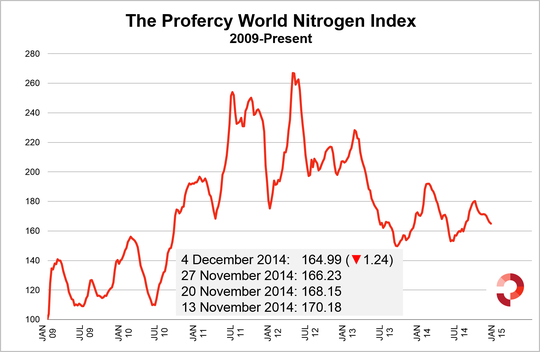 [/tab][/tabs]
---
Free Trials of the Profercy Nitrogen Service
Profercy's Nitrogen Service includes daily news, weekly analysis and monthly forecast reports. For more detailed information on specific products and individual markets, please sign up for a free trial or for more information on the Profercy Nitrogen Service, please click here.
Profercy World Nitrogen Index: Methodology
The Profercy World Nitrogen Index is published every week and is based on price ranges provided by the Profercy Nitrogen Service. This includes prilled and granular urea, UAN, AN, ammonium sulphate and ammonia. A full methodology can be found here.