As the year draws to a close, we look back on two of the factors that shaped global urea markets in 2014. While this post does not cover the prospects for 2015, it is worth noting that Profercy still considers it possible that Q1 2015 will provide some price uplift for global urea suppliers. Our latest detailed Forecast, based on Profercy's global supply and demand analysis, was provided to subscribers of the Profercy Nitrogen Service on Monday. A free trial of the Service is available and can be obtained by providing your details here.
2014: A difficult year for producers
2014 got off to a positive start, with producers benefiting from seasonal demand in the West. With urea prices gaining from mid-October 2013, Profercy's Nitrogen Index gained 38 points on the Q4 2013 low and peaked at the beginning of February 2014 around 190. However, this was not to last and, as reflected below, prices soon came under pressure. Price improvements in Q3 were not a consequence of demand, but major supply cutbacks in key export areas.
[tabs] [tab title="PWNI – Q1″]
[/tab] [tab title="PWNI – Q2″]
[/tab][tab title="PWNI – Q3″]
[/tab][/tabs]
China holds back the market
2014 was the third year of progressively lower prices, following a trend that began in 2012. Chinese exports have in recent years played a key role in limiting global urea prices and did so again this year. Despite the positive start to the year, any hopes of sustaining high prices were soon undermined by the realization of Chinese exports. These were over 4m. tonnes in first half 2014, over three times greater than the same period of 2013, this despite a high season export tax of 15% + a fixed RMB rate. China has continued to export large volumes throughout the second half.
Numerous entries on this blog have highlighted the significance of Chinese product in meeting Indian subcontinent demand. Yet, Chinese granular urea has also moved in large volumes to Western markets, including the USA and Europe throughout the year, providing buyers with a cheaper alternative to granular urea from other origins, albeit without quality guarantees.
There is no reason to expect China's influence on global urea markets to wane in 2015. China is still expected to introduce a flat export tax policy, ending the volatility associated with the high-low structure of recent years.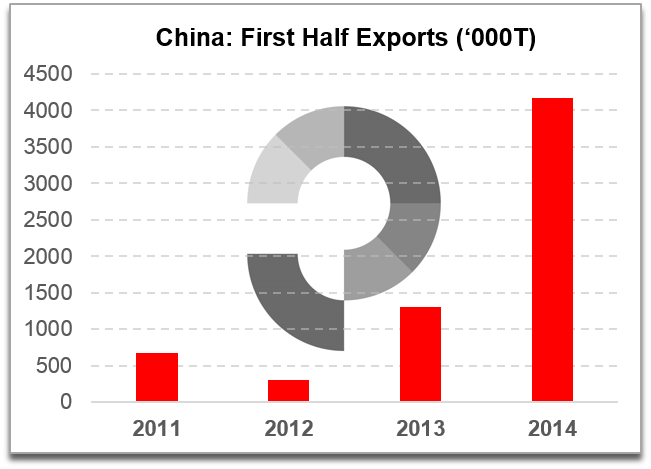 Supply: Production outages support market in Q3
Q3 presented a unique challenge for buyers in 2014. Supply cutbacks, beginning with those in Ukraine in May, began to mount, spurring a round of increasing prices that culminated in Arab Gulf granular prices peaking at $380pt fob. As mentioned above, over 1m. tonnes of urea was lost to the market in Q3, with the large volumes of Chinese prilled urea available unable to satisfy the requirements of buyers only prepared to consider quality granular product.
Some of these supply problems have continued into Q4. However, their impact has been less felt and our blog entries throughout October and November captured the price correction that took place.
Now, prices appear to be firming. The USA holds the key to how far urea prices can rise. Producers are pinning their hopes on a timely or early spring in North America which could support a price uptrend in Q1 2015.
To receive Profercy's latest Urea Market Forecast, please register for a free trial of Profercy's Nitrogen Service here. 
---
Free Trials of the Profercy Nitrogen Service
Profercy's Nitrogen Service includes daily news, weekly analysis and monthly forecast reports. For more detailed information on specific products and individual markets, please sign up for a free trial or for more information on the Profercy Nitrogen Service, please click here.
Profercy World Nitrogen Index: Methodology
The Profercy World Nitrogen Index is published every week and is based on price ranges provided by the Profercy Nitrogen Service. This includes prilled and granular urea, UAN, AN, ammonium sulphate and ammonia. A full methodology can be found here.