"The urea market mood is bearish and so is the reality. Prices for prompt tonnage have fallen again this week while traders have continued to move to the short side with forward sales for April shipment made at low levels." Profercy Nitrogen Report,  12 March 2015
With FSU prilled urea values falling sharply this week and with Arab Gulf netbacks continuing to erode, the Nitrogen Index has fallen a further 3.5 points and has now lost more than 14 points since the beginning of February. Over this period average Yuzhnyy prilled prices have dropped by more than $45pt, while Arab Gulf granular prices have fallen $35pt. Over the last two weeks, prices in the US Gulf have not fallen at the same rate as those elsewhere, with values comparatively stable following the major drops seen in January and February.
For the latest analysis of global nitrogen markets, including prices ranges for over 45 products, please register for a free trial of the Profercy Nitrogen Service. To receive the latest report, please click here and provide your details.
Today's nitrogen values in context
Profercy's Nitrogen Index provides a measure of global nitrogen values and the graph below sets out clearly the fortunes of global nitrogen markets since 2012 (methodology here). The downtrend is also captured in the table to the right, noting average nitrogen index values in both 2013 and 2014.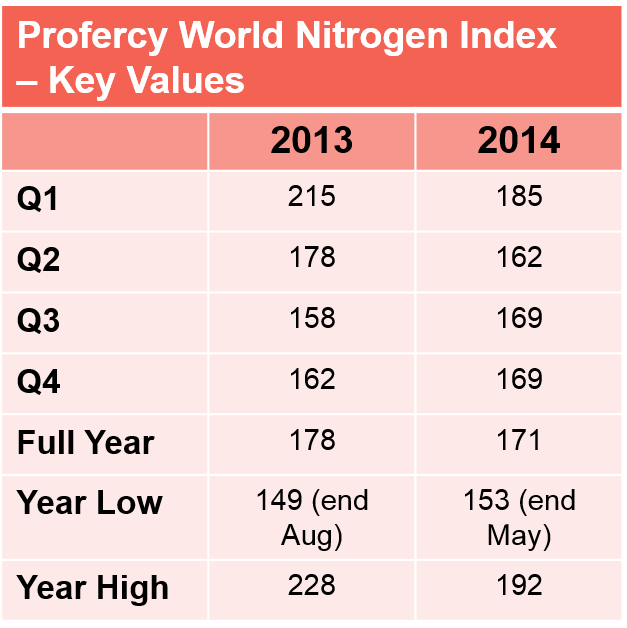 Q1 is traditionally a positive period for global nitrogen prices, with urea values supported by seasonal demand in the US and Europe. However, thus far this year Q1 has been a let down for producers and the nitrogen index is currently 35 points below the Q1 average for 2014 and 65 points below the average in 2013. With 2015 expected to be another tough year for urea prices, it is notable that the index has already dipped below the year low for 2014.
Supply side additions, particularly capacity growth in China, have heavily influenced global values in recent years. More information on the long term prospects for global nitrogen markets, including detailed supply, demand, trade and price forecasts to 2030, is available through Profercy's latest long term report – Urea: The new energy environment and the outlook to 2030.
[tabs] [tab title="Year to date"]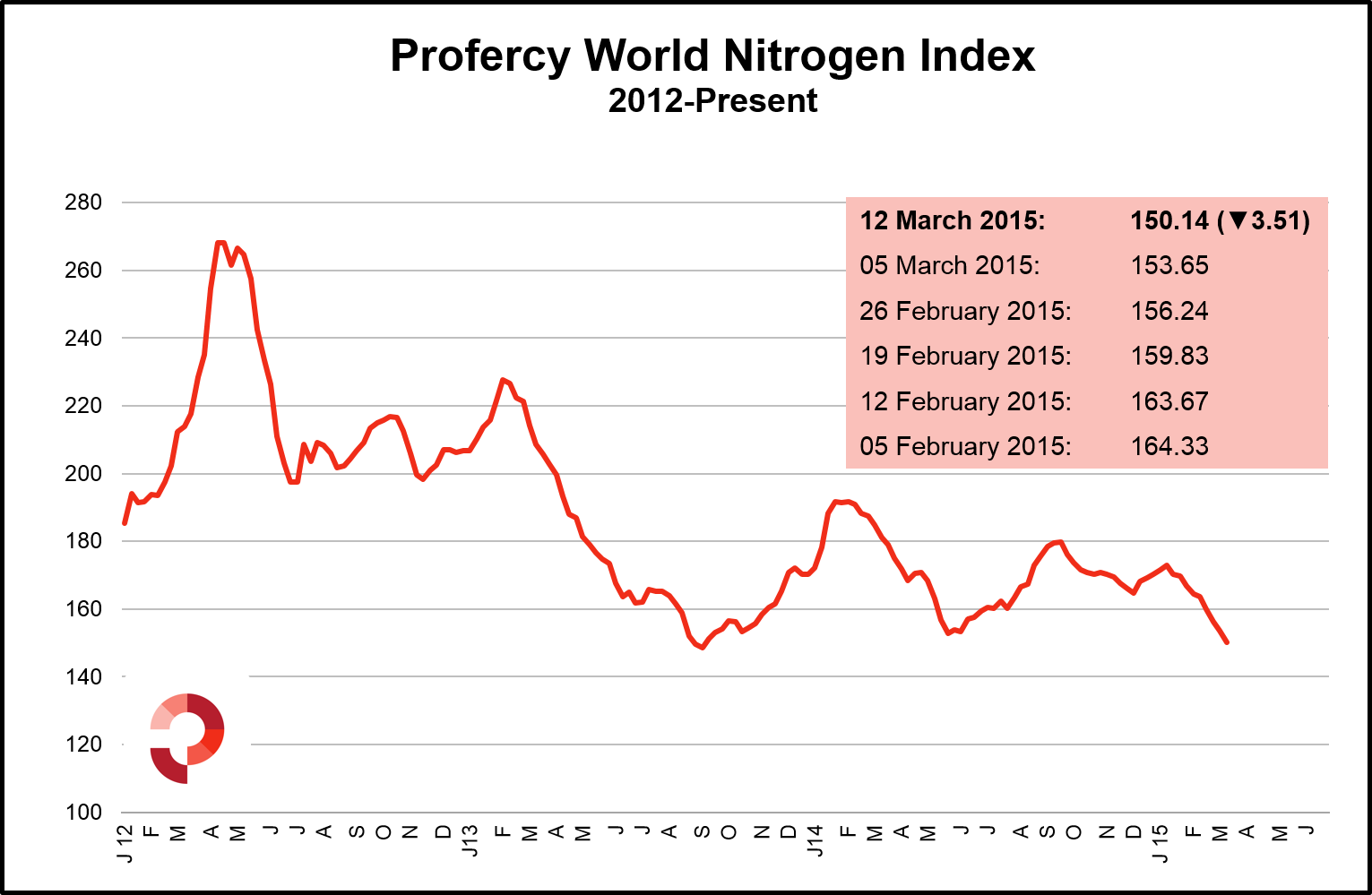 [/tab] [tab title="This week's Profercy Nitrogen Report"]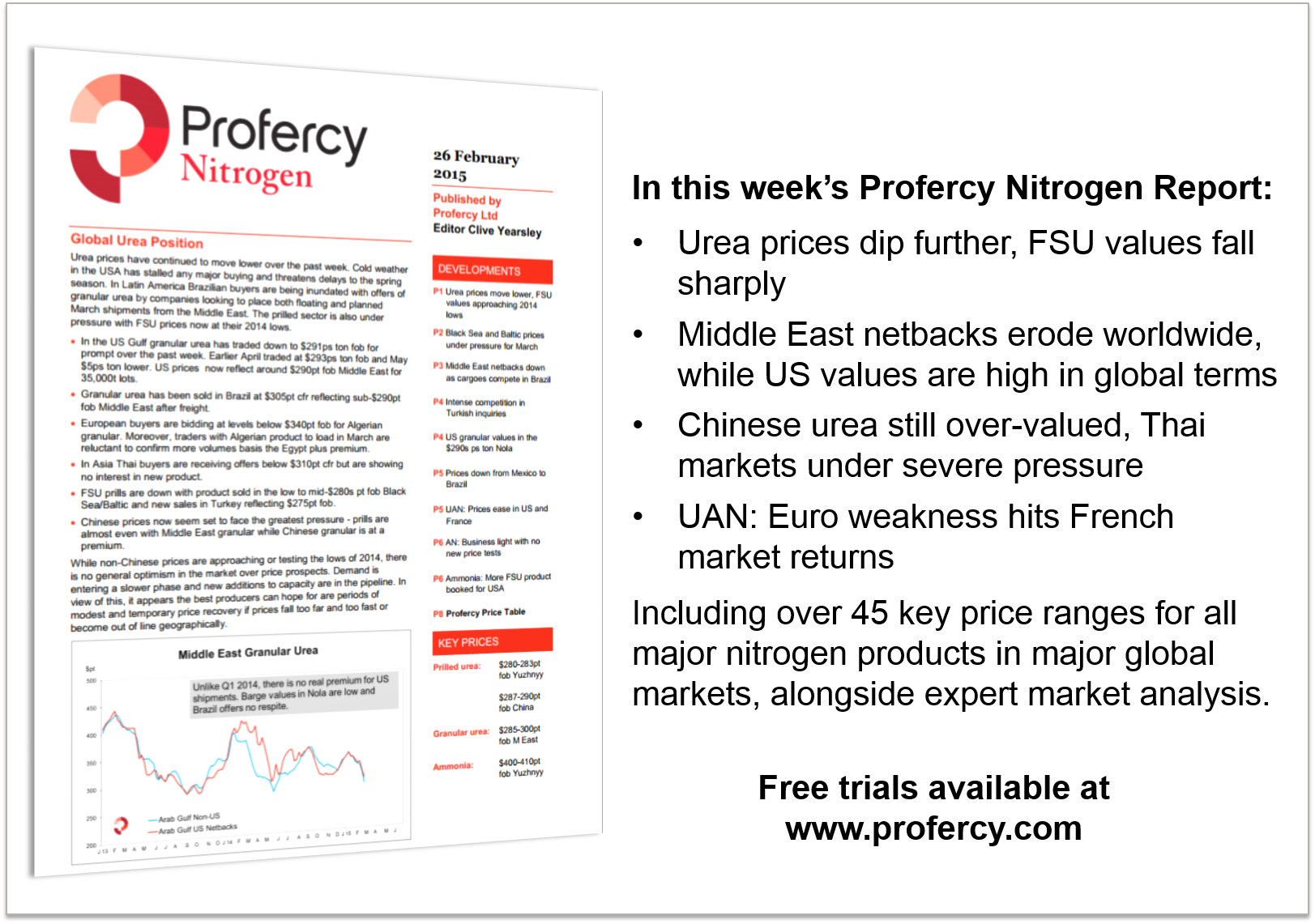 [/tab][/tabs]
---
Free Trials of the Profercy Nitrogen Service
Profercy's Nitrogen Service includes daily news, weekly analysis and monthly forecast reports. For more detailed information on specific products and individual markets, please sign up for a free trial or for more information on the Profercy Nitrogen Service, please click here.
Profercy World Nitrogen Index: Methodology
The Profercy World Nitrogen Index is published every week and is based on price ranges provided by the Profercy Nitrogen Service. This includes prilled and granular urea, UAN, AN, ammonium sulphate and ammonia. A full methodology can be found here.