Granular urea prices move up in the Arab Gulf and the Americas – firm Chinese price stance supports gains.
Supply squeeze in the US Gulf leads leads to price rally for prompt and May barges. Deferred months also firm up.
Nitrogen Index holds steady after 13 weeks of decline.
Global urea markets have been in a bearish phase since the beginning of the year. Since January, prices for Yuzhnyy prilled urea, Egyptian granular urea and Middle East granular urea have fallen by $70-90pt. Profercy's World Nitrogen Index – a barometer of global nitrogen values – has fallen 37 points and is at a level not seen since mid-2010 (charted below).
However, global urea prices saw positives last week in both the Middle East and the US. Middle East producers have successfully committed 150,000t of product and have benefitted from the firm price stance adopted by Chinese producers – unusually Chinese granular urea was quoted some $10-15pt higher than product from the Middle East.
Producers in the AG will also benefit from the recent price rally in the US Gulf in terms of netbacks for earlier US shipments. Prompt supply has been constrained by poor weather conditions preventing vessels discharging. Last week, prices for prompt barges gained by $20ps ton on the previous week. Product in place up-river has also been attracting a significant premium.
Granular urea markets are for the moment firmer, with offers in major markets, such as Brazil and Thailand, now at higher levels. A key factor has been China's willingness to hold back from the export market. Short term, the question is how long will China be absent and what will the impact be once it returns?
Receive our latest analysis and prices – free
To receive a complimentary copy of our latest market news, analysis and price quotes, you can provide your details here. The latest report includes:
Urea:

AG granular values gain on Eastern demand with China on side-lines, 

Yuzhnyy and Baltic prilled urea prices ease
India set to book 500,000t of urea through latest STC tender
Chinese producers hold firm, producers skip Indian business
Prompt barge prices in US Gulf surge with supply squeezed

UAN: Market oversupplied ahead of Egyptian tender
AN: FSU exports set to increase, prices under pressure
Ammonia: Market stable for now
Full price listings for over 45 nitrogen products covering all major export origins and import markets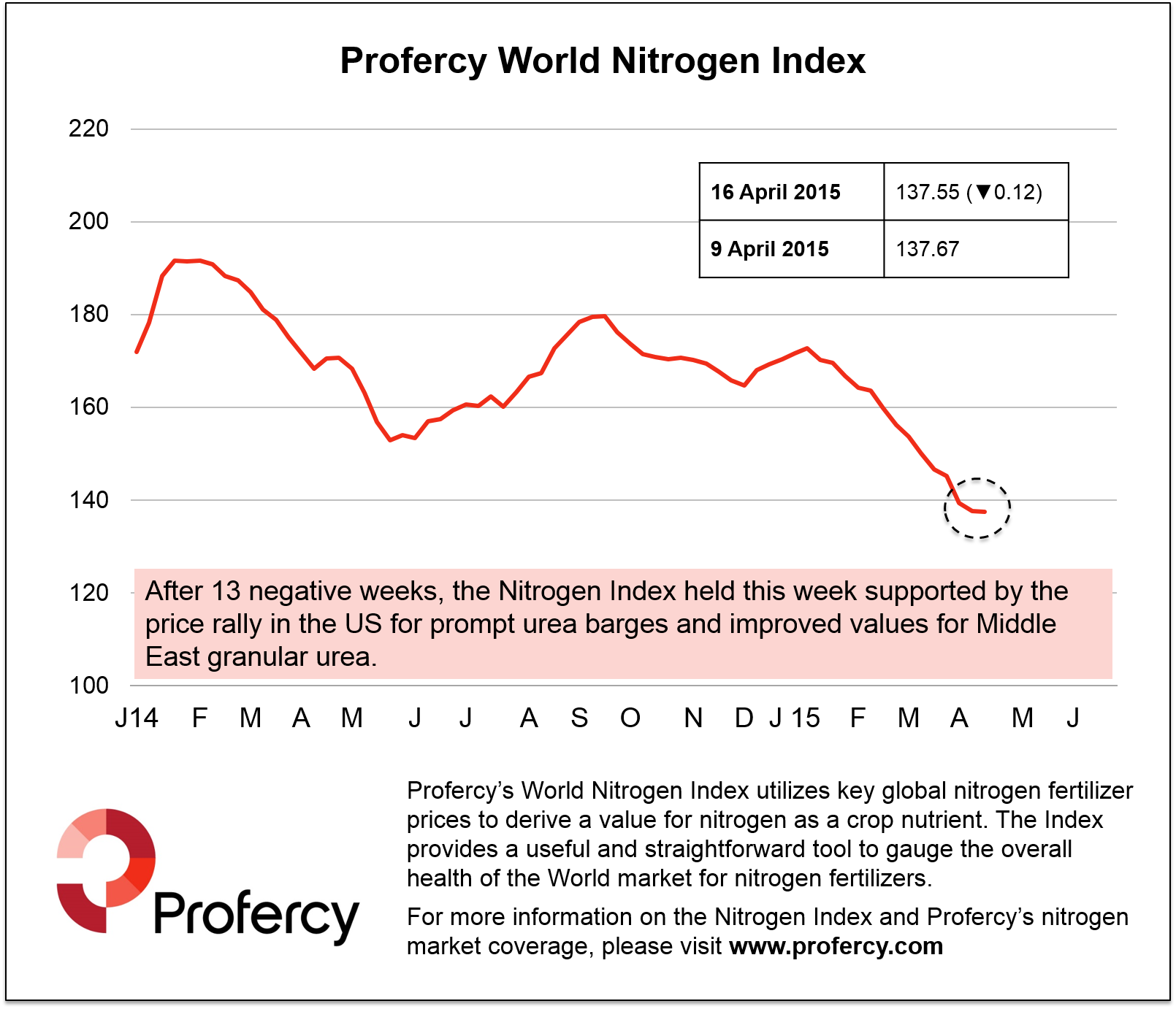 ---
Free Trials of the Profercy Nitrogen Service
Profercy's Nitrogen Service includes daily news, weekly analysis and monthly forecast reports. For more detailed information on specific products and individual markets, please sign up for a free trial or for more information on the Profercy Nitrogen Service, please click here.
Profercy World Nitrogen Index: Methodology
The Profercy World Nitrogen Index is published every week and is based on price ranges provided by the Profercy Nitrogen Service. This includes prilled and granular urea, UAN, AN, ammonium sulphate and ammonia. A full methodology can be found here.