It has been an important week for global urea markets. Last Friday's STC tender for urea for shipment to India led to 850,000t being booked at $315-319pt cfr. As noted in this week's Profercy Nitrogen Report, published 25 June, "the absence of a Chinese supply glut afforded real benefits for other suppliers in the latest Indian tender. For, without significant demand elsewhere (as is normal at this time of year), room was left for other suppliers to scoop up to half of the business at healthy prices."
Following the tender, traders moved quickly to place FSU prilled urea and Arab Gulf granular urea –  in addition to the expected tonnes from China. This is the first time since first half 2013 FSU urea has been supplied to India through an import tender. Naturally, this movement supported both Black Sea and Baltic prices this week.
However, Profercy's World Nitrogen Index has fallen four points, the first significant downward movement since April. This is primarily due to the drop in US Gulf urea values for prompt and deferred barges. In trading this week, prompt barge values fell by as much as $20ps ton with all July barge values moving below $300ps ton earlier in the week.
Over the last month the US market has provided healthy returns for Arab Gulf contract cargoes compared to other key markets, with these returns supporting gains for the Nitrogen Index. While prompt values remain high, the drop has lowered the returns available to Arab Gulf contract cargoes and consequently the Nitrogen Index. Profercy's Nitrogen Index is currently at 148.64 points, down 4.02 on last week.
For our full weekly market analysis, including key prices and details of latest trades, bids and offers,  please provide your details here.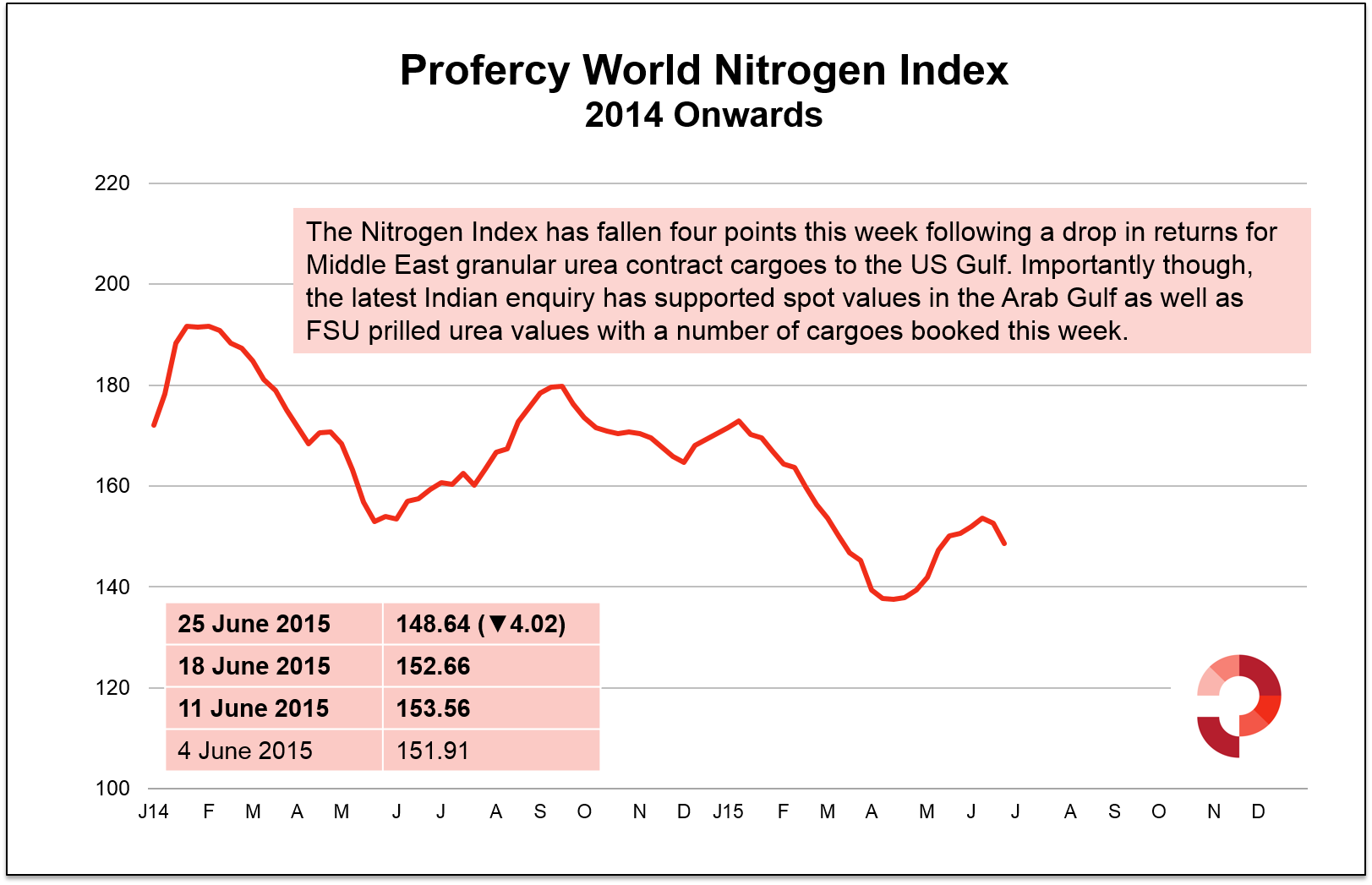 ---
Free Trials of the Profercy Nitrogen Service
Profercy's Nitrogen Service includes daily news, weekly analysis and monthly forecast reports. For more detailed information on specific products and individual markets, please sign up for a free trial or for more information on the Profercy Nitrogen Service, please click here.
Profercy World Nitrogen Index: Methodology
The Profercy World Nitrogen Index is published every week and is based on price ranges provided by the Profercy Nitrogen Service. This includes prilled and granular urea, UAN, AN, ammonium sulphate and ammonia. A full methodology can be found here.