In recent weeks, global nitrogen values have broadly trended sideways and urea markets in particular have lacked clear direction. This trend followed a tough July in which global urea values dipped sharply – prilled urea hit a low of $263pt fob Yuzhnyy, before staging a modest recovery.
Indeed, Yuzhnyy prills are currently valued some $15pt higher than the July low. For granular urea, the situation has been similar. While major granular import markets, such as the US and Brazil, are not firm, urea has traded in a narrow range for a number of weeks. Profercy's Nitrogen Index, a measure of global nitrogen values, currently stands at 140.38 having gained 5.01 points since the 30 July low of 135.37.
This has been the case despite the challenging forex environment and falling global commodity values. Clearly, the recent devaluation of the Yuan against the dollar (6.4/$ at time of press) is a huge negative for urea. However, the devaluation follows a series of months in which the rapid growth of Chinese urea exports has stalled, relieving the market of major supply-side pressure. To put this in perspective, Chinese exports in January 2015 were almost 1.7m. tonnes, but dipped below 700,000t in June.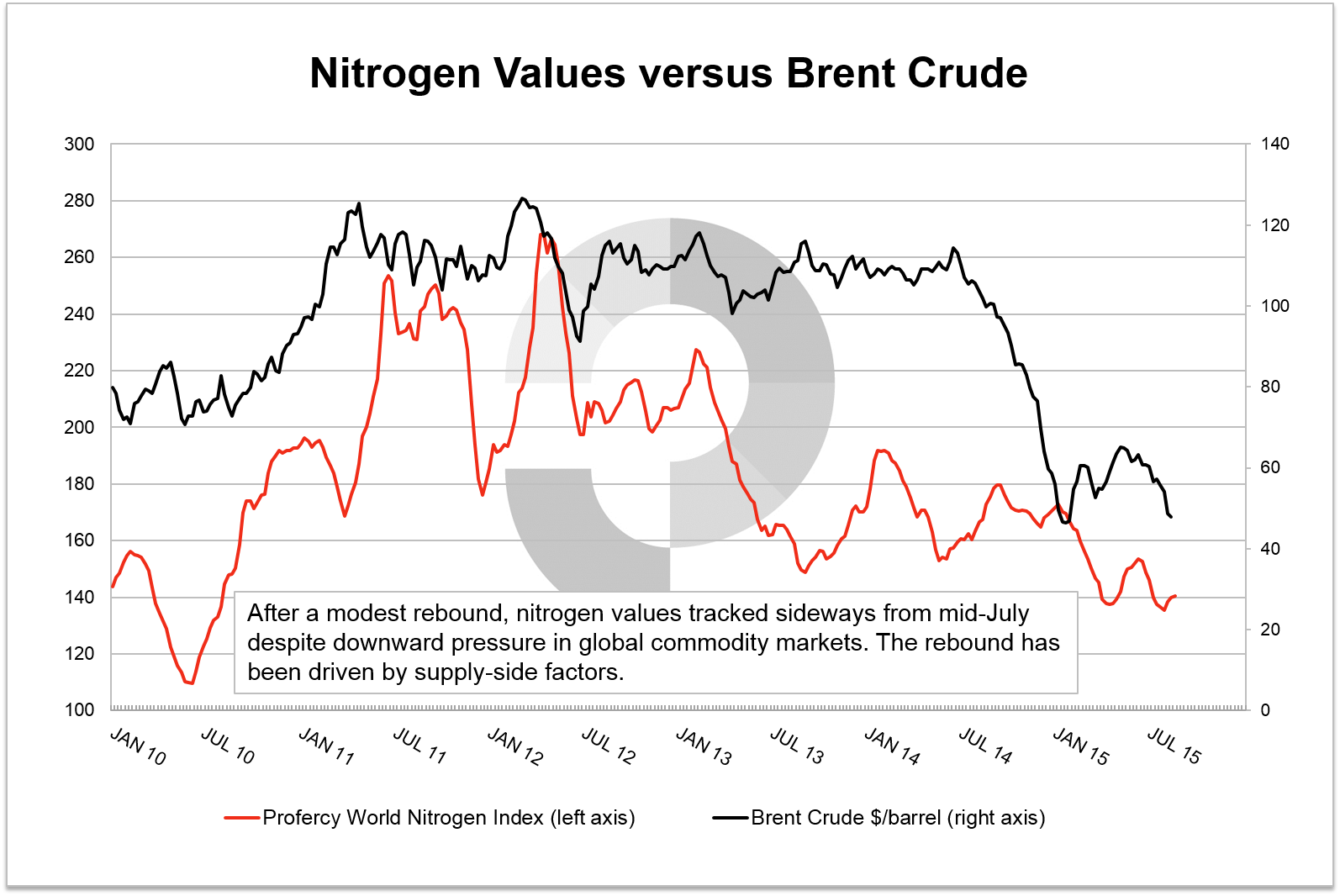 As noted, in our last forecast report, published 19 August through the Profercy Nitrogen Service, the recent rebound in urea values has largely been down to supply issues, as opposed to buoyant or growing demand. There is no denying that currency weakness in markets such as Brazil, as well as a lack of credit, has already impacted global demand.
Profercy's latest supply and demand analysis continues to point to a long market for much of the rest of the year. As many in the market will be aware, a number of supply additions are expected on stream in North Africa and North America, adding to recent capacity additions in the Arab Gulf. This situation could be worsened for suppliers if the current global crisis heavily impacts general business confidence and buyer mentality. A further consideration is that while Chinese exports are expected to be far lower than the average 1.75m.tonnes/month exported in the second half of 2014, it is clear that volumes will increase over the coming months. This is not a positive sign for prills.
Receive our latest forecast: For Profercy's latest detailed Nitrogen market forecast, including supply and demand analysis, please register for a no-obligation trial of the Profercy Nitrogen Service.
[clear_floats]
Free Trials of the Profercy Nitrogen Service
Profercy's Nitrogen Service includes daily news, weekly analysis and monthly forecast reports. For more detailed information on specific products and individual markets, please sign up for a free trial or for more information on the Profercy Nitrogen Service, please click here.
Profercy World Nitrogen Index: Methodology
The Profercy World Nitrogen Index is published every week and is based on price ranges provided by the Profercy Nitrogen Service. This includes prilled and granular urea, UAN, AN, ammonium sulphate and ammonia. A full methodology can be found here.