2015 has played out as expected for urea prices. The market has been characterised by over-supply and depressed demand. Of the major urea markets, only India and Mexico have seen a sizeable increase in volumes of imported urea (basis latest data). Imports have lagged 2014 volumes in other major markets, and in the case of Brazil by as much as 35%. This at a time when the market has had to absorb major new supply additions in the US, North Africa and elsewhere.
Unsurprisingly, average urea values for the year have fallen, with these in line with Profercy's January 2015 forecast – 'Urea and the new energy environment'. For the key prices listed below, 2015 average urea prices were down 14-19% on those in 2014.

An overview of recent developments was published last week to coincide with Profercy's latest Nitrogen Market forecast and is available here.
Nitrogen Index remains at five year low
Ahead of Profercy's final market report of 2015, the Nitrogen Index stands at just 121.89. This is the lowest level since July 2010.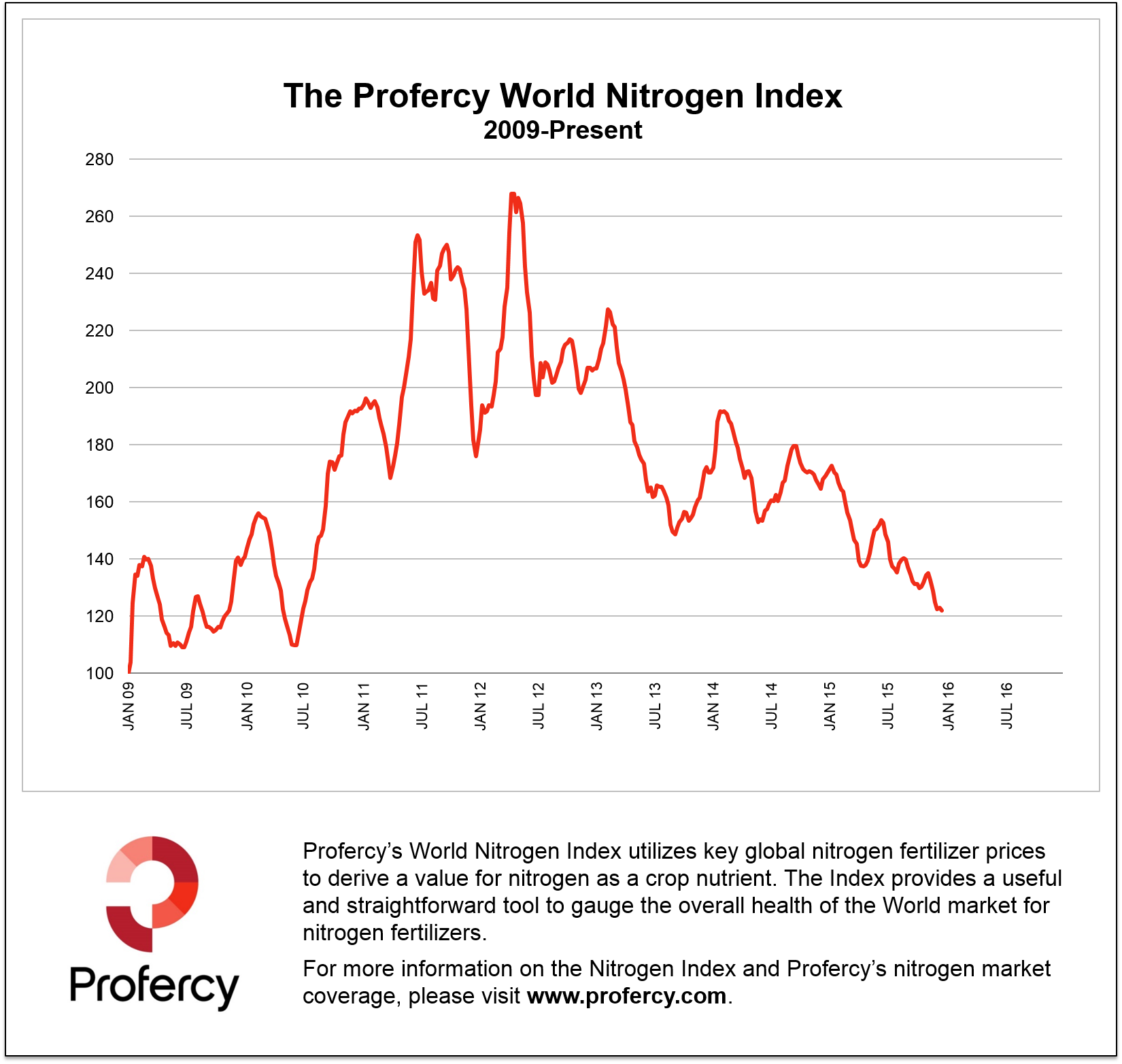 Receive our latest forecast: For Profercy's latest detailed Nitrogen market forecast, including supply and demand analysis, please register for a no-obligation trial of the Profercy Nitrogen Service.
[clear_floats]
Free Trials of the Profercy Nitrogen Service
Profercy's Nitrogen Service includes daily news, weekly analysis and monthly forecast reports. For more detailed information on specific products and individual markets, please sign up for a free trial or for more information on the Profercy Nitrogen Service, please click here.
Profercy World Nitrogen Index: Methodology
The Profercy World Nitrogen Index is published every week and is based on price ranges provided by the Profercy Nitrogen Service. This includes prilled and granular urea, UAN, AN, ammonium sulphate and ammonia. A full methodology can be found here.