Profercy Nitrogen Forecast 25 May 2016: "The June-Q3 trade balance is in surplus by 18%. While the more balanced situation for June should lead to some stability in the next few weeks, July appears heavily in surplus. Supply cutbacks and lower prices are needed to balance the market in Q3."
July has been a difficult month for urea producers with the absence of a second major purchase by India removing the price support that was evident for June shipments. The 15 July Indian tender resulted in just 300,000t being purchased for shipment through 21 August and at a price $35pt lower than the 19 May tender.
While the Indian purchase price of around $180pt cfr was lower than should have been the case. The immediate result was a drop in Arab Gulf spot levels for August below $185pt fob while business in Brazil has reflected slightly lower levels.
Over the past month Chinese prices have weakened but, as before, the country is following the market down rather than leading. Prilled suppliers are unable to compete in India while granular producers were unwilling to compete in the IPL tender. Granular suppliers have also been unable or unwilling to compete outside Asia/wc Latin America as Middle East and Russian product has been taking market share at lower values.
The US market has also been weak in July with prices down to a low of $163ps ton fob, $174pt cfr Gulf. August levels are higher and broadly equivalent to cfr levels in Brazil.
To receive Profercy's latest market forecast, including price analysis for Q3 and Q4, you can register for a free trial of the Profercy Nitrogen Service.
[tabs] [tab title="PWNI/Urea Price Movements"]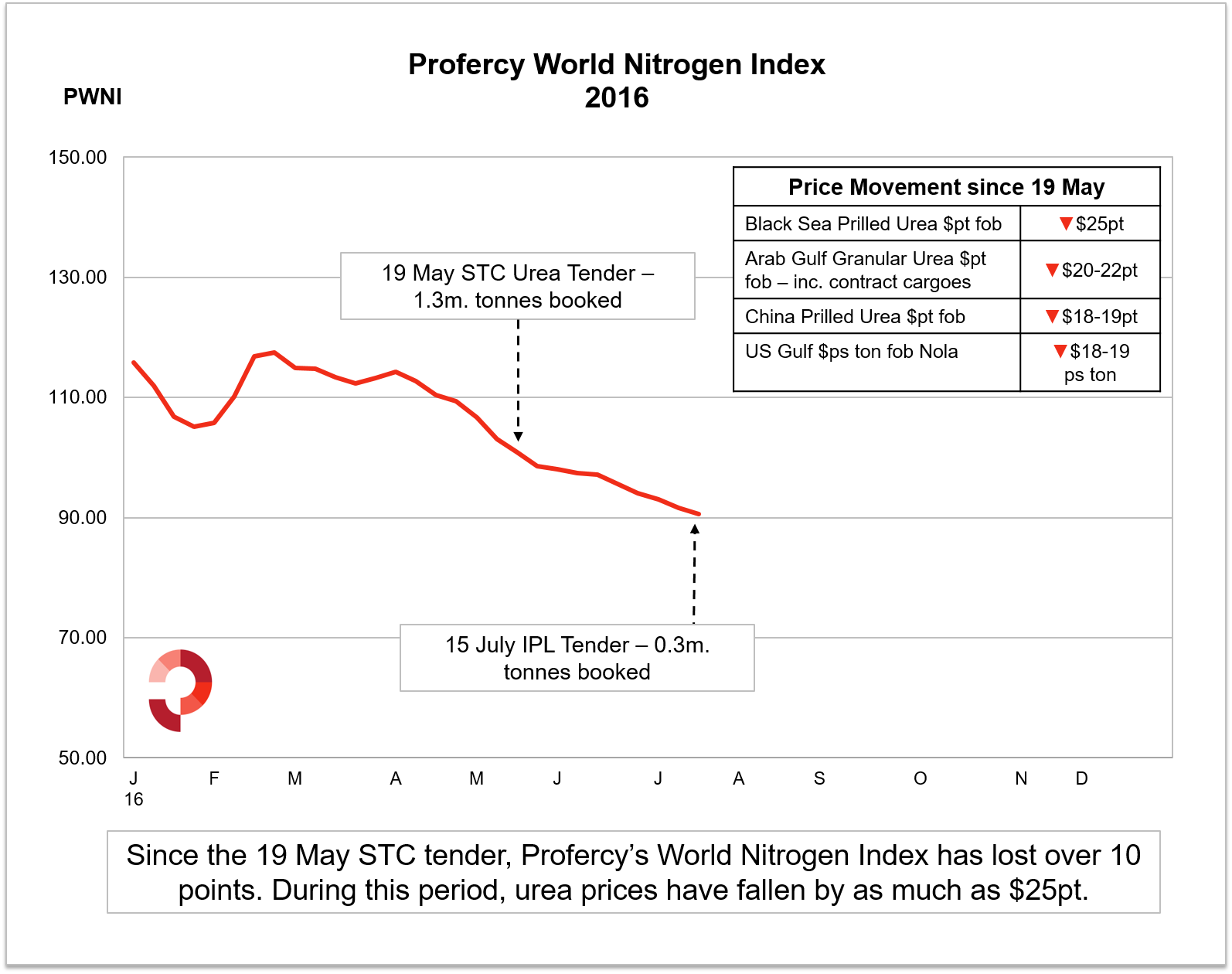 [/tab] [tab title="PWNI – 2009 Onwards"]
[/tab][/tabs]
Free Trials of the Profercy Nitrogen Service
Profercy's Nitrogen Service includes daily news, weekly analysis and monthly forecast reports. For more detailed information on specific products and individual markets, please sign up for a free trial or for more information on the Profercy Nitrogen Service, please click here.
Profercy World Nitrogen Index: Methodology
The Profercy World Nitrogen Index is published every week and is based on price ranges provided by the Profercy Nitrogen Service. This includes prilled and granular urea, UAN, AN, ammonium sulphate and ammonia. A full methodology can be found here.