Profercy's World Nitrogen Index currently stands at 94.90pts and has tracked sideways through September. However, with modest gains for urea and ammonium nitrate prices evident in the past two weeks,  the Index could soon move over the 95 point mark for the first time since June.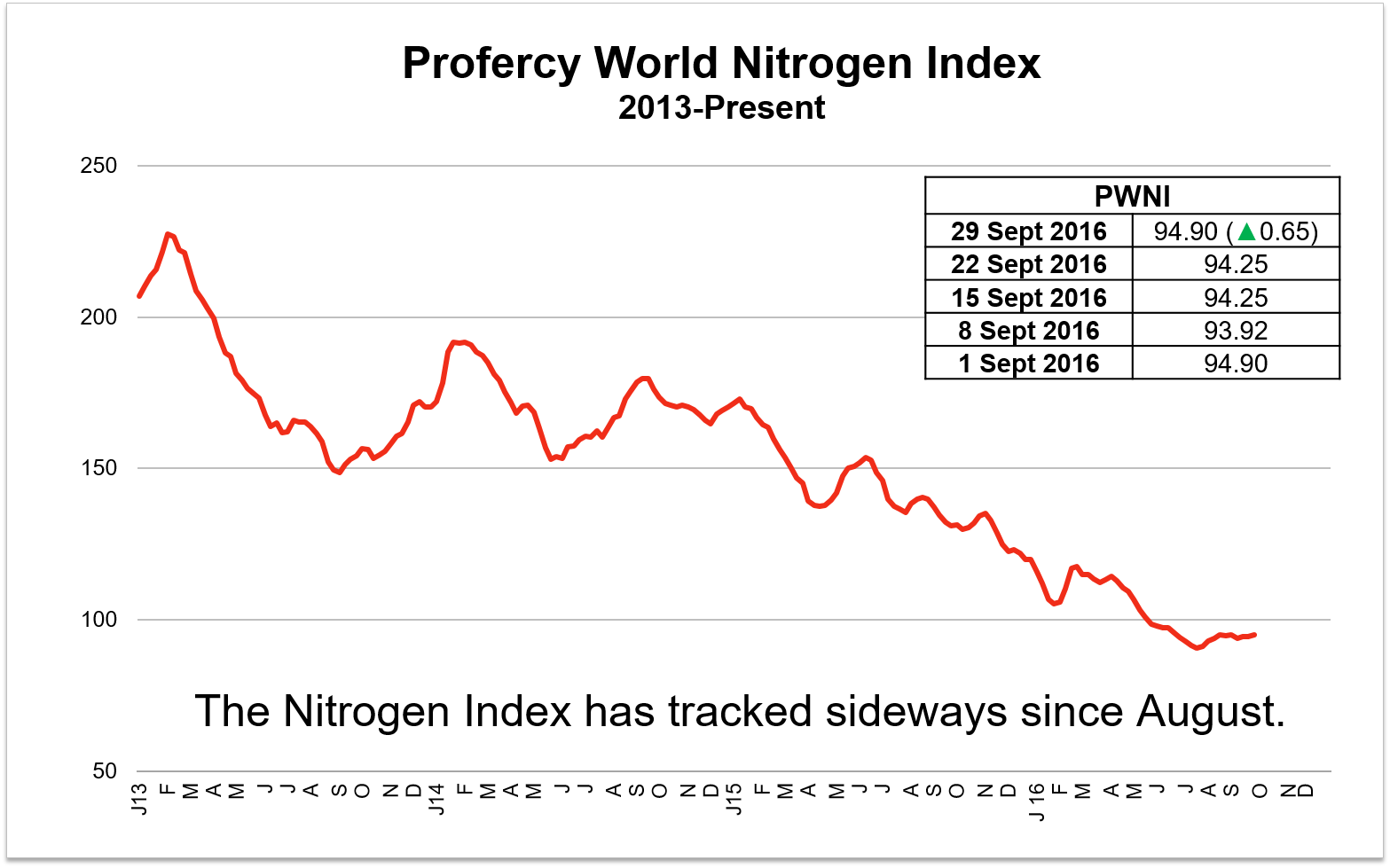 Urea: Indian demand supports producers in the East
Global urea prices have tracked sideways for much of the last 6 weeks, but the market has ended September on a firmer footing. Producers in the East and West have benefited from demand in India, lower Chinese export levels and supply problems for FSU producers earlier this month. Ahead of the major Q4 demand period, producers worldwide are more confident.
The latest Indian tender, held on 22 September, provided a major outlet for Middle East and Iranian granular urea and has limited spot availability through October. China's waning role in Indian tenders was evident once again with only half of the 1m. tonnes secured by MMTC due to be provided from China.
Year to date Chinese urea exports are down 20% compared to last year. Operating rates are at historic lows, and despite high port inventories, producers are reluctant to commit to prilled urea sales below $195pt fob ahead of next week's national holiday.
Cfr values are stable in key markets such as Brazil. In the US, where cfr values have lagged behind the global market, forward prices have moved up $5-10ps ton.
Ammonia: is the floor in sight? 
Ammonia markets remain weak. Sub-$200pt cfr ammonia is now a reality following latest sales in India for early-November delivery while latest sales in North Africa point to ever lower Middle East netbacks. Reflecting the weak state of the market, on 29 September the Tampa ammonia price was settled at $210pt cfr, a reduction of $30pt on the September contract price. Yet, any further drop in prices would likely see notable supply cutbacks in key producing regions suggesting that the price floor may be in sight.
For the latest detailed news and analysis on global nitrogen markets, including an assessment of the prospects for urea and ammonia, you can register for a free no-obligation trial of the Profercy Nitrogen Service.
Free Trials of the Profercy Nitrogen Service
Profercy's Nitrogen Service includes daily news, weekly analysis and monthly forecast reports. For more detailed information on specific products and individual markets, please sign up for a free trial or for more information on the Profercy Nitrogen Service, please click here.
Profercy World Nitrogen Index: Methodology
The Profercy World Nitrogen Index is published every week and is based on price ranges provided by the Profercy Nitrogen Service. This includes prilled and granular urea, UAN, AN, ammonium sulphate and ammonia. A full methodology can be found here.