The extent of China's reversal in direction from a major exporter of urea to a fringe regional player was laid bare in the most recent export statistics.
Exports in the first quarter of 2018 were only a quarter of those a year earlier with just 295,000t of urea leaving China. The decline is even more stark when compared to Q1 2016 when nearly 3m. tonnes of product was exported.
As in Q1 2017, South Korea remains the top destination so far this year for Chinese material with over a third of the total exports. India and Japan were the second and third points of call and between them account for another third of the volumes. The remainder of the product was split into much smaller lots and shipped largely to the Asian markets but also moved to the Americas.
China's move away from exports has, in places, created market spaces for other suppliers to move into while in other instances it has removed, in part or whole, an oversupply of urea.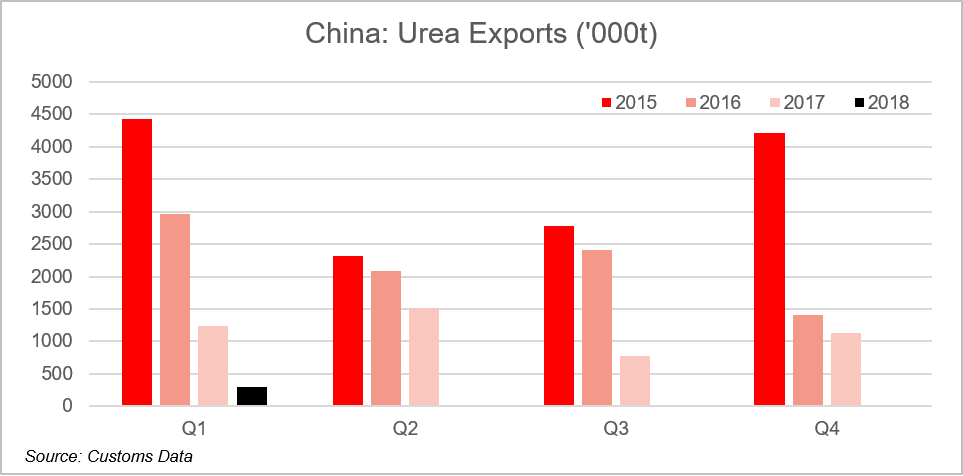 While nearly all of the export destinations have seen a decline in volumes over the last year or two, the biggest declines, apart from South Korea, have been in India, US, Malaysia, New Zealand and Bangladesh.
Several of the biggest declines along with much of the initial global turmoil caused took place in 2017 with prices in 2018 more stable and at a higher level.
The decline in exports has directly correlated to higher productions costs due to both increased coal prices and limited natural gas supply to the sector.
This has led to low operating rates, as highlighted in Yara's latest results, Q1 urea production is expected to have been 7% below Q1 2017.
Consequently, domestic prices have offered better returns for producers with Chinese export prices largely disconnected from the international market.
It is also worth noting that the latest export volumes hide within them re-exported Iranian material. Once that is taken out, the export figures of Chinese urea are even lower.