Nitrogen values at three-year high; Profercy's World Nitrogen Index ends August over 140
Middle East granular urea prices above $300pt fob for the first time since July 2015
Traders extend positions in anticipation of seasonal demand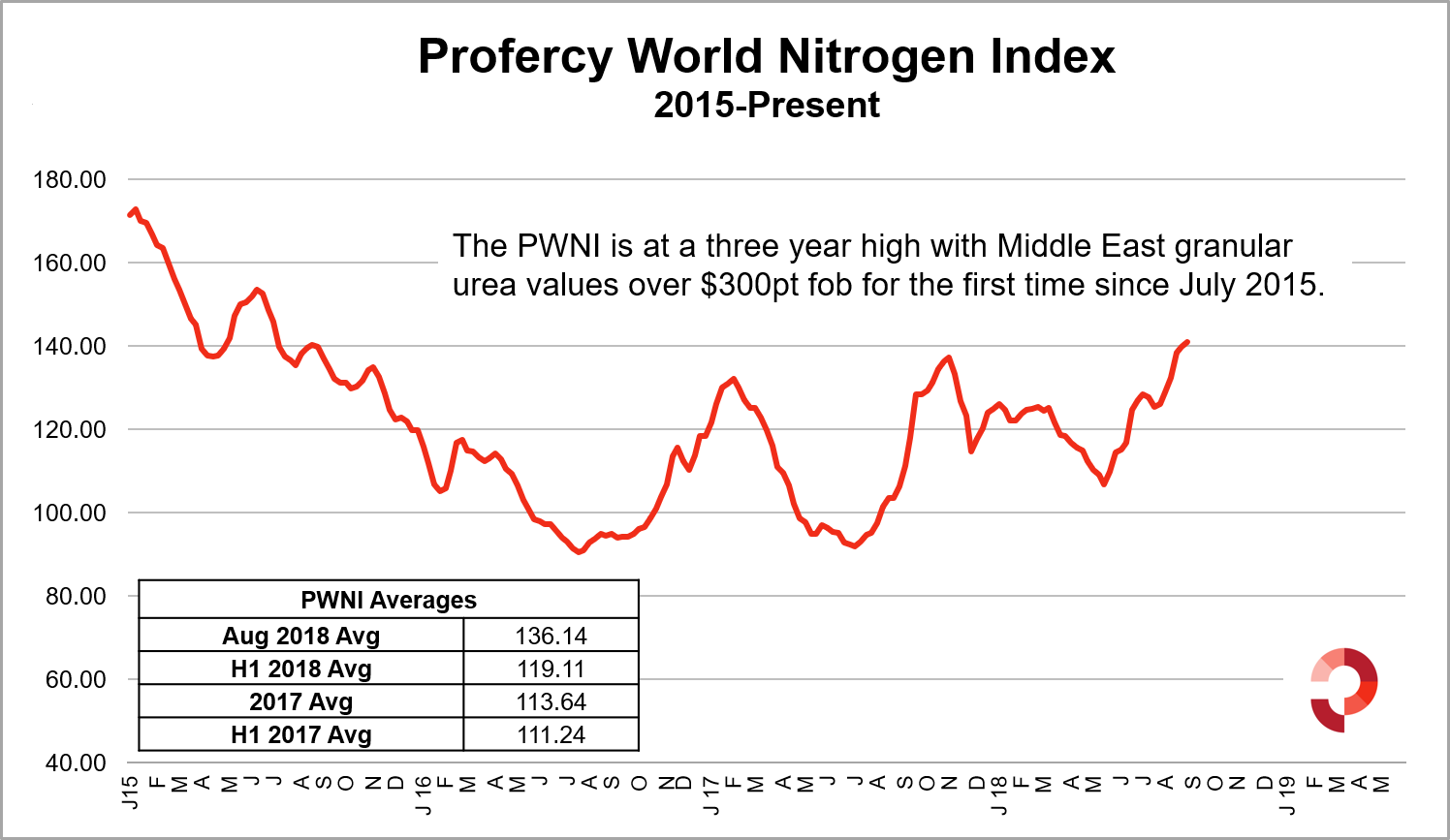 After several years of price declines amid over supply due to heavy Chinese exports and major capacity additions, nitrogen fertilizer values have recovered to 3-year highs as Chinese exports dwindle to a trickle.
The Profercy World Nitrogen Index (PWNI) ended August at 141.01 points, a high last seen in July 2015. The August average, at 136.14 points, is 33.59 points or 33% higher than August 2017.
In the Arab Gulf, latest sales of granular urea for October shipment have been concluded over $300pt fob, a level not seen since mid-2015. Producers worldwide continue to benefit from the decline in China's exports, set to be well down on the 4.7m. tonnes/year exported in 2017.
Consequently, buyers worldwide are facing higher prices. In Brazil, granular urea has been sold this week over $310pt cfr. US Gulf granular urea prices are also at multi year highs and at levels that, at least in theory, could attract spot imports from North Africa and elsewhere.
Despite the price run over the last few weeks and months, traders continue to take long positions in a sign of confidence that further gains, especially in consuming regions, will be made.
Further demand is anticipated in Brazil and other Latin American countries as well as European countries with imports behind year on year, in some cases significantly.
In addition, buying is expected from Canada, Ethiopia, Tanzania and Bangladesh, all of which have either active tenders in the market or are actively exploring sources of supply with seasonal requirements due.
The above-mentioned seasonal demand is expected to support urea prices into Q4.
India is also expected to return to the market soon. The last purchasing tender was delayed by several weeks due to concerns and discussions around sanctions against Iran. In the end, India booked 712,000t of urea for shipment to 17 September, almost solely from Iran.
The removal of discounted (due to sanctions limiting available markets) Iranian product from international markets prompted sharp price rises shortly after the tender with the PWNI gaining over 6 points in a single week.
Despite the recent tender, Indian imports are overall behind. Whether Iran will be open to compete in India is in doubt with some Iranian producers committing product to non-Indian markets to hedge against this risk.
By Michael Samueli