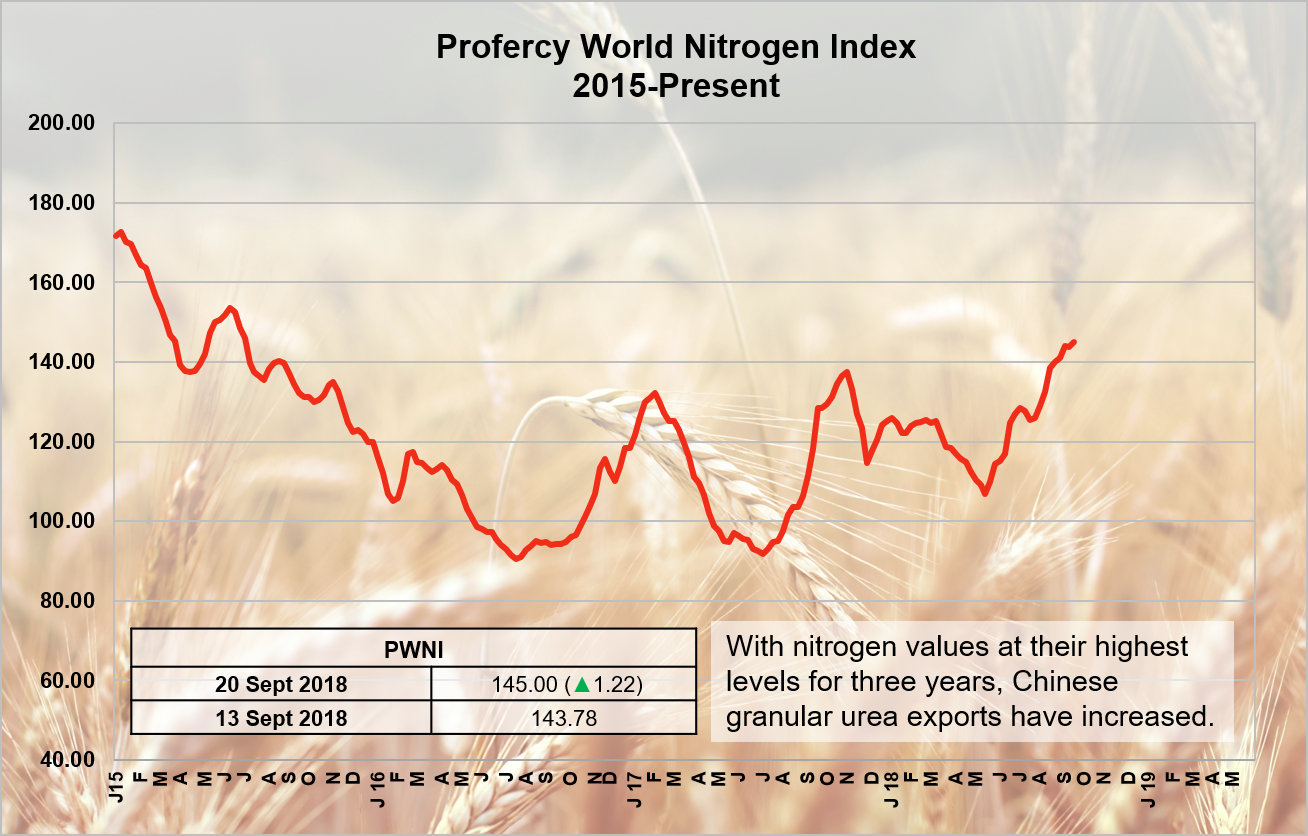 Recent international price gains have seen Chinese urea exports build
Producers benefiting from better returns than are possible in the domestic market
Major volumes have been committed to Asian markets with further sales likely
One of the main fundamentals behind the higher nitrogen values in 2018 versus recent years has been the retraction of Chinese product from the international market. However, with global prices edging ever higher, more and more Chinese product is being earmarked for export.
A case in point is Bangladesh. The recent BCIC tenders have sought to bridge the supply shortfalls that have arisen due to issues with domestic production. This week BCIC booked 100,000t of urea with awards for up to another 125,000t expected to follow.
Several cargoes have been booked in China against the Bangladesh tenders.
The lowest offers submitted to BCIC for granular urea came in the low-to-mid-$350s pt cfr lo bagged and in the low-$360s pt cfr lo bagged for prilled urea. The cost package from China is estimated at $45-50pt, implying a netback of low-to-mid-$310s pt fob for the granular and mid-to-high-$310s pt fob for the prills.
At $310pt fob, Chinese suppliers have been offered better returns from the international market than has been possible for sales of major volumes in the domestic market. Domestic prilled urea prices in China had eased down to the low Rmb 1,800s pt ex-works in some areas before rebounding this month.
In recent weeks around 150,000t of urea have been sold for export. This against limited volumes throughout much of the proceeding two months.
The renewed preference for exports is likely to continue in the coming weeks with supply shortfalls in several Asian countries.
Bangladesh has had two production facilities down for between 5-9 months, due to gas supply issues, creating a significant shortfall in supply that has proved tricky to bridge. BCIC is understood to be preparing a third tender for up to 150,000t of urea, this would follow the September 5 and September 11 tenders.
Elsewhere, Pakistan closes a tender for 100,000t of urea mid-October, while an Indian tender is expected imminently. With cheaper Iranian supplies a serious question mark for India due to sanctions, Chinese volumes are likely to be awarded.
By Michael Samueli