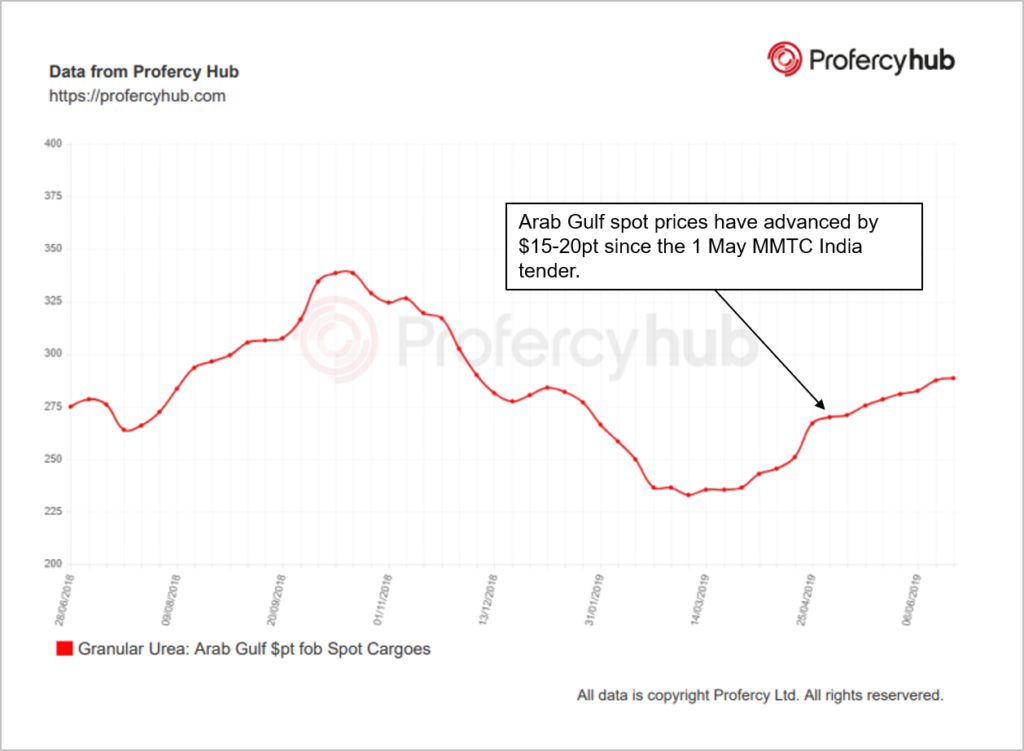 Earlier this week, India's return to the urea market was confirmed but saw little reaction. The latest purchasing tender had been widely anticipated and indeed was announced on the final day of shipment window under the previous purchasing tender, 24 June.
The tender will close on 1 July for shipments through to 16 August, again a 6-7 week shipment window in line with previous tenders. MMTC, the purchasing body, is expected to target around 800,000t but this could be higher, up to 1m. tonnes should prices be attractive enough for both parties.
Of note, are reports of below average monsoon rainfall, however, sources in India are not expecting this to have a major impact on the decision making for this tender.
The previous, 1 May, tender saw 741,000t booked at $279.74-285.70pt cfr, subject to coast. With Iranian urea excluded from the tender (as will be the case in the coming tender), Arab Gulf producers were able to achieve an attractive price that meant a large part of May and June availability was committed to India. Indeed, the prices were attractive enough for Egyptian producers to commit en masse with around 200,000t committed for shipment ex-Adabiya. Chinese supply featured but not extensively.
This time, Chinese urea is expected to play a bigger role. Producers have been targeting $285pt fob for prilled urea for export. Prilled inventory is reportedly limited while granular may not meet MMTC tender specifications. The extent to which Chinese suppliers are willing to support Indian business will likely determine availability out of the Arab Gulf and elsewhere for July-August and impact the global supply and demand balance more widely.
At present, several Arab Gulf producers are stating they are comfortable and uninterested in the Indian business. Indeed, several have been targeting well over $285pt fob for many weeks. However, if supply for India is dominated by China then it will create length elsewhere. This despite turnarounds in Egypt and Malaysia.
by Michael Samueli, Nitrogen Market Analyst