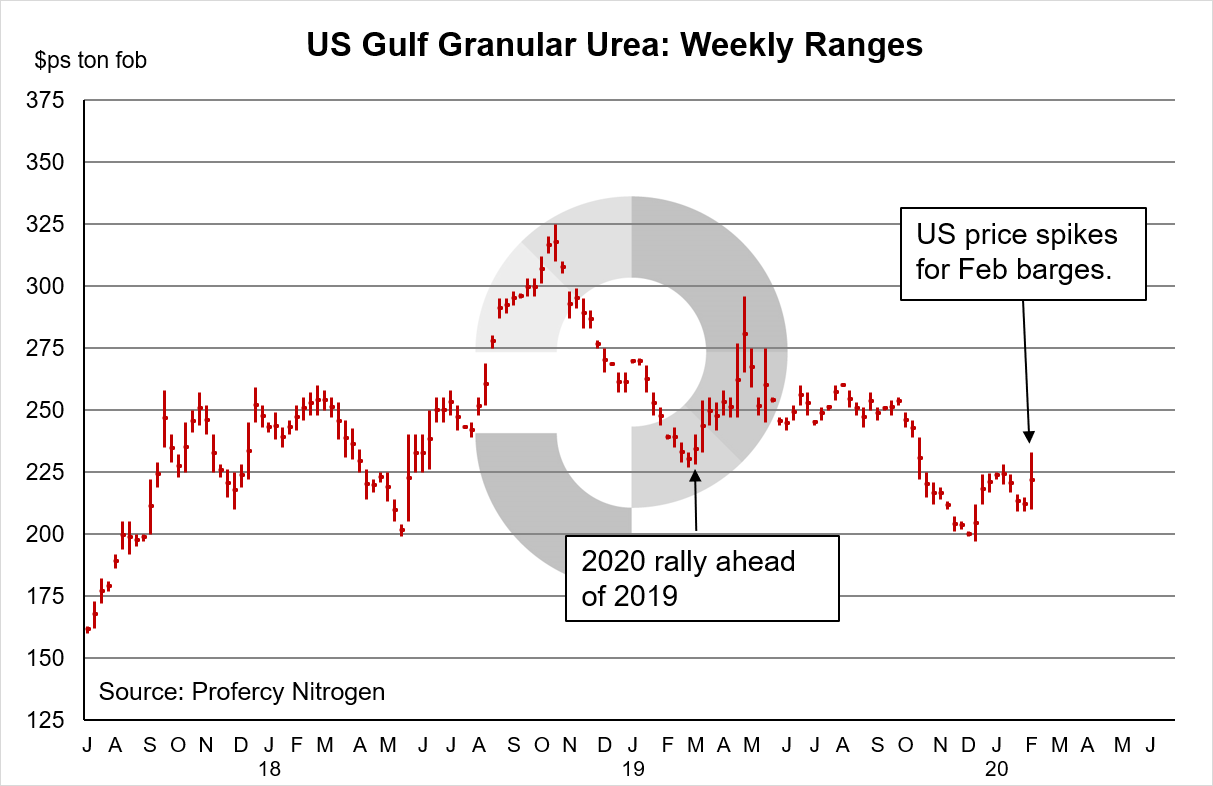 Nola values advance more than $20ps ton fob Nola in one week over supply concerns
Importers and traders switch focus to the US market with Egyptian granular values spiking midweek
The US Gulf is now a premium market for granular urea. Having lagged other western markets for some time, demand from distributors and concerns regarding the slow pace of Q1 imports supported price gains of more than $20ps ton this week.
February barges were bid at $236ps ton fob Nola yesterday having traded at $215ps ton fob and lower the previous week. With offers for March onwards limited, major US distributors also stepped in this week to secure March barges at $240ps ton. The March value equates to almost $260pt cfr, some $20pt above competitive offers in Brazil.
Import line-up concerns
Many suppliers are optimistic that urea demand in the US will be buoyant this year basis projected corn acreage forecasts and given poor fall ammonia application. While this demand is yet to surface, many active buyers this week have expressed concerns of a near-term supply squeeze ahead of the season. Indeed, domestic production is insufficient to meet all the US market's needs, and the pace of imports has been slow.
As of last week, the projected import line-up for the US Gulf and east coast was lagging the previous season by as much as 1m. tonnes (basis July 2019-March 2020). There is still time for the March line-up to grow, but additions for February will be limited. Basis figures compiled by Profercy, the Q1 Nola/east coast import line-up presently stands at less than 800,000t. In 2019, Q1 imports were 1.38m. tonnes.
One major supply-side unknown relates to domestic production. UAN prices have performed poorly relative to urea due to the major increase in US imports from the FSU and Trinidad, a consequence of EU anti-dumping tariffs. At present UAN is valued at a 33% discount to urea on a $ps ton unit N basis. US producers capable of switching some production from UAN to urea, including CF Industries, are expected to have done so. The extent to which this has taken place is unclear.
US price gains attract tonnes from western producers
With the Nola market offering up to $260pt cfr, demand from North Africa and other origins surfaced early this week. With European demand lacklustre, this offered welcome relief to Egyptian producers who had been forced to sell down to $230pt fob in order to build order books. With more than 100,000t booked for the US for February and March shipment from Egypt this past week, February and March values gained by $10-15pt.
Suppliers in the east are yet to benefit, in part hindered by long shipment times to the US, as well as an abundance of offers from SE Asian producers into March. February shipments are still available from the Middle East, but contract returns from shipments to the US are better than spot values. After a torrid start to 2020, the urea market is now on a firmer footing.
By Chris Yearsley, Editor, Profercy Nitrogen