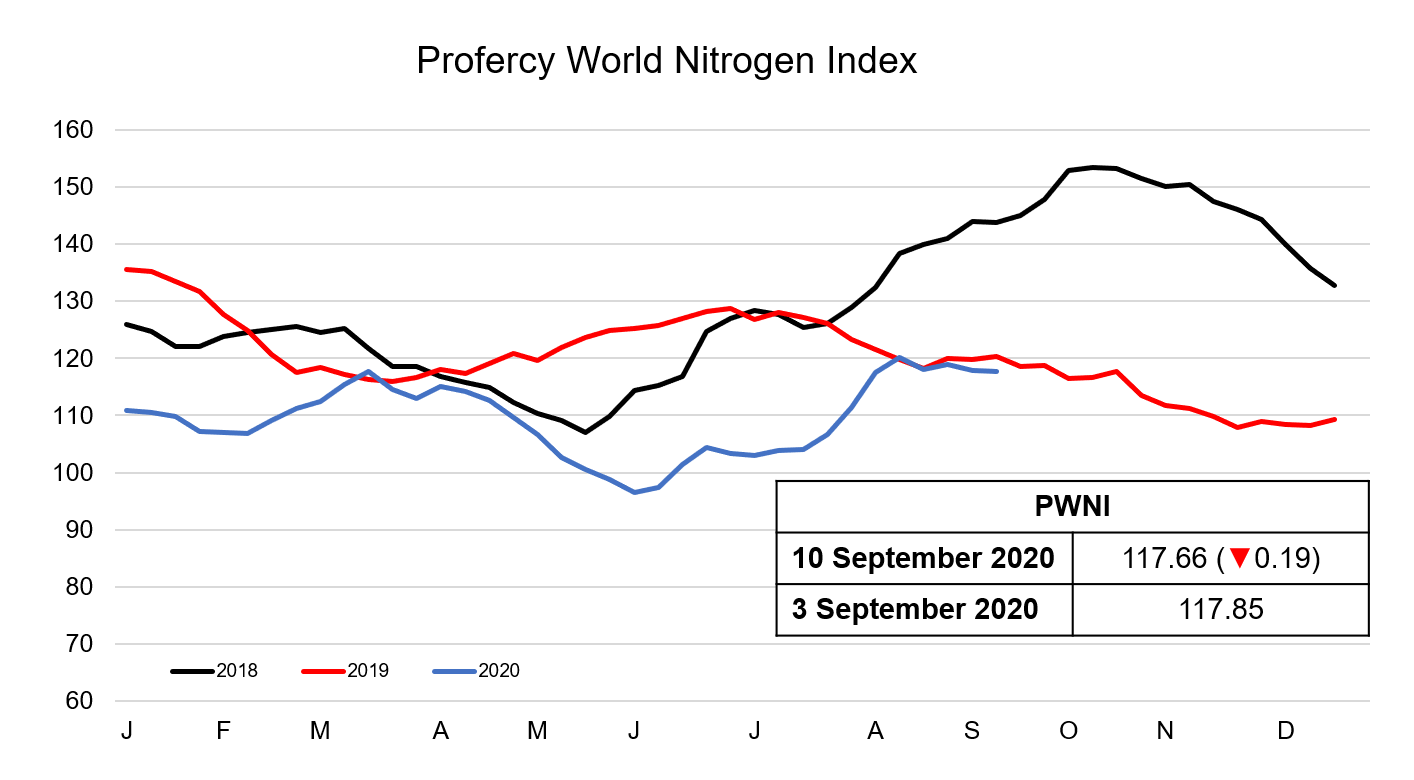 The Profercy World Nitrogen Index remains stable this week, edging 0.19 points lower to 117.66.
The index continues to find support from stable Black Sea prilled urea prices, owing to earlier sales to India. However, a lack of buying interest has resulted in producers in a number of other regions lowering their offers. In Egypt and Southeast Asia, producers have lowered granular urea offers by around $5pt fob, although this has done little to entice buying interest for now.
This has caused a standoff between buyers and producers, with neither side wanting to commit too drastically nor too early. Producers on the whole continue to present a bullish argument with another Indian tender announcement due imminently and further Brazilian buying to be done. This is expected to support October values. However, given the uncertainty around the exact timing of the new Indian tender, it is unclear if it will come in time to support producers still needing to place September tonnes.
Demand
While the world's largest importer has secured 3.57m. tonnes over the last four tenders, high levels of demand owing to a good monsoon this year and a reverse migration of labour has resulted in a shortage of urea in India.
In the interim, focus has shifted to Brazil. Good farm economics and a favourable forex rate has resulted in increased urea demand over the past couple of months. Traders have sought to capitalise and the shipping line up has grown. Realising the ample availability and having already covered prompt requirements, buyers in Brazil have withdrawn from the market over the past 1-2 weeks.
Furthermore, with the bulk of requirements for the Brazilian Safrinha season generally booked in October-December, buyers can afford to take a step back from purchasing for the time being.
The country imported 590,000t in August, up 66% from 356,000t in August 2019. While, 581,000t arrived in July, compared with 369,000t in July last year. However, despite a big Q3 import line-up, expectations remain that Q4 demand will be around similar levels to last year.
Urea importers also remain confident in holding back, with competitive offers from floating vessels still circulating. Small lots from September shipments were offered around $270pt cfr this week. These vessels will most likely have to be sold off before another round of price discovery for October shipments.
By Neha Popat, Nitrogen Market Reporter
Nitrogen Index Methodology – An overview of the methodology underpinning the World Nitrogen Index can be found here.