The urea market was active again this week, with granular and prilled values making strong gains in the east and west as participants await a new tender announcement from India.
While it remains unclear when the announcement from state purchasing agency MMTC will be made, traders continued to take positions in advance of this. Notably, buyers in other markets, including Europe, Latin America and  the USA, have accepted higher prices. Unsurprisingly, cfr values are lagging replacement costs basis latest fob business by producers.
With supply significantly tightening in Egypt, granular urea values there have increased by around $30pt in the space of a fortnight. Some producers have now extended their order books for January and February shipments with volumes sold in the low-$270s pt fob this week.
In the US Gulf, barge values have also continued to ascend, with November barges climbing from the low-$230s ps ton fob Nola late last week, up to the low-$240s this week. A fortnight ago, business had taken place sub-$220ps ton fob Nola.
Further out, January barges have also climbed higher, trading at and above $247ps ton fob Nola and narrowing the price differential between the US and Brazil. While, in the paper market both February and March Nola contracts have traded over $250ps ton, reflecting over $270pt cfr.
Supply is tight in the east owing to production cutbacks in SE Asia, as well as China's firm price stance. With the Chinese domestic market firm and producers comfortable into December, most participants expect China to remain mostly inactive in the international market in the coming weeks. Buyers in Asia requiring small volumes have been forced to pay high levels in order to draw product away from the Chinese domestic market. China's price stance has also benefited Middle East producers with large volumes committed for December by one producer at improved levels this week.
The rapid escalation in urea prices has resulted in the Profercy World Nitrogen Index climbing 3.74 points higher to 117.00 this week. The last time the index gained by over 3 points was in July, when MMTC announced two purchasing inquiries that month.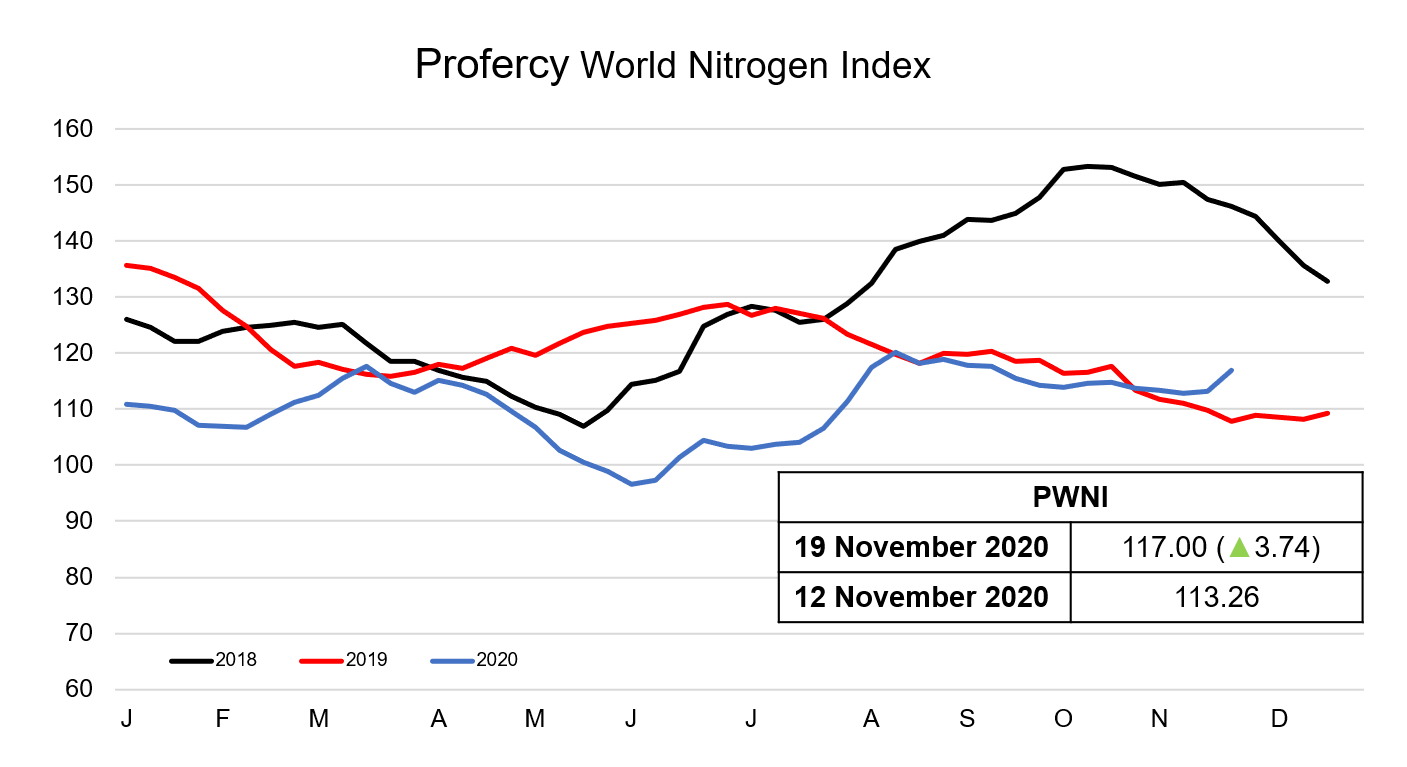 By Neha Popat, Nitrogen Market Reporter