January 2021 has been a record breaking month for urea values. Bolstered by high grain prices, strong demand has been evident in the West, in particular the US, Europe and Turkey. With inventories low and purchasing behind in many markets, producers have been able to take advantage by sustaining consistent price increases with each sale. Some have now begun to fill order books as far forward as April. Traders with positions booked earlier at much lower levels have been able to place these at healthy values, often near replacement costs.
In Egypt, granular urea sold for April at $370pt fob this week, over a $75pt increase in the space of a month, and the highest price paid for Egyptian granular urea since October 2014.
While in the Arab Gulf, a 40,000t urea cargo for March shipment was sold late this week at $365pt fob Ruwais, the highest level seen from the region since Q4 2014.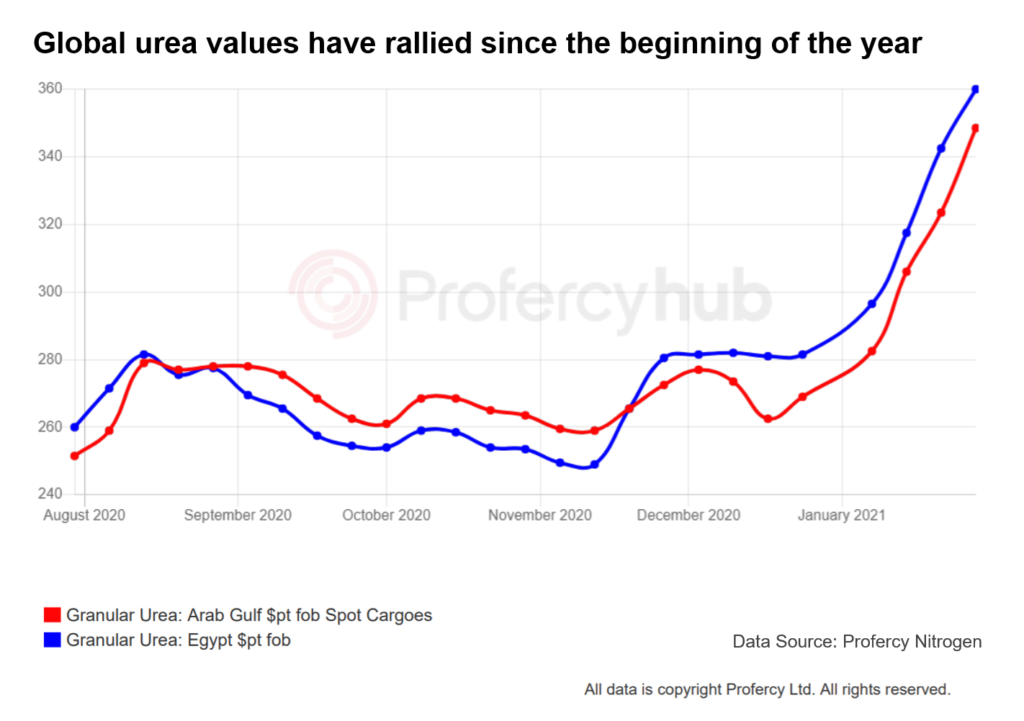 In the US Gulf, demand has ramped up significantly since the new year began and values for prompt to 30 day out barges in Nola have advanced 45% over the month, from a low of $252ps ton in early January to latest highs of $365ps ton fob Nola. Major distributors have been active in the Nola market, with a number also sourcing directly offshore from the Middle East, FSU and Algeria.
The rapid ascent in urea values looks set to continue into February with Latin America, the US, Turkey and Europe all competing for cargoes. Furthermore, the market anticipates a new purchasing inquiry from India shortly in an ever-tightening global market. The expectation of India re- entering the market has added fuel to the already raging fire.
Urea leads the way, other nitrogen products follow
The ramp up in urea values has also led to similar record increases this month in the other nitrogen markets.
In the UAN market, Nola values are now almost level with the highs seen in 2019. Prices at Ohio River terminals are up nearly $90ps ton basis latest offers for CF Industries material. Values also look set to advance further, supported by a lack of spot tonnage and solid demand emerging on both sides of the Atlantic.
Meanwhile, the typically slow and measured moving amsul markets have made one of the biggest price surges on record.
In Brazil, compacted and granular amsul prices have gained by around $25pt. The gains have been fundamentally driven by the increases in urea values, yet amsul markets were slow to react at first. This was primarily because peak seasonal demand for amsul in Brazil had passed and the subsequent competition amongst suppliers for limited business. However, once these earlier planned cargoes were sold out, suppliers moved quickly to hike offers.
Ammonium nitrate prices have also gained globally, although international AN values have and are continuing to lag the rate of increases in urea. Per unit of nitrogen, AN is almost $1 cheaper at $7.20 to urea in Brazil. In Europe, domestic producers are regularly revising list prices higher in order to maintain as close to the target 20% premium for nitrates over urea as possible on a unit nitrogen basis. In France, since the beginning of January, Yara has increased AN prices by a combined €48pt to over €300pt cpt bulk. In the UK, the latest increases for AN by CF Industries has increased the premium to around 15%.
While in the ammonia market, the latest Tampa contract price for February has been set at $330pt cfr, up $60pt on January prices and a level not seen since 2018. Solid demand west of Suez, as well as recent supply cutbacks, have resulted in a tight market.
The Profercy World Nitrogen Index increased by 9.64 points to 157.52 this week, and has now surpassed the highs last seen in October 2018. Since the beginning of the month the Index has gained by 30 points owing to the surge in values across all the nitrogen markets.