The surge in values seen in the global urea market has continued into the second week of the new year, with producers firmly in the driving seat and managing to secure higher prices with each concluded sale.
Attention was once again focussed on the US Gulf where trading activity ramped up further, bolstered by high grain prices and the slow pace of imports. A number of distributors stepped in to secure barges this week, while offshore suppliers with recently purchased spot shipments raised offers further for February and March barges.
In light of the higher levels of demand, January barge values have also surged and have increased by 25% since the beginning of the new year. January barge values surpassed the $300ps ton fob Nola mark this week, the first time since October 2018 that prompt to 30-day out values have traded over this level. The highest value trades took place at $315ps ton fob Nola.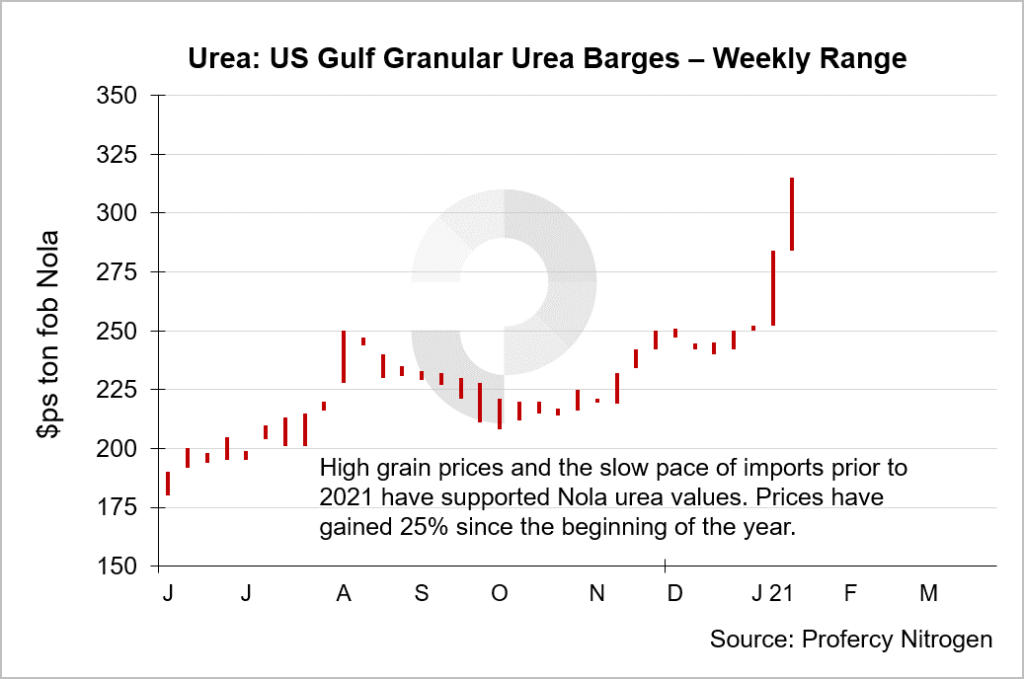 March barges hit at a high of $323ps ton fob Nola, a metric equivalent of $351pt cfr, and while importers have been bidding at higher levels in Brazil, the US remains the destination of choice for suppliers looking to ship volumes from elsewhere. Given the price advance in Nola, now the highest value market in the world, multiple shipments have been lined up ex-Baltic, Algeria and Middle East. This has been insufficient to temper the bullish sentiment.
Producers in North Africa have carried on the momentum from last week, with latest business from Egypt concluded at $335pt fob for March. Indeed, Egyptian granular urea values have also rapidly advanced and are up 16% since the beginning of the month. Traders are confident basis anticipated demand from Turkey and Europe, and owing to recent sales ex-Algeria for movement to the USA.
Heading east, a lack of export availability continues to be seen from China, with urea operating rates low and producers continuing to focus on the domestic market where values remain firm. This supported higher prices in SE Asia with Petronas placing a second half February shipment more than $20pt above last done business in the region prior to the New Year. Middle Eastern producers have also benefitted with competition for tonnes for the US elevating spot values to $320pt fob, more than $30pt above business late last week.
With urea prices continuing their sharp ascent across the global market, the Profercy World Nitrogen Index gained 8.61 points to 136.20 this week. The last time the index made such sharp gains was in September 2017, when it increased by over 10 points.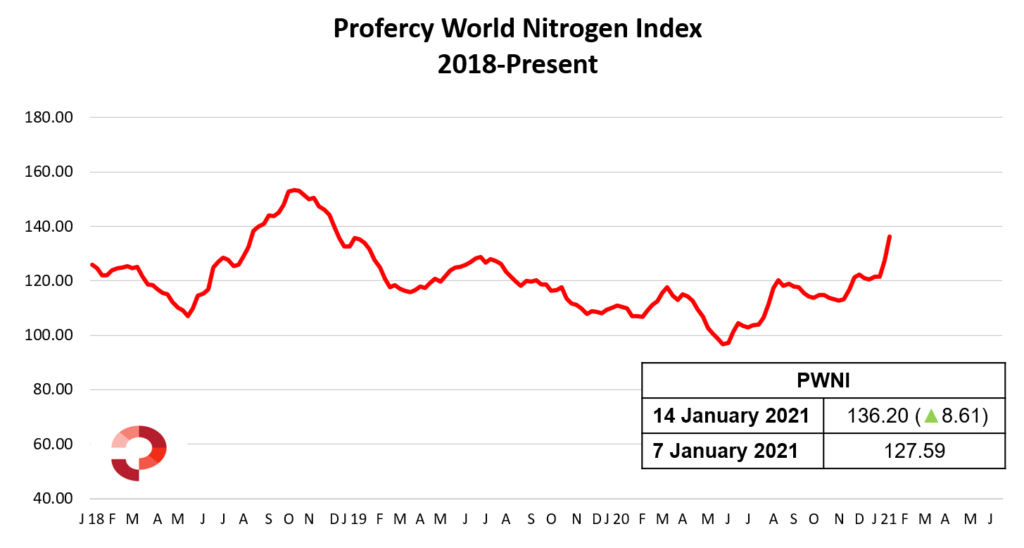 By Neha Popat, Nitrogen Market Reporter