Amsul prices have been gaining for several months in China, primarily for standard caprolactam grade amsul. More recently, sharp increases were noted in other regions. Though the general strength of the nitrogen complex has been a significant factor, it has not been the primary driver in the amsul market.
Over the last 2-3 weeks, Brazilian compacted/granular amsul prices have gained an unprecedented $35pt. Over the same time period, typically slow moving Chinese capro amsul prices have increased by $11-12pt.
Increasing urea values since mid-December last year have exacerbated the situation, but Chinese capro amsul prices have been steadily rising since mid-June 2020. In mid-June, capro amsul prices were around $90pt fob China.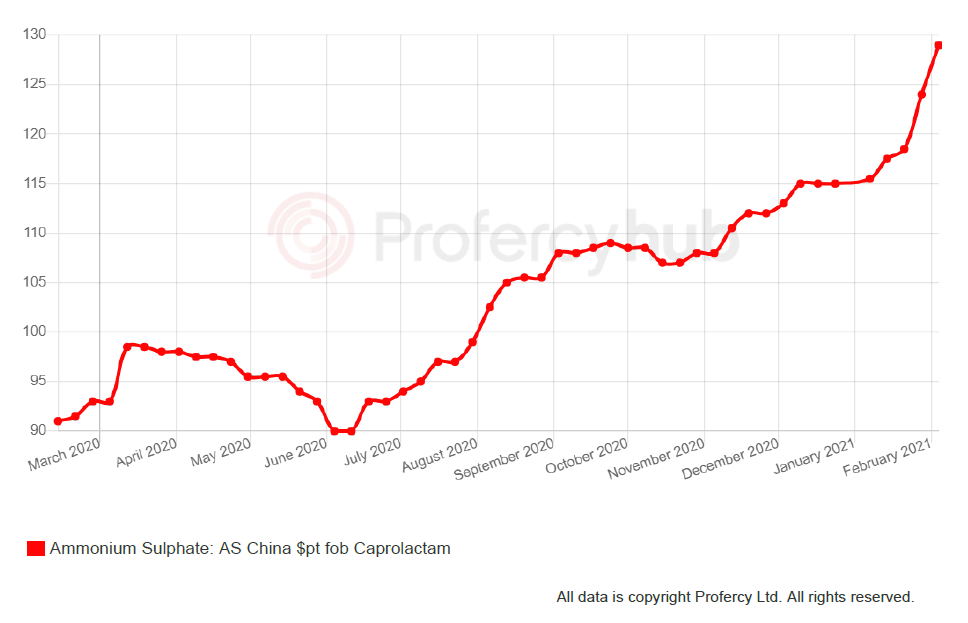 Gains Asia driven
The turnaround in fortunes was heavily influenced by unanticipated spot demand from a major Indonesian importer, Gresik. The largest single buyer of standard capro amsul in SE Asia entered the market for spot tonnes reportedly following the rejection of a contract cargo and having cancelled contracts with the supplier. Subsequent back to back tenders tightened prompt availability with supply of capro amsul failing to catch up to demand until now. In Q4 2020, China exported 530,000t of amsul, primarily capro amsul, to Indonesia. The figure is significantly higher YoY (up 258,000t) and QoQ (up 364,000t).
Other factors have also contributed, including good weather in the region which led to strong demand from all countries in SE Asia. China exported over 600,000t more in 2020 (3.63m. tonnes in total) than in 2019 to the six main amsul importing countries in SE Asia (including Indonesia which imports 1-1.2m. tonnes per year from China).
Turkey, South Korea and Mexico
The increased demand elsewhere helped cushion the cliff edge decline in Turkish demand in 2020 following the expansion of domestic Turkish production capacity. In 2020, Turkey imported only 297,000t of amsul, with the bulk of imports during H1 2020 (240,000t), and only 57,000t imported throughout the second half of the year. At this time, Eti Bakir had fully commenced the additional capacity.
Turkish imports were significantly down from around the 900,000t imported in 2018 and 2019. China was the primarily supplier, in 2018 it supplied 444,000t, and in 2019 it supplied 521,000t.
Turkey was also a key outlet for South Korea. In 2018 and 2019, South Korea supplied around 190,000t (Capro Corp standard amsul) to Turkey. In 2020, the figure dropped to 76,000t.
However, in South Korea, the coronavirus significantly disrupted production of amsul for several months. Total South Korean exports of amsul in 2020 were down 171,000t to 391,000t. South Korea typically competes most actively in markets where it has a duty advantage over Chinese suppliers (Mexico, Turkey and New Zealand). In 2020, problems at an old factory in the US created the opportunity for Korean Capro Corp amsul to be supplied to American Plant Food as feedstock for compaction.
Mexico is expected to emerge as another outlet for South Korea this year, following the closure of a plant by Pemex at the end of 2020.
2021
This year many of the above factors are unlikely to be repeated (e.g. Gresik's contract cancellation) with others now the new norm (e.g. decline in Turkish demand).
The Turkish import demand has been lost permanently. Given that only 57,000t were imported during SH 2020, 2021 imports are unlikely to surpass 200,000t even if assuming strong domestic demand for the coming spring season.
For South Korea, the shutdown of the Pemex plant in Mexico is welcome and the country will most likely permanently replace Turkey as the main export destination. However, with Covid-19 no longer an issue, production is expected to return to normal capacity and Korean suppliers will need to place an additional 170-180,000t (a total of around 550,000t of exports) in 2021. This will prove difficult should European producers aggressively compete for the Mexican business.
In Asia, good weather can be hoped for but not predicted. Should the weather prove poor then prices will come under significant pressure, leading to producers reducing capacities as was the case during Q4 2019/Q1 2020. However, even assuming good weather, the Gresik scenario is highly unlikely to be repeated with import planning by the buyer expected to be without such major interruptions.
On a positive, SE Asian demand for capro amsul remains strong at present with supply tight. Indeed, Chinese producers withdrew from the market this week following overwhelming demand. The S&D situation is highly unlikely to change near or even medium term, implying at least ongoing stability of underlying capro amsul prices well into Q2 2021. This in addition to the wider strength of urea/nitrogen complex which is facilitating forward demand.
By Michael Samueli, Nitrogen Market Reporter