Values for most products across the nitrogen complex have ramped up further this week resulting in the Profercy World Nitrogen Index hitting highs that were last seen 7 years ago.
In the ammonia market, prices continue to race ahead with the latest sale in Yuzhnyy $30-40pt up on last week, while the March Tampa contract price settled $115pt fob higher than February.
Amsul prices have also continued to surge, with Chinese capro amsul availability tight and compactors short of feedstock. While in the urea market, Egyptian granular values have edged closer to $400pt fob, with producers largely committed for April. In the US Gulf, with the weather outlook improving and some signs of demand emerging in the south, sentiment remains strong and March barge values have advanced over $12ps ton over the course of the week, nearing $400pt cfr. Producers and distributors are confident given recent cutbacks to US production and given anticipated import volumes through to end-April.
US UAN values rally as CF returns to the market
Major price gains were also evident in the US UAN market this week. Having been absent since mid-February, CF Industries returned to the market with markedly higher offers for Q2 movements from river terminals, inland tanks and ex-production points. The curtailment of production in the US that resulted from the cold snap and escalation in gas prices has seen supply tighten.
Precise figures regarding lost production are not available. In Iowa, IFCo cut production in favour of selling gas for less than one week, while CF Industries has refocused production at Donaldsonville on UAN over urea to make up for the shortfall in production at both Verdigris and Woodward. Other producers also scaled back production. Reasonable estimates suggest that up to 350,000s. tons of supply have been lost. This comes against the backdrop of reduced imports for the current season, a consequence of earlier low prices in 2020 and with other markets and products offering offshore producers (primarily those in Russia) better returns since the beginning of the year.
Nutrient values: The chart below depicts the value of nitrogen in UAN and urea, with UAN values based on latest offer levels. On a nutrient basis, UAN is at a premium to urea for the first time since early 2019.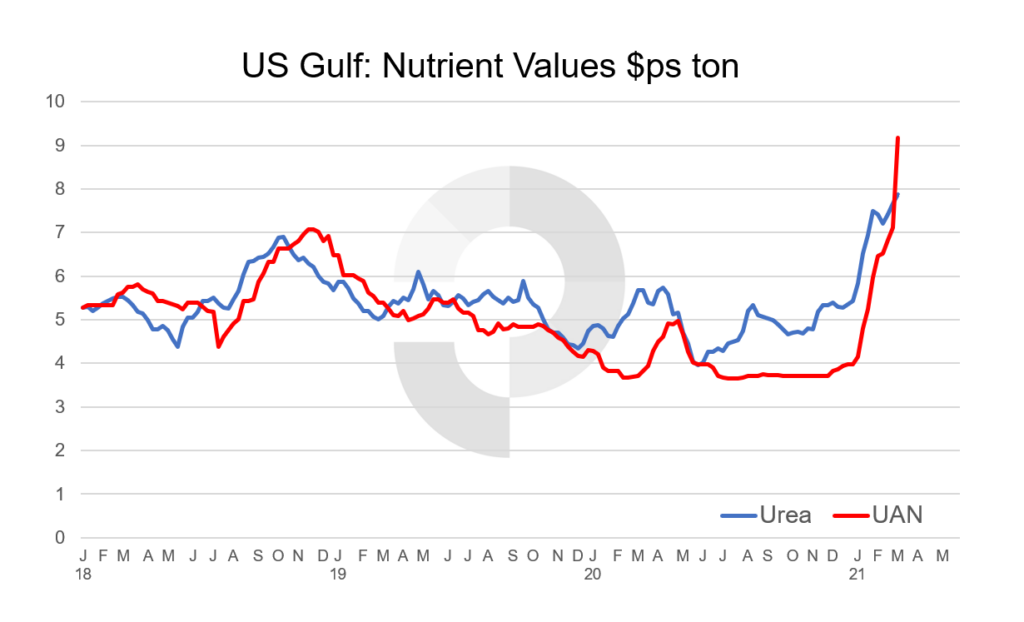 Latest offers from CF Industries are up by as much as $90ps ton on earlier price quotes from the producer. Other suppliers are expected to follow. Price quotes in the benchmark Cincinnati market are at $327ps ton ex-tank, with other locations along the Ohio River in the mid-$320s ps ton. In early February, CF was offering May-June cargoes some $90ps ton lower at these locations. A similar pricing strategy has been adopted elsewhere. Nola values are approaching $300ps ton fob with April paper contracts trading over $290ps ton fob Nola, having been bid earlier in the week sub-$260ps ton.
With the bullish sentiment continuing to be felt across the nitrogen complex, the Profercy World Nitrogen Index has continued its rapid ascent. This week gaining 5.37 points to 180.27, highs that were last seen in March 2014.