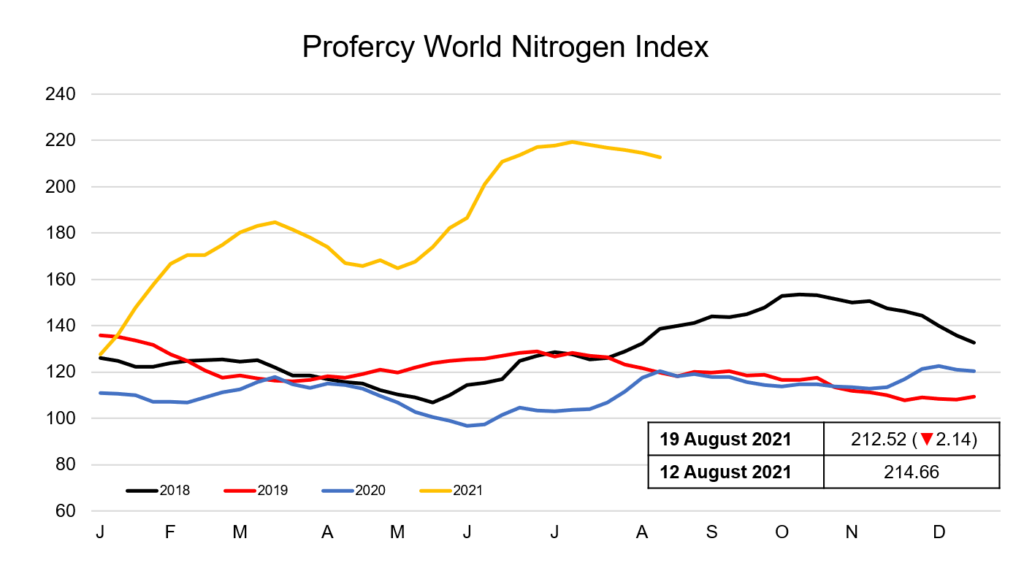 The Profercy World Nitrogen Index (PWNI) has been pressured lower, with escalating freight rates once again a matter of concern and impacting fob urea values in a number of regions this week.
With uncertainty surrounding when India will announce its next tender and the Chinese domestic market in the offseason, export offers from the world's largest urea producer have tumbled this week. Chinese prilled urea was offered at $415-420pt fob late this week, falling from the high-$440s pt fob last week.
Many participants had been expecting an announcement from India regarding a fresh urea purchasing tender this week. However, the tender has been pushed back with sources suggesting that RCF is facing issues relating to credit lines and resources. Some expect the announcement could now be delayed until early-September.
Urea values in other fob regions have also softened as both higher freight rates and weaker sentiment had an impact. In Egypt, trades took place for September shipment around $20pt fob lower than last done business for August that took place from the region over two weeks ago. Meanwhile in Algeria, offers declined to the mid-$440s pt fob.
Brazilian buyers took advantage of the price dip and import demand significantly improved with around 70-80,000t of business concluded. Prices improved by some $20pt above the lowest levels heard last week as a result. However, this has done little to aid producers in the Baltic, with the increases in the freight market eroding fob values in this region as well.
Overall, sentiment in the global urea market remains soft. Derivatives values also declined late in the week with September Arab Gulf contracts trading at $445pt fob, and September Brazil contracts falling to $475pt cfr.
The PWNI fell 2.14 points this week to 212.52, the fifth consecutive week it has declined.
By Neha Popat, Nitrogen Market Reporter