Chinese fob offer levels for both prilled and granular urea have declined significantly over the last few weeks. As the world's largest producer of urea, China's role as a swing supplier and primary determiner of global market direction remains intact. Indeed, the recent downturn in the urea market began as China's domestic market slowed and suppliers moved to export large volumes.
Average prilled urea values were around $463pt fob in early August, however, with producers and suppliers chasing export business, values have declined by around $50pt. The latest prilled urea business to have taken place is in the low $410s pt fob.
Many in the market remain uncertain as to whether recent Chinese state and trade association recommendations will stall exports, particularly for India. In July, Chinese producers and suppliers were told to keep urea for the Chinese domestic market. Earlier announcements from the NDRC and other government bodies came at a time of high domestic prices and peak seasonal demand. However, ex-works values have since fallen dramatically with agricultural demand waning and with industrial buyers deferring demand.
Despite these earlier announcements, latest Chinese customs statistics show that exports from the world's largest urea exporter have increased significantly this year.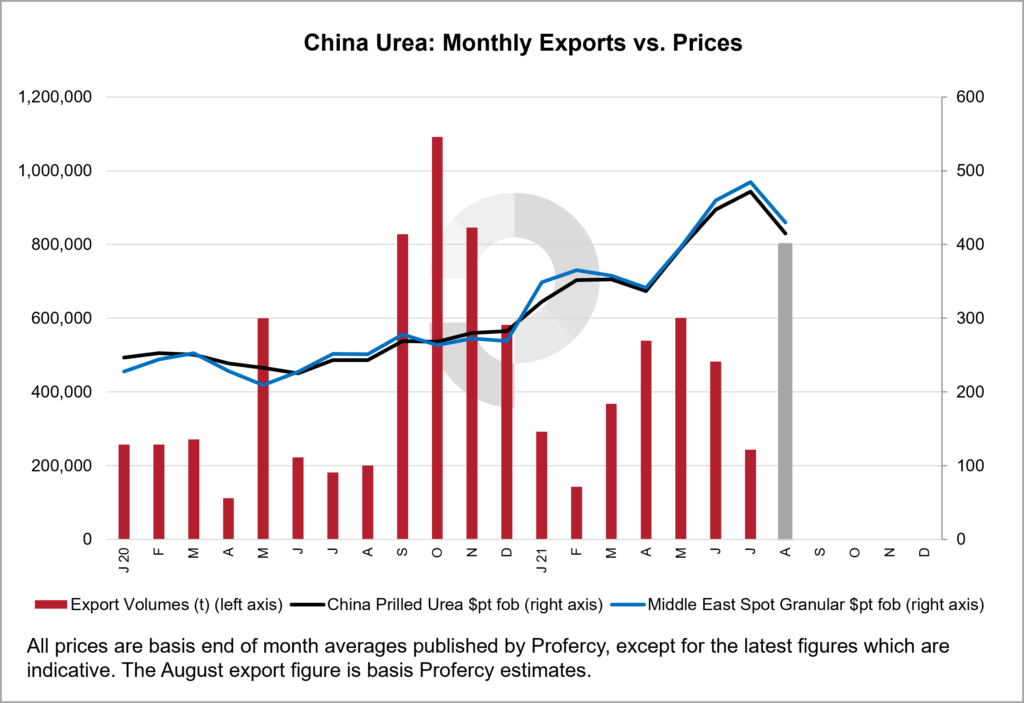 January-July urea exports were 40% higher at 2.67m. tonnes, compared to the same period last year when 1.90m. tonnes was exported. The vast majority was destined for India with 990,000t, followed by South Korea with 432,000t. Of the 243,000t exported in July, 75,000t were shipped to India.
The above export business was concluded prior to the sternest of instructions from the Chinese institutions not to export. Yet, August exports are expected to be well above July with China committing 650-700,000t in the most recent RCF tender. August exports are therefore estimated to be around 800,000t.
In addition, to the desire to export, the latest round of skyrocketing freight rates have weighed down the export fob values both for China and other exporting regions.
The next major test of China's interest in international business will be in any future Indian tender inquiry. Producers and suppliers had been hopeful that a new tender would have been issued already, but have been left disappointed. Consequently, importers in other markets have been confident deferring and traders have been unwilling to build long positions for forward months. At a time of escalating freight rates, this has ultimately put pressure on fob values in the east and west.