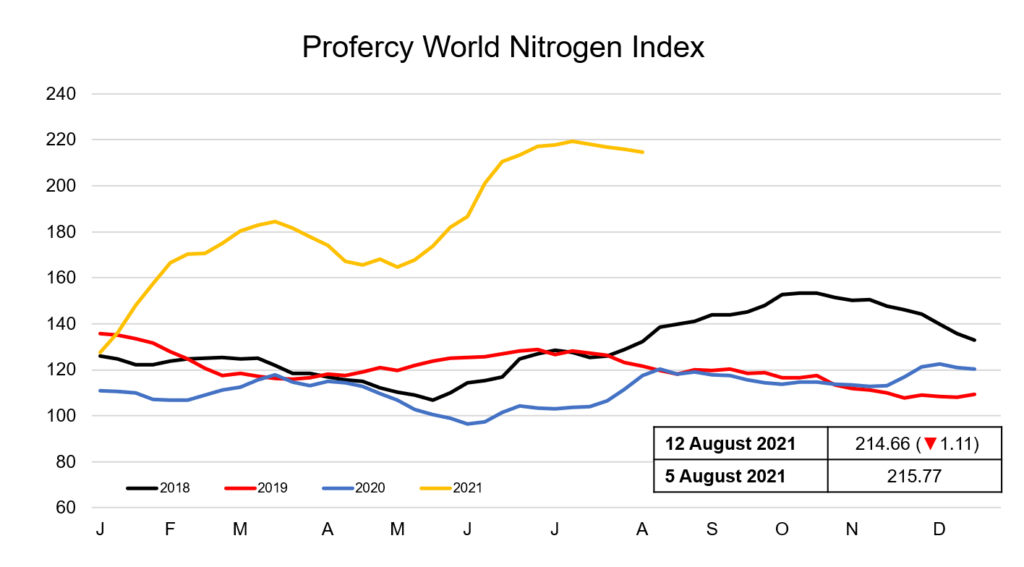 The Profercy World Nitrogen Index has declined again this week with urea buyers in most regions remaining absent from the market. However, granular urea prices in the US and Brazil did improve with demand emerging early in the week.
Fob values in the FSU and North Africa continue to be pressured with western markets slow. In the Baltic, producers with August availability have had to reduce prilled urea offers in order to achieve new business this week. While in Algeria, offers for granular urea for September shipment were heard at $450pt fob, well below last done for August shipments.
Having hit lows of $400ps ton fob Nola briefly last week, US barge values were bolstered by the return of several distributors to the offseason market for August barges. Highest value August business took place at $430ps ton.
More importantly, Brazilian cfr values temporarily declined further late last week, but picked up again with multiple major importers stepping in. Sales were concluded into up to $472pt cfr, with many suppliers anticipating further gains.
In the east, producers in the Arabian Gulf continue to await an announcement from India regarding a new purchasing inquiry. With most in the market now expecting RCF to announce the sixth inquiry of this season soon, producers with September spot availability are targeting sales to the world's largest urea importer.
Meanwhile, export offers of prilled urea from China fell considerably with the domestic market in the offseason and production rates improving following turnarounds. Prilled urea business was concluded sub-$450pt fob, more than $10pt below the lowest trades that took place last week.
Nevertheless, participants remain doubtful over whether significant volumes of urea will be exported from China during the next Indian tender, owing to the recent releases from the government and trade associations that fertilizer companies should look to increase supplies to the domestic market, at the expense of exporting.
The Profercy World Nitrogen Index fell 1.11 points this week to 214.66.
By Neha Popat, Nitrogen Market Reporter