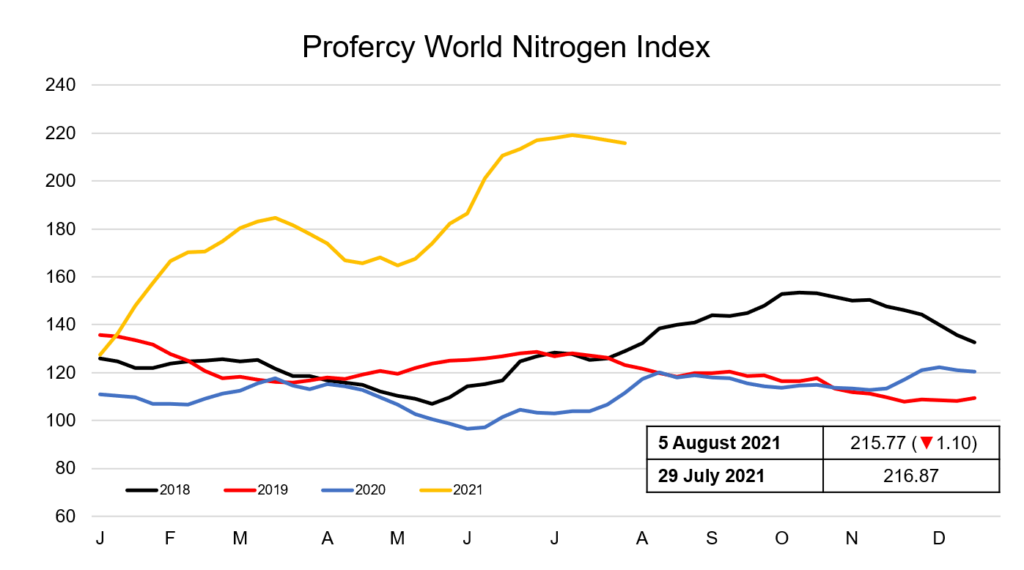 The Profercy World Nitrogen Index has declined for the third consecutive week. Buyers have noticeably taken a step back from the market and reduced bids speculatively, particularly in Brazil. In fob regions that rely on western business, traders have been unwilling to accept producer offer levels or take on positions.
In some regions such as Egypt where producers are under little to no near-term pressure following earlier sales, market activity has slowed to a crawl as buyer and seller price ideas have significantly widened. Elsewhere, such as the Baltic, producers have been holding back September availability, unwilling to sell too far forward in a rising market (as was the case for the last few months). Those that still have August availability have come under considerable pressure.
In Brazil, cfr values declined $25pt cfr from the highs seen last week, with sellers with July and August shipments having to cut offers in order to place tonnes. Sales were reported down to $470pt cfr with bids no higher than the $460s pt cfr midweek.
Meanwhile, the US Nola barge market experienced a volatile week. With buyers out of the market midweek, values temporarily declined to $400ps ton fob Nola, down $22ps ton from trades that took place earlier this week. Seeing value at the lowest levels, the market found support and quickly recovered as buyers entered the market.
In the east, 85,000t of granular urea was booked for September shipment from Indonesia at $457.50pt fob, around $20pt lower than last done business from the region a month ago.
The market has not reacted to the statement issued by China's NDRC last week that a number of key fertilizer companies will temporarily suspend exports to ensure domestic supplies are available. Many Chinese suppliers have continued to offer product for export in August and into September.
With India expected to enter the market again in the coming weeks for more tonnes, there remains uncertainty as to volumes available from the swing supplier during future tenders.
The Profercy World Nitrogen Index fell 1.10 points this week to 215.77.
By Neha Popat, Nitrogen Market Reporter