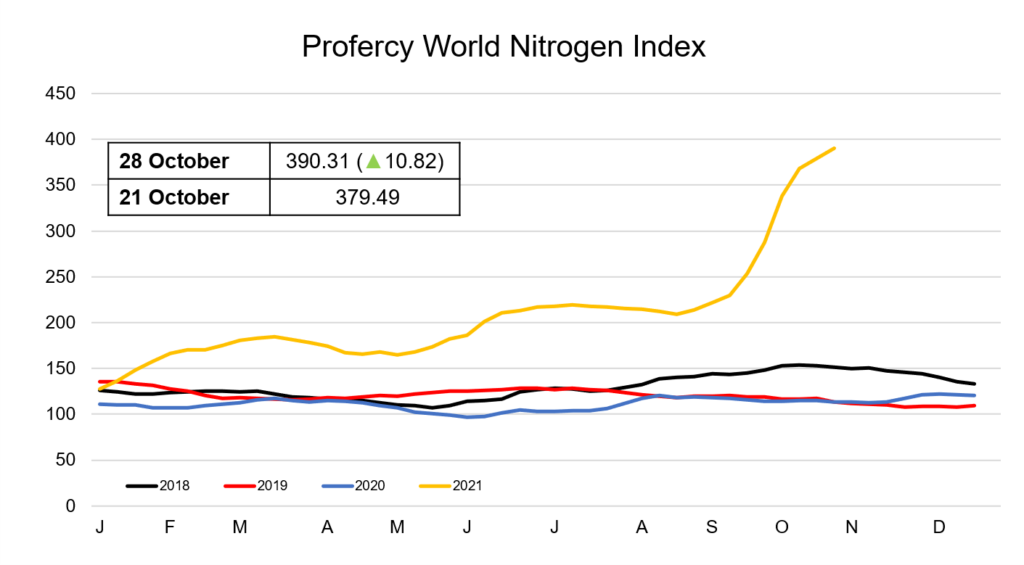 With global urea values continuing to race ahead and showing no signs of letting up, the Profercy World Nitrogen Index has this week climbed by over 10 points to hit a fresh all-time high.
India returned to the urea market with a new purchasing inquiry for shipments to 10 December. However, in a move that surprised many, state purchasing agency RCF only invited bids from producers. With supply increasingly tight, many in the market do not expect India to be able to secure the urea volumes it requires.
SE Asian and Middle Eastern producers are now sold forward for November and December shipments. Furthermore, with China now unable to export urea, eastern availability is tight. SE Asian granular and prilled urea was sold into Korea at much higher levels this week as a result.
In the west, Egyptian producers are also committed throughout November and into December with Europe supporting the highest fob prices worldwide owing to the recent gas crisis. European buying has slowed of late, but cfr prices are still registering modest gains.
Owing to contract commitments and earlier sales, producers in Russia, Algeria and Nigeria are unlikely to participate in the Indian inquiry in any major way.
With the global supply of urea remaining incredibly tight, producers have managed to achieve further significant price increases this week. In the Middle East, Sabic sold a cargo of granular urea for November shipment at $850pt fob, the highest price paid in the region in over 13 years. While, Egyptian granular urea hit $900pt fob this week for a small-sized cargo in December.
Heading west, values in the US Gulf barge market also advanced midweek, with traders and distributors entering the market in search of barges for early next year as they look to build positions. Concerns regarding domestic supplies remains a significant feature of the Nola urea barge market, and deferred values have once again advanced this week to $788-799pt cfr, now only marginally behind latest values paid in Brazil.
Offers from producers will undoubtedly be at high levels in the upcoming Indian tender that is set to close on 1 November. Other markets will now most likely need to adjust to compete for product or defer purchases. India remains well behind on imports and tenders from the world's largest urea importer are therefore set to become a regular feature in the market during the coming months.
The Profercy World Nitrogen Index climbed by 10.82 points this week to 390.31.
By Neha Popat, Nitrogen Market Reporter