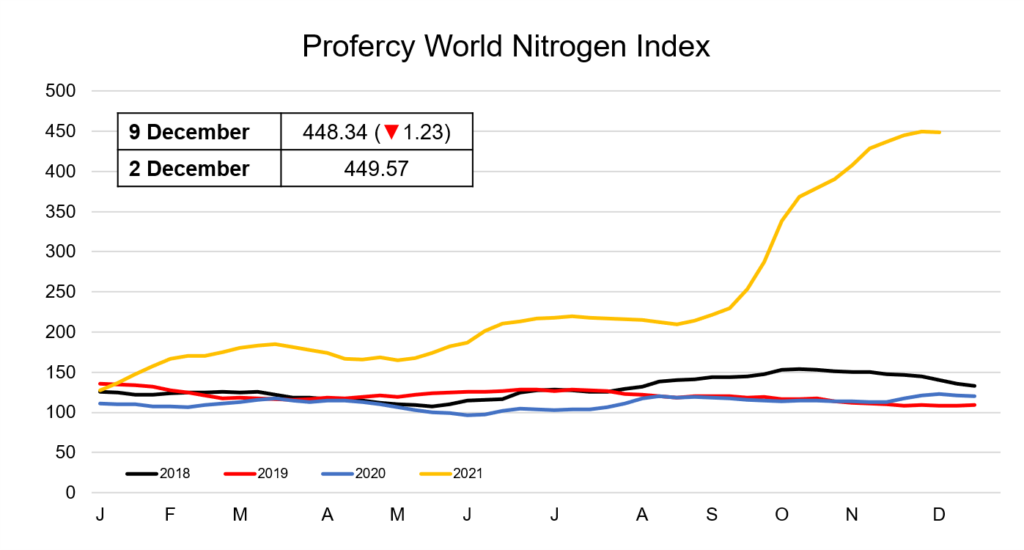 The Profercy World Nitrogen Index has this week fallen by 1.23 points to 448.34, the first decline made by the Index in nearly four months.
The global urea market has been faced with dwindling supplies since early September. Cutbacks to domestic production earlier this year in the US were further amplified following the aftermath of Hurricane Ida, where production and logistical challenges in the US Gulf region saw buyers scrambling for nearby barges.
Supplies from Europe were also soon restricted owing to record-high gas prices that led to producers either cutting back, or shutting down production altogether. While, in the east, supply from China has been significantly reduced with authorities restricting exports from mid-October.
At the same time, with domestic demand high in India, the country has needed to return to the market with three purchasing inquiries announced to date since October.
The situation has culminated in buyers paying a premium for whatever material has been available in the market and almost uninterrupted weekly price gains globally. However, with demand slowing down across the urea market over the past few weeks, values have eased in some regions.
With India expected to return with a fresh purchasing inquiry, potentially by next week, producers in the east and west continue to hold fob offers around last done levels that were set during the previous Indian tender.
Yet, there has been no willingness amongst buyers to pay high prices for product unless it has been absolutely necessary, with only small volume sales taking place this week as a result. The majority of buyers seem content to wait until early next year in the hope of a price correction.
In some areas, cfr values have to edged lower as traders look to place the remainder of December positions. In Brazil, December cargoes were offered at $860pt cfr for much of the week. However, with buyers showing no interest at these levels, offers were then reduced by $20pt.
The offseason US Nola market saw a burst of activity midweek, with values staging a moderate recovery. However, many do not expect demand to pick up again until the new year.
With producers awaiting India's return, there remains a vast disparity between last done fob values and cfr values, particularly in the west, as a result.
By Neha Popat, Nitrogen Market Reporter