The Profercy World Nitrogen Index (PWNI) has declined by a significant amount for the second consecutive week. With both fob and cfr urea values sinking lower again, the Index has dropped 18.20 points to 403.41 this week. The Index has fallen by nearly 40 points over the past two weeks.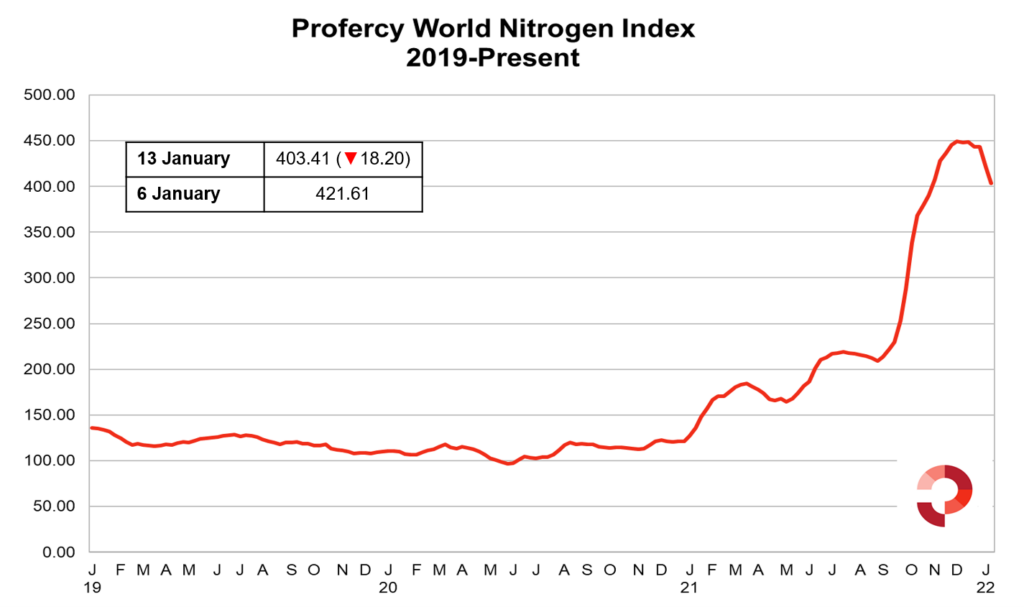 Demand has yet to emerge from any major market following India's most recent purchasing inquiry in late December. With the global urea market now in the midst of an adjustment and a bearish sentiment engulfing the market, buyers remain content to sit on the side lines as they wait for a new price floor to be reached.
Interest from European buyers and traders for fresh shipments remains limited, and while Egyptian producers have been holding offers above $800pt fob for January shipments, this remains nowhere near buyers' price ideas and no new business has been reported to have taken place from the region for some time.
Urea values in the east have also softened this week, although they are yet to feel the same pressures as western values, with SE Asian availability limited for January and China's absence from the export market still being felt.
Nola volatility continues 
The Nola urea barge market has once again been impacted by volatility. With the market remaining in its offseason, demand from domestic buyers is still some way off and bids have been limited of late.
Nola values saw sharp declines early last week, but went on to stage a modest recovery towards the end of the week with a number of distributors entering the market for new purchases.
However, buying interest since then has again waned and suppliers with cargoes arriving into the region have had to cut offers in order to attract buyers to the market. January barge values have fallen by over $100ps ton from deals that took place late last week as a result, while February barge values have also seen similar declines.
The latest downturn in Nola values has also significantly impacted the Baltic with producers unable to indicate new levels to the market owing to the current volatility in prices. Values were heard no higher than $780pt fob from the FSU region this week.
While no major buying market is yet to show any interest in making fresh urea purchases, participants remain uncertain over how much lower prices may still fall.
By Neha Popat, Nitrogen Market Reporter