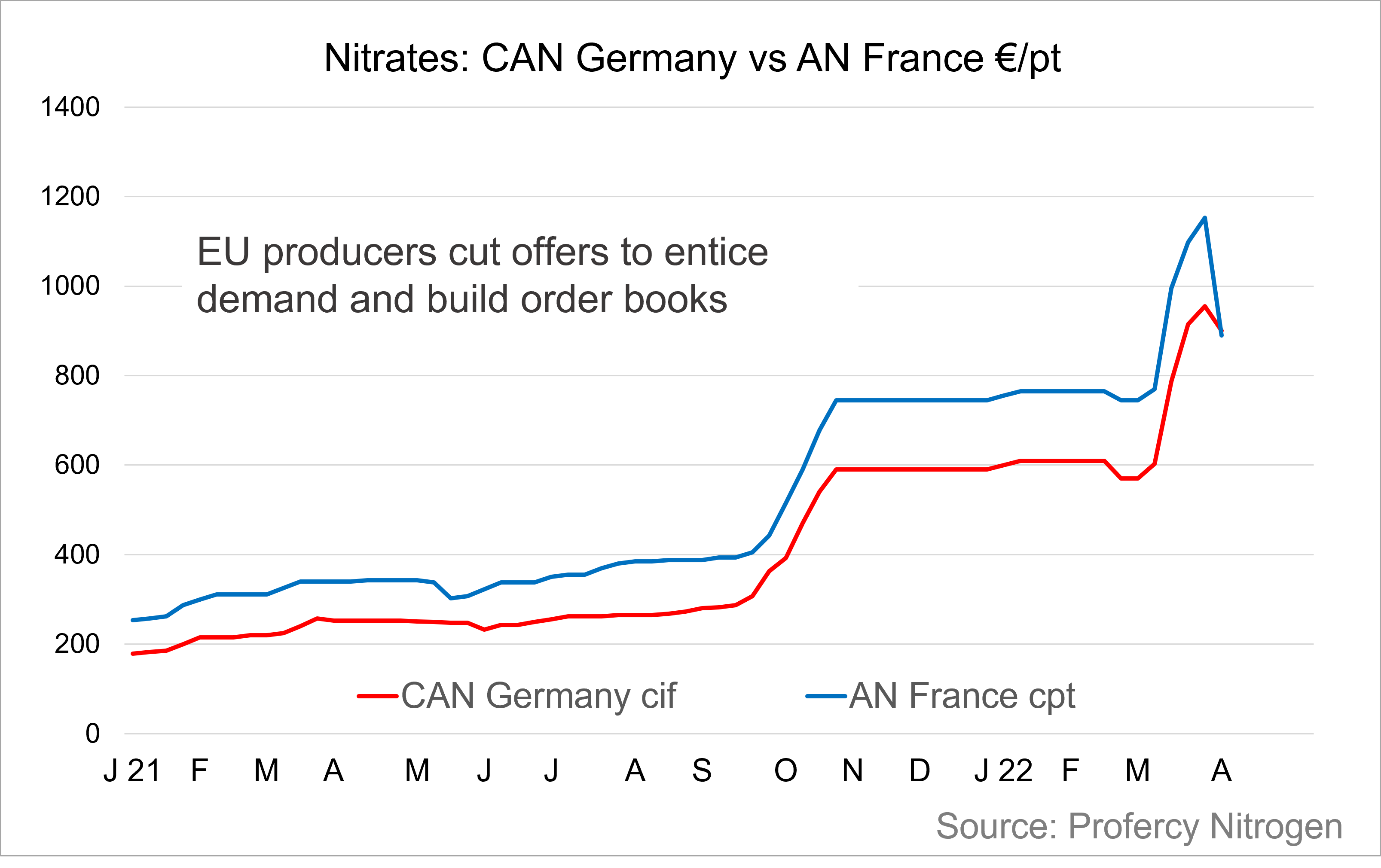 Several major European producers have cut nitrate prices or indicated to buyers a willingness to discuss sales well below earlier official list prices. The price reductions are primarily a correction in prices that were set at a time when gas prices were surging. At the time, producers were concerned about committing product at levels that would not be profitable. Since then, gas prices have been comparatively stable at lower levels.
In part due to the high prices, ammonium nitrate (AN) and calcium ammonium nitrate (CAN) demand has been weak in Europe over the last few weeks in between the first and second application.
The second application is due to commence from next week, with demand expected to pick up accordingly. Buying nonetheless is expected to be hand to mouth with the weather in Europe overall dry and unsupportive of fertilizer demand, while buyers have major reservations about holding stock at the current high price levels come next season. The latter sentiment is prevalent among suppliers and producers as well as buyers.
In view of this – and to capitalise on the anticipated demand – European producers have cut offer levels to secure orders and clear stocks ahead of next season.
In the UK, CF Industries is reported to have reduced offer levels this week for its AN from £905pt delivered merchant to £775pt delivered merchant. The new price is in line with netbacks from recent export business by CF.
In Germany, Yara cut CAN prices to €880-930pt cif bulk. The producer had increased list prices to €980pt cif bulk in mid-March following reported sales at around €950pt cif bulk. OCI is reported to be indicating CAN at similar levels to Yara.
Buyers have reported sales by major producers down to €870pt cif bulk with some confident that a firm bid for a larger volume at €850pt cif bulk would lead to business.
Meanwhile in France, Yara has reduced prices of AN to €890-895pt cpt bulk. Borealis is reported to be offering at similar levels. This marks a major cut from Yara's list price of €1,205pt cpt bulk issued on 9 March. At the time gas prices were around double current levels.
By Michael Samueli, Nitrates Editor