April has been a challenging month for those holding urea. After a tumultuous March in which the market was reacting to the impact of war in Ukraine and subsequent sanctions on Russia, liquidity has since been light in the east and west.
The slowdown in European and US import demand, as well as the absence of firm inquiry from India, encouraged buyers worldwide to defer in anticipation of lower fob values.
These have been realised with IPL India's tender for just 78,000t of urea for shipment by mid-May offering returns around $725pt fob Middle East (basis the west coast award). This is more than $230pt below the highest price paid in March for April shipments.
A subsequent Indonesian sales tender for a May shipment resulted in a sale at a comparable fob level for 45,000t of granular urea.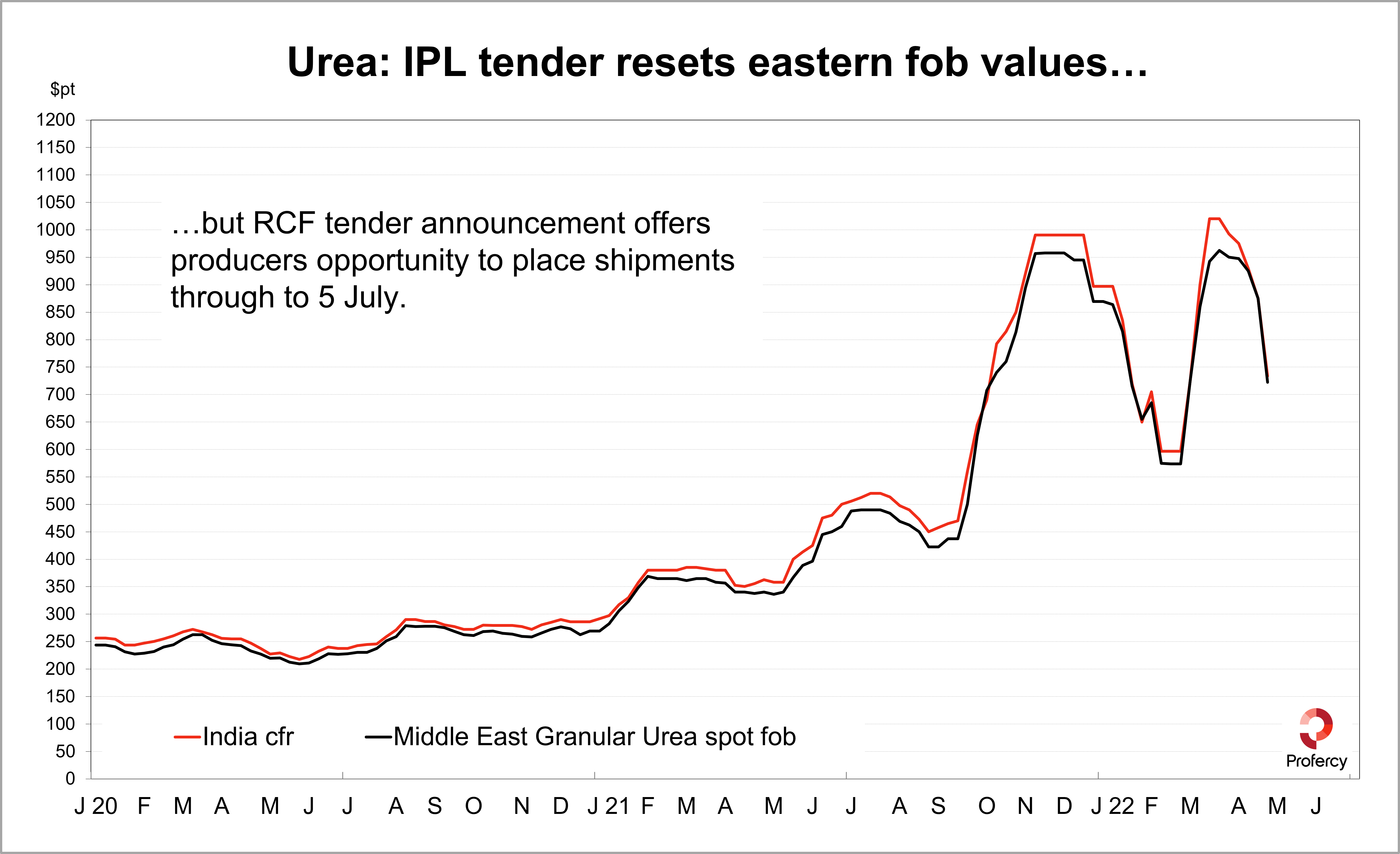 Cfr values in the west have been under pressure in the past few weeks. In Latin America, Mexican demand has cooled after a busy March, with the only notable activity taking place in the offseason Brazilian market. International suppliers with contract cargoes were forced this week to cut offers below $750pt cfr to place tonnes.
In the USA, poor weather has stalled terminal business and weighed heavily on Nola barge values. Volatility continues to define the Nola market with barges trading in a $100ps ton range in the past week. Barges traded down to $620ps ton fob Nola before recovering to $720ps ton fob Nola. With Nola trading at a major discount to the international market, re-export business once again took place with 30,000s. tons sold to a trader for shipment to Latin America.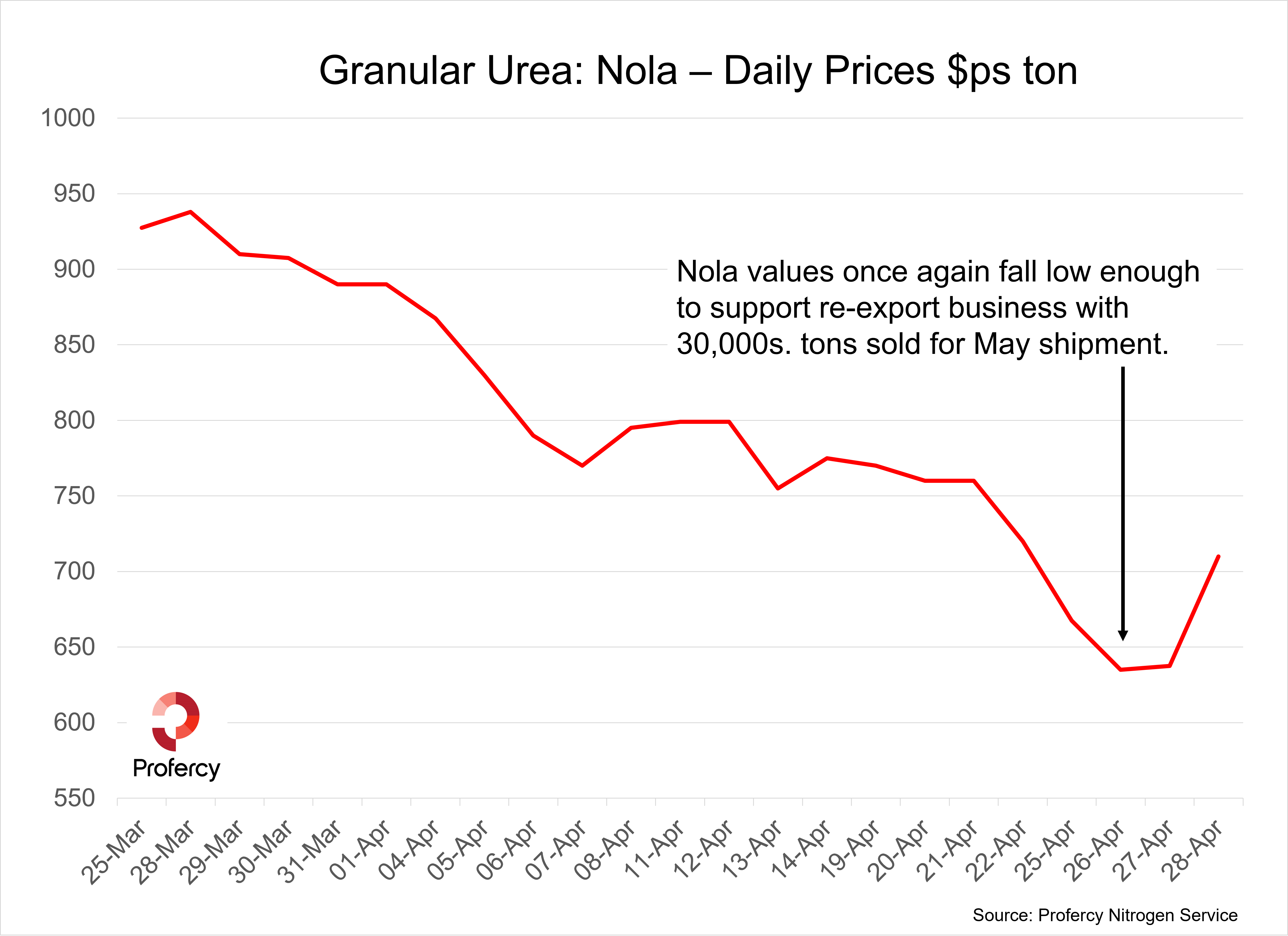 India offers a lifeline to producers for June-July shipments
The IPL tender was in many respects the warm-up to the main event. Within hours of LOIs being issued under the former tender, RCF announced a tender to close 11 May for shipments to 5 July, a long shipment window relative to previous inquiries.
Notably, the state agency took the unusual step of stating an intention to purchase around 1.5m. tonnes of urea. The volume sought is unsurprising given that India has missed out on April and first half May shipments.
The tender should offer producers a valuable outlet for June and July shipments of urea and could encourage buyers elsewhere to step in.
It will also provide a major test of the role that Russian product can play in satisfying future Indian demand. Several producers are indirectly affected by sanctions with logistics and financing also a major obstacle to business.
Further, with the shipment window extending into July, suppliers ex-China will be assessing potential business. Tigher export controls, in the form of customs checks and port inspections, were introduced mid-October  and reduced export business to very low levels. Nevertheless, sales have been possible where time has allowed local requirements to be satisfied. Indeed, international values have been at a major premium to those int he domestic market for some time. In addition, it is not yet certain whether export controls will continue beyond June. As such, Chinese participation in this next tender cannot be ruled out.
Nitrogen Index loses 106 points since end-March
With ammonia, UAN and nitrate values also coming off, albeit to varying degrees, the Nitrogen Index lost a further 43 points. It has now lost more than 106 points since the end of March high.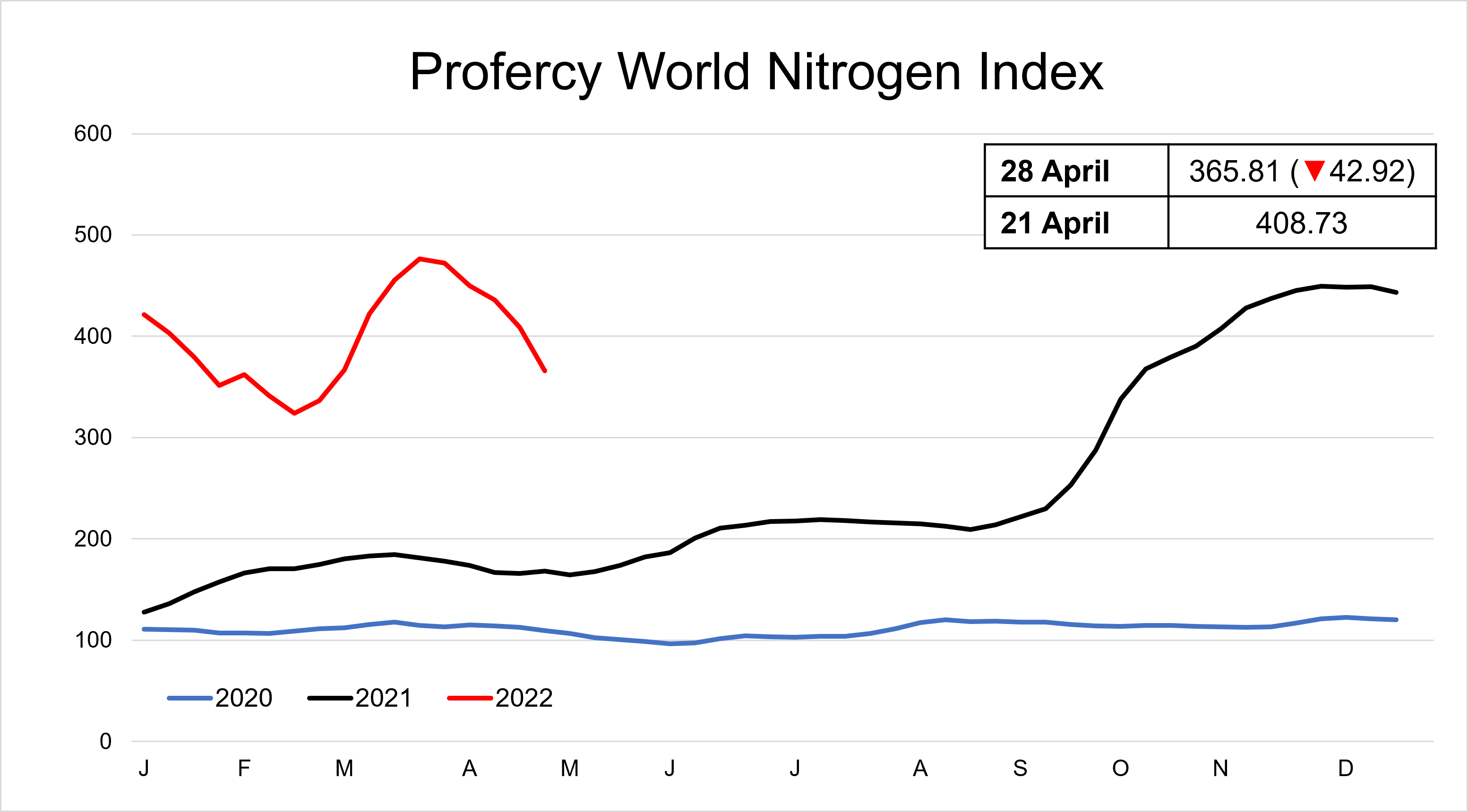 by Chris Yearsley, Editor, Profercy Nitrogen