North African granular fob values make triple-digit gains
Firm gas prices a concern for European producers and importers
Nigerian and US material booked for shipment to eastern Europe
Urea values recovered in spectacular fashion this week with Egyptian fob values rallying more than $100pt in a matter of days.
As demonstrated below, the move has brought to an end a correction that began in April. The earlier correction saw fob levels fall from the record March highs set in the wake of conflict in Ukraine, and the major supply disruption that came with it. Since then, demand deferral and a slowdown in market activity has weighed on global nitrogen values.
Yet, for the first time this quarter many producers have now been able to build order books for the following 30-45 days. This includes those in North Africa, Nigeria and to a lesser degree SE Asia and the Middle East.
Egyptian suppliers placed well over 120,000t for July shipment in just four days, with some making sales into August. Indeed, Mopco has sold August shipments of granular urea at $740pt fob, $140pt fob above price lows assessed by Profercy last week.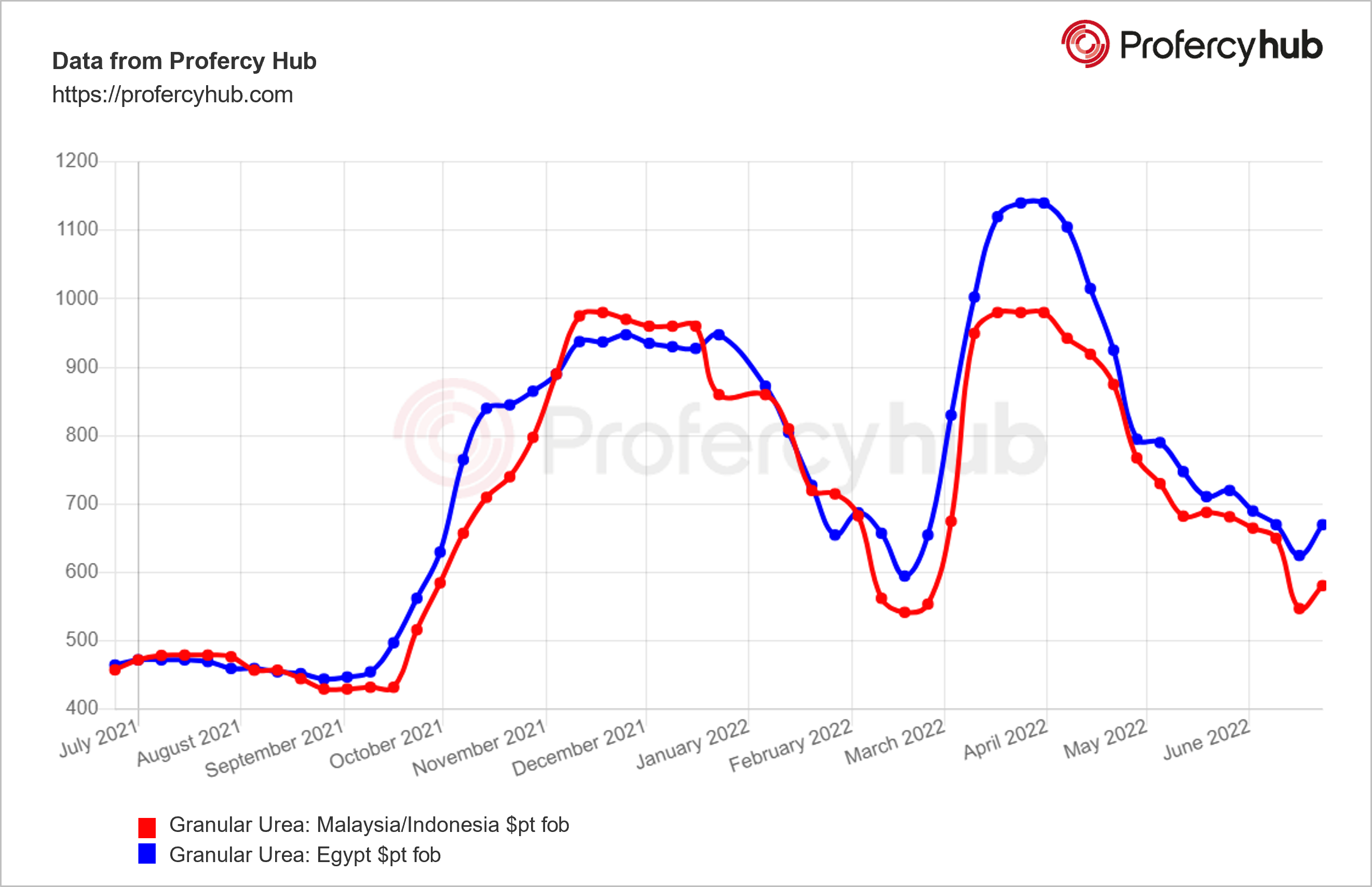 Firmer gas prices in Europe, alongside short covering of sales by traders into Europe and Latin America, were the catalysts for the latest activity and price rally.
Indeed, gas feedstock prices are front of mind for European nitrogen producers, as they have been for much of the last 12 months. Front month Dutch TTF prices have been over $40mmBtu equivalent, pointing to urea production costs for an efficient urea plant over $1,000pt ex-works before emissions costs.
Moderate production cutbacks, primarily affecting the ammonia market, have already taken place. High production costs imply that nitrate values could be supported through the offseason, even if liquidity is light, potentially bolstering demand for urea.
Importantly though, low fob prices were also a factor in stimulating demand. Eroding netbacks from Latin America and the USA, in part a consequence of sharp offers for Russian material in the former, encouraged non-traditional suppliers to Europe to entertain such business.
In a first, eastern European buyers have secured granular urea from both Nigeria and the USA via traders. This includes one cargo of CF Industries material.
The most significant price gains in the past seven days have been in the west. Eastern producers have benefitted. For example, SE Asian granular values have found support and even advanced on the back of inquiry for Latin America. Producers in the Middle East have raised price ideas, understandably taking the view that India will again be a major outlet for end-July/August shipments.
By Chris Yearsley, Director, Profercy Nitrogen