The international ammonia market has begun 2023 in an overwhelmingly bearish mood given the amount of material available and significant slump in European natgas costs.
Participants have suggested European import prices could slide sharply in the coming weeks, as major producers reduce their reliance on imports and focus on ramping up output.
The bearish tone was underlined by a $55pt month-on-month fall in the Tampa contract for January loadings, although some players had expected a lower number given the length in the market.
Sentiment is that the settlement's netback to Trinidad is not likely to be achieved in the current spot market due to the weak demand and abundant supply.
In addition, an uptick in export activity in China means cfr values in some countries are far lower than if such shipments were not present.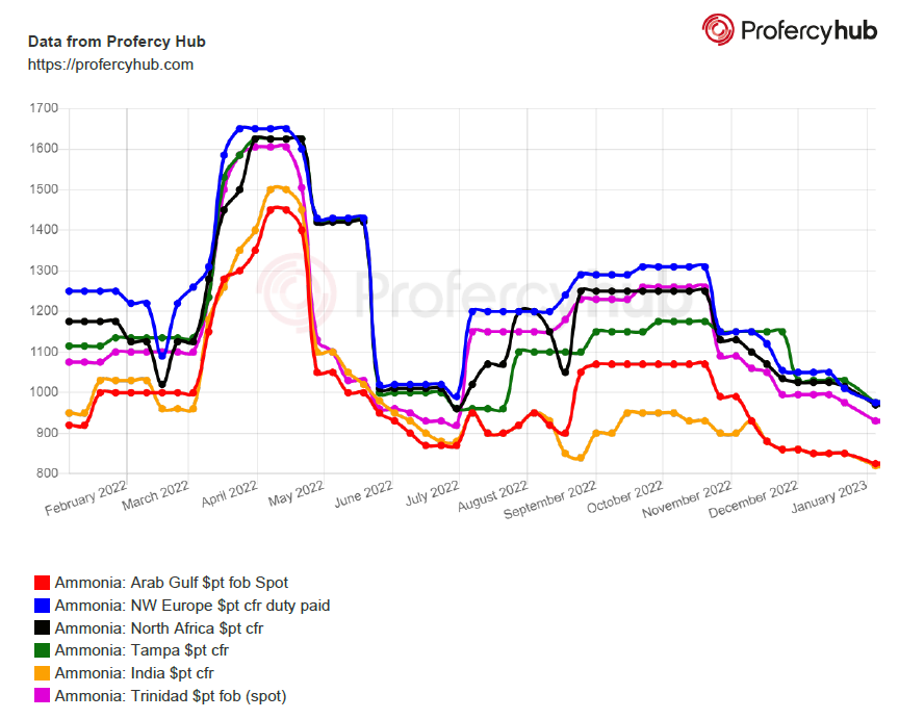 According to Profercy data, more than 1.6m. tonnes – involving 105 shipments – loaded in December, the highest monthly merchant volume of 2022.
Almost a dozen spot sales involving some of that total, or imminent liftings, were seen in a busy start to 2023, although prices were elusive for all but one deal.
Yara secured a series of cargoes in north Africa and may have struck some deals in Asia Pacific – where many offices remain closed.
Trammo was active both sides of the Suez and a flurry of deals are likely to emerge in the next fortnight as buyers and suppliers return to their desks.
Merchant Ammonia Market 2022 in Numbers
Total volume moved by marine vessel = 16.64m. tonnes (versus 17.54m. tonnes in 2021)
Busiest month = December with 1.61m. tonnes (versus 1.59m. tonnes in October 2021)
Total loadings = 994 (versus 1,011 in 2021)
Month with most loadings = December with 105 shipments (versus 92 in April 2021)
Month with least loadings = February with 71 shipments (versus 79 in February 2021 and March 2021)
Country with highest monthly export total = Trinidad with 398,000t in August (versus Trinidad with 457,700t in October 2021)
Highest cfr price = $1,650pt NW Europe duty free/paid in March (versus $1,240pt duty free/paid in December 2021)
Highest fob price = $1,605pt Trinidad in March (versus $1,060 pt in December 2021)
Total number of NH3 tankers active as of 31 December = 85
Company with the largest fleet as of 31 December = Yara: 14 vessels with combined carrying capacity of around 220,000t.
By Richard Ewing, Head of Ammonia