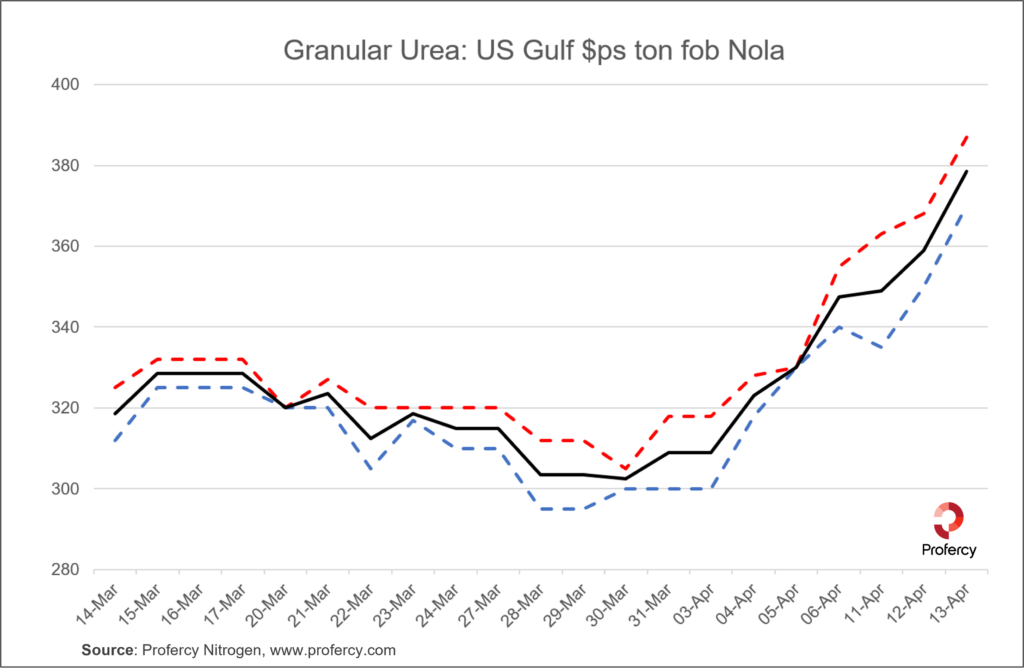 Insatiable demand for prompt Nola barges has seen US benchmark prices rally more than $32ps this week with first half April business done up to $387ps ton fob.
While the focus has been on near-term barges, the 45-day price curve has advanced with up to 50 barges, including several for first half May, changing hands in a short space of time. Major distributors have been active, also sourcing product direct from freshly booked vessels.
Terminal values have adjusted in tandem with recent Nola gains.
Despite farm economics being healthy, consistently declining fertilizer prices since Q3 2022 kept many retailers and wholesalers out of the market. Improved weather forecasts and emerging demand at terminals in the south sparked the rally over the past 10 days. Once widespread demand for resupply emerged in Nola, many quickly found that near-term availability was very light.
The lack of urea imports has been a direct consequence of the US market trading at discount to other western markets, bar Brazil, for much of the last three months. High European values and demand in Central America encouraged regular suppliers in Nigeria, Algeria, the Middle East and Egypt to diversify marketing plans, limiting shipments to the USA. The Nola/east coast import line-up has been dominated by Middle East contract cargoes, Russian shipments and the occasional spot cargo booked in Q1.
The challenge for buyers now is that major additions to the import line-up for end-April/first half May shipment are unlikely. Shipments from eastern suppliers have been ruled out for some time, while May shipments from Africa risk arriving in Nola first half June at the earliest and in danger of being too late for the application season.
A similar situation was evident in 2015, with prompt barges maintaining a premium for much of Q2.
In the past week, a handful of vessels for second half April shipment have been committed ex-Algeria and Nigeria. Some vessel diversions from Brazil have also taken place. Spot shipments from Russia have also been on offer. These will do little to bolster the import line-up significantly. Further diversions are, in principle, possible.
Traders are typically cautious over committing potential June arrivals. Nevertheless, with even first half May values either side of $400pt cfr, some $30-40pt above last done levels into Mexico/Central America and ahead of the calmer European market, some may be tempted. For now, the extent to which this will happen remain unclear. Indeed, a buyer in Central America tendering for first half May shipment did not struggle to source granular urea from Russian suppliers at $360pt cfr, in theory well below US returns.
For other markets, Nola stepping in late may also bring difficulties. Mexican buyers requiring April shipments have been forced to book ex-SE Asia at cfr values $20pt above last done. Others have opted to defer inquiries. This demand has nevertheless aided some eastern producers in building order books to April, and even into May.