Profercy Hub – the latest fertilizer prices at your fingertips
The Profercy Hub provides instant access to over 90 key fertilizer prices, covering nitrogen, phosphates & NPKs and potash markets. This includes the key price indices published through Profercy's established market reports, as well as the key indices supporting the global fertilizer swaps trade.
Provided free as part of our subscription services, the Profercy Hub allows users to:
1. Access and download historical price data
Including over 90 price series across our Nitrogen, Phosphates & NPKs and Potash services.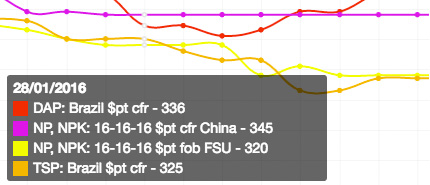 2. Access the latest and historical weekly reports
Profercy's latest weekly reports, including detailed market analysis and news, are available to view and download instantly.
3. Create, download and save charts instantly
The Hub provides easy access to Profercy's content to subscribers worldwide. For more information, please use the sign up form below.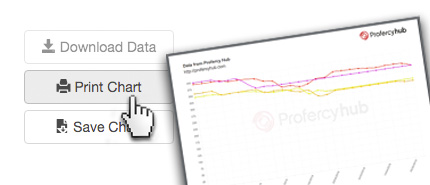 Key Prices
Profercy provides weekly price assessments for a wide range of fertilizer products traded worldwide. Many of these price assessments support the main index for the trade in fertilizer swaps and derivatives. The Profercy Hub provides subscribers with direct access to these prices, including those listed below:
Nitrogen
Prilled Urea: China fob, Black Sea fob, Baltic fob, Arab Gulf fob, SE Asia cfr, Brazil cfr, India cfr
Granular Urea: China fob, Arab Gulf spot fob, Egypt fob, Algeria fob, US Gulf Nola barge fob, Brazil cfr, Malaysia/Indonesia fob, SE Asia cfr
Ammonium Nitrate: Baltic fob, Black Sea fob, France delv. bulk, UK fot, Germany cif
UAN: France FCA, US East Coast cfr, US Gulf fob Nola, FSU fob Black Sea, Egypt fob
Ammonium Sulphate: Black Sea fob, Baltic/NW Europe fob, China fob, Brazil cfr, SE Asia cfr
Ammonia: Yuzhnyy/Black Sea fob, Baltic fob, Arab Gulf fob, North Africa cfr, Tampa cfr, India cfr
Phosphates & NPKs
DAP/MAP: Black Sea/Baltic fob, Brazil cfr, China fob, Morocco fob, Nola barge fob, Tampa fob
NP, NPK: 15-15-15 cif bulk Benelux, 17-17-17 cif bulk France, 16-16-16 cfr China/SE Asia, 16-16-16 fob FSU, 16-20-0 cfr SE Asia
Phosacid/Phosphate Rock: India P2O5, China fot 29-31%, Egypt fob 27-28%, India cfr 29-30%, Morocco fob 31-33%, Russia fob
SSP/TSP: Brazil fot ex-store inland, Egypt fob, Italy fot bagged ex-store, China fob, Morocco fob, Tunisia fob, Benelux/N Frabce fob/fot
Potash
Standard MOP: Russia US fob bulk, Belarus spot, SE Asia, Far East cfr
Granular MOP: Russia fob, Brazil cfr, Nola fob barge, W Europe cfr