Profercy World Nitrogen Index
Profercy's Nitrogen Index utilizes key global nitrogen fertilizer prices to derive a value for nitrogen as a crop nutrient. The Index provides a useful and straightforward tool to gauge the overall health of the World market for nitrogen fertilizers.
For the latest detailed market analysis on global urea, ammonia, nitrates and ammonium sulphate, you can sign up for a no-obligation trial of the Profercy Nitrogen Service. To do so, please click here.
Market Status: Stable to Soft
Week 48 2019: Moderate demand in the East and West post-India aids urea producers

The Profercy World Nitrogen Index gained for the first time in five weeks, up 1.04 points to 108.91 points. In the east, urea demand was evident from traders looking to cover awards in the 14 November RCF tender. With Chinese suppliers opting to hold out for an improvement in domestic demand, export offers were well above breakeven levels and led to price gains for SE Asian product.

In the west, North African granular producers achieved modest price increase with traders stepping in to cover short positions for Europe. Availability for December, particularly ex-Egypt, is tighter following the earlier sale of several cargoes to India. Producers also benefitted from the emergence of Turkish demand.

A tender in Tanzania this week also exposed the tightness for December shipments of prilled urea in the FSU. Two cargoes were committed to India from the Baltic and at least another three from the Black Sea.

Away from Europe and Africa, western markets were on the whole stable with liquidity light. Demand was evident in Brazil but importers were careful to manage purchases to avoid a price rally. Prices eased by $2-3pt, a very modest decline relative to the $5-10pt weekly declines that have prevailed in recent weeks. In the US, granular urea values consolidated in the low-$200s ps ton fob Nola for December barges.

Elsewhere, the prospect for European nitrates continues to be bleak with the negative mood in the urea market leading to ongoing buyer deferral in large part. Aggressive price reductions, as noted in France for AN, risk alienating large buyers that took length earlier in the year at higher prices.

For a detailed overview of the latest developments in global nitrogen markets, as well as the latest regional market analysis and price assessments, you can receive a free trial of the Profercy Nitrogen Service.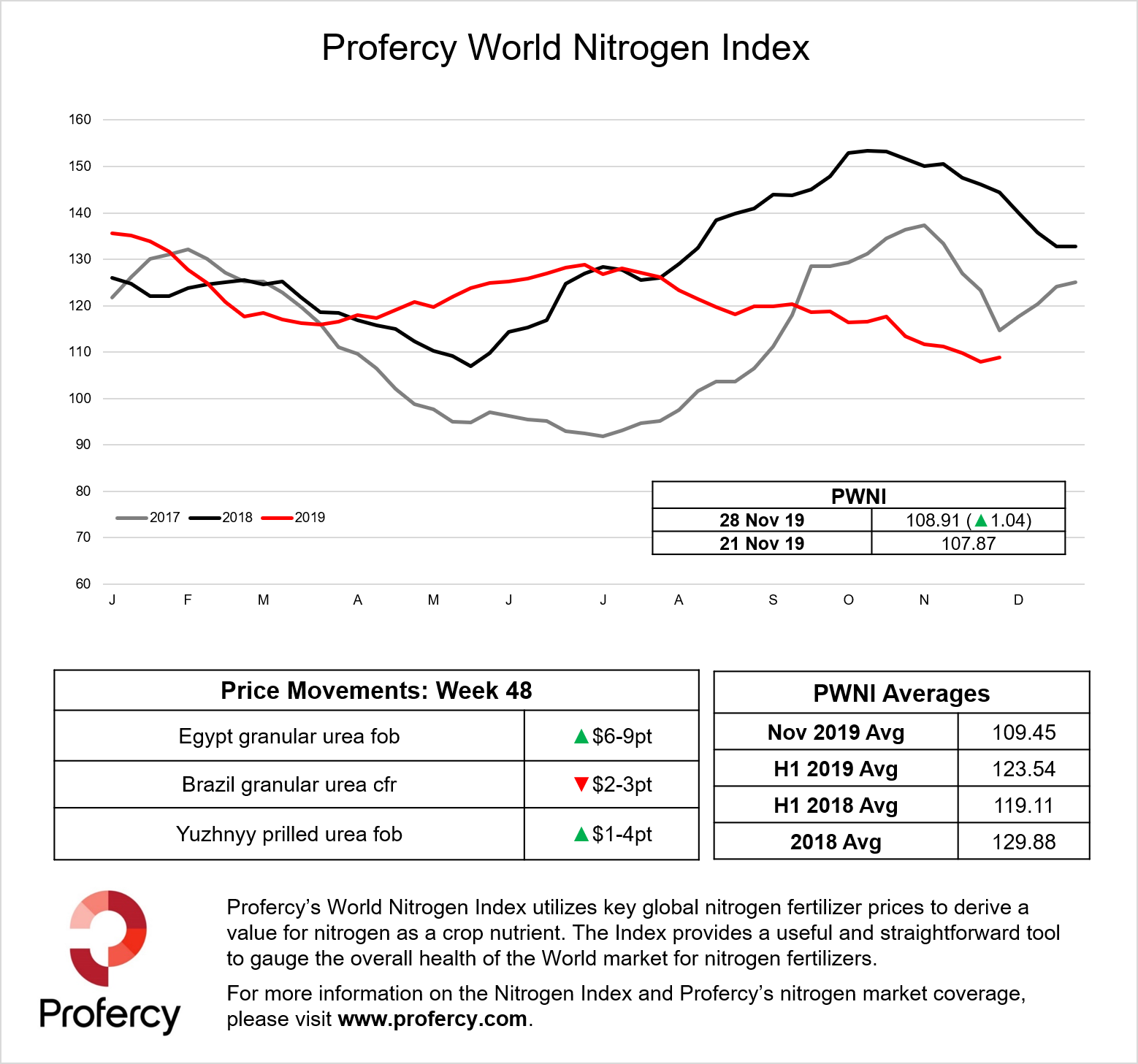 The Index is updated each week. An overview of the methodology can be found here.