Profercy World Nitrogen Index
Profercy's Nitrogen Index utilizes key global nitrogen fertilizer prices to derive a value for nitrogen as a crop nutrient. The Index provides a useful and straightforward tool to gauge the overall health of the World market for nitrogen fertilizers.
For the latest detailed market analysis on global urea, ammonia, nitrates and ammonium sulphate, you can sign up for a no-obligation trial of the Profercy Nitrogen Service. To do so, please click here.
Market Status: Stable to soft
Week 3 2020: Urea demand absent in east, Europe active for prompt/January shipments; Nola UAN values slide

The last major demand for urea in the east was for January shipments to India. With February shipments coming into focus, eastern markets have been subdued with the most significant inquiry for just 47,000t for Sri Lanka for March shipment. For the moment, producers in the Middle East have held spot prices, benefiting from late prompt demand to cover earlier Indian awards, as well as China's absence from the international market ahead of Chinese New Year. Nevertheless, Middle East product has been offered by traders for March around $10pt below prompt values with derivatives markets showing a similar trend.

In the West, urea suppliers are focused on Europe. Demand is evident in several markets, benefiting North African producers. Yet, latest sales tenders in Egypt for February shipments have resulted in no sales with traders yet to clear earlier positions. US Gulf prices edged up late last week, but gave back the gains midweek with last done business for February reflecting the high-$230s pt cfr metric.

While UAN markets have been stable in Europe, US Gulf prices came under pressure this week with imported UAN sold $10ps ton last done for prompt tows (earlier this month). FSU producers continue to ship major volumes to the US with Europe largely cut off following the introduction of European anti-dumping tariffs last year.

Profercy's World Nitrogen Index lost 0.61 points and currently stands at 109.86.

For a detailed overview of the latest developments in global nitrogen markets, as well as the latest regional market analysis and price assessments, you can receive a free trial of the Profercy Nitrogen Service.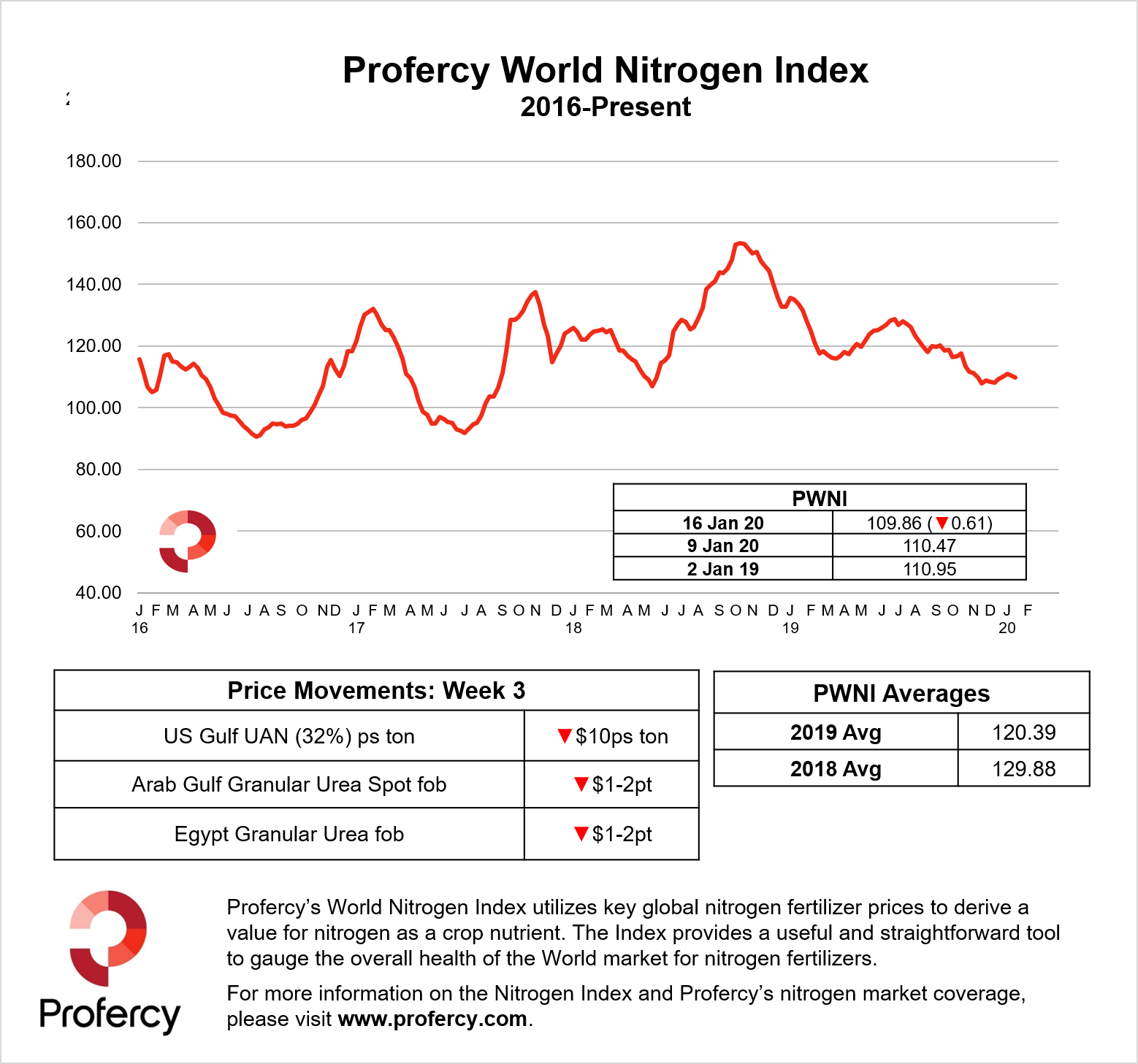 The Index is updated each week. An overview of the methodology can be found here.