Profercy World Nitrogen Index
Profercy's Nitrogen Index utilizes key global nitrogen fertilizer prices to derive a value for nitrogen as a crop nutrient. The Index provides a useful and straightforward tool to gauge the overall health of the World market for nitrogen fertilizers.
For the latest detailed market analysis on global urea, ammonia, nitrates and ammonium sulphate, you can sign up for a no-obligation trial of the Profercy Nitrogen Service. To do so, please click here.
Market Status: Firm
Week 25 2019: Nitrogen Index registers gains; urea producers optimistic basis anticipated Indian demand

Bolstered by higher fob prices for Egypt urea, the Profercy World Nitrogen Index advanced by 1.22 points to 128.22 this week. Average weekly gains have been 1.31 points since early May. Price movement in the urea market has been steady for some time, in stark contrast to the volatility of Q1-Q2 2018.

Urea producers remain confident in the aftermath of the IFA Conference in Montreal. Egyptian values hit $295pt fob with traders encouraged to take positions for July by the extent of turnarounds in North Africa in the next six weeks. Demand in Latin America has been solid over the past month with buyers in Argentina, Uruguay, Colombia, Chile and Mexico active.

This has offered opportunities to Chinese granular urea suppliers who have been able to compete in latest Mexican business at improved fob levels. Two to three cargoes have been booked for July shipment to west coast Mexico in the past week.

Meanwhile, Brazil remains a passive observer to market developments and continues to receive shipments from Iran.

The urea market still anticipates an Indian purchasing tender, with this expected to support prices in the next 30 days. As yet, there has been no firm news of a tender with some expressing concerns over the impact of the delayed monsoon on the timing of import demand.

In the US, Nola barge values have ticked up with June and July trading in the $250s ps ton fob Nola up to $260ps ton. While demand is evident and expected to run in to July, a consequence of the record delayed planting, optimism on nitrogen values is generally confined to the prospects for the next season. Indeed, UAN values along the river have come under pressure this week.

For a detailed overview of the latest developments in global nitrogen markets, as well as the latest regional market analysis and price assessments, you can receive a free trial of the

Profercy Nitrogen Service

.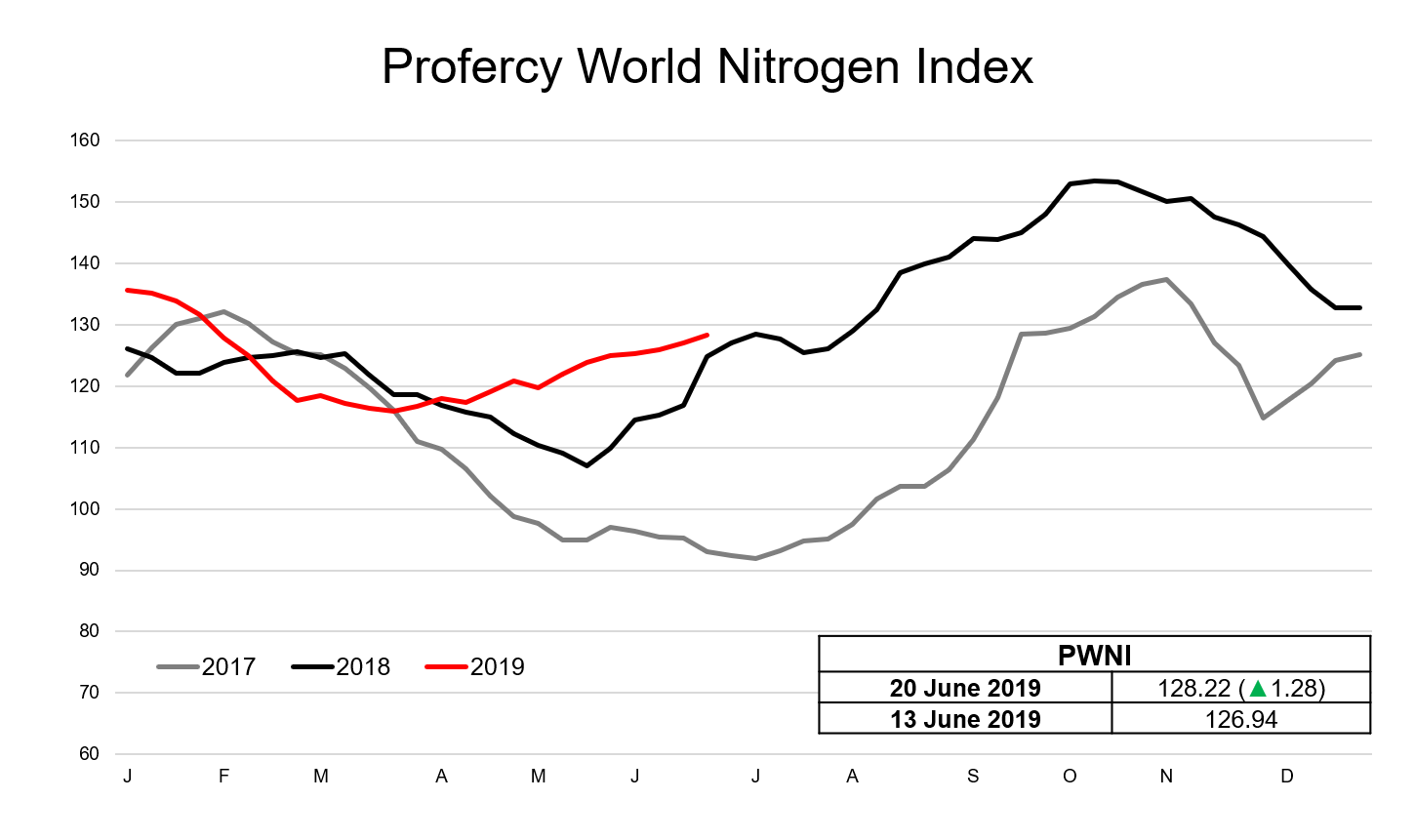 The Index is updated each week. An overview of the methodology can be found here.