Profercy World Nitrogen Index
Profercy's Nitrogen Index utilizes key global nitrogen fertilizer prices to derive a value for nitrogen as a crop nutrient. The Index provides a useful and straightforward tool to gauge the overall health of the World market for nitrogen fertilizers.
For the latest detailed market analysis on global urea, ammonia, nitrates and ammonium sulphate, you can sign up for a no-obligation trial of the Profercy Nitrogen Service. To do so, please click here.
Market Status: Firm
Week 8 2020 – USA continues to attract volumes, lifting AG values as Chinese focus on domestic markets

Arab Gulf prices jumped this week with spot business for March concluded more than $10pt above last done. The sudden price increase was the result of fierce competition for March availability with several traders vying for the cargo. The cargo is expected to be shipped to the US Gulf.

The tightness is the result of a combination of factors including Egyptian granular urea finding a lot of interest for Europe and the USA. Producers quickly sold out the bulk of February and March during first half February. In addition, Canadian and US demand has soaked up Baltic granular urea availability.

The most significant development has been in the east where Chinese producers raised granular urea offer levels to $255pt fob, up around $10pt from earlier in the week. The increase was a reflection of a buoyant domestic market in which buyers stepped up to secure product, in part due to fears of being caught short amid the disruptions caused by the coronavirus. In addition, Chinese producers had committed several cargoes for export over the past few weeks, mostly to Mexico.

Meanwhile, demand remains firm with the US a key driving factor. The US Gulf/east coast shipping line up continues to lag year on year. This has prompted traders to extend long positions for the USA from North Africa and the Arab Gulf. In addition, the Australian line up also looks light and with recent rains demand for several cargoes has been noted. Supply options meanwhile are limited with Indonesia selling domestically or in smaller lots regionally and Chinese supply noncompetitive.

As a result of the above factors, urea markets are on a bullish footing with the Profercy World Nitrogen Index gaining by 2.12 points this week to 111.20 points. The index has gained a combined 4.41 points over the last two weeks.

For a detailed overview of the latest developments in global nitrogen markets, as well as the latest regional market analysis and price assessments, you can receive a free trial of the Profercy Nitrogen Service.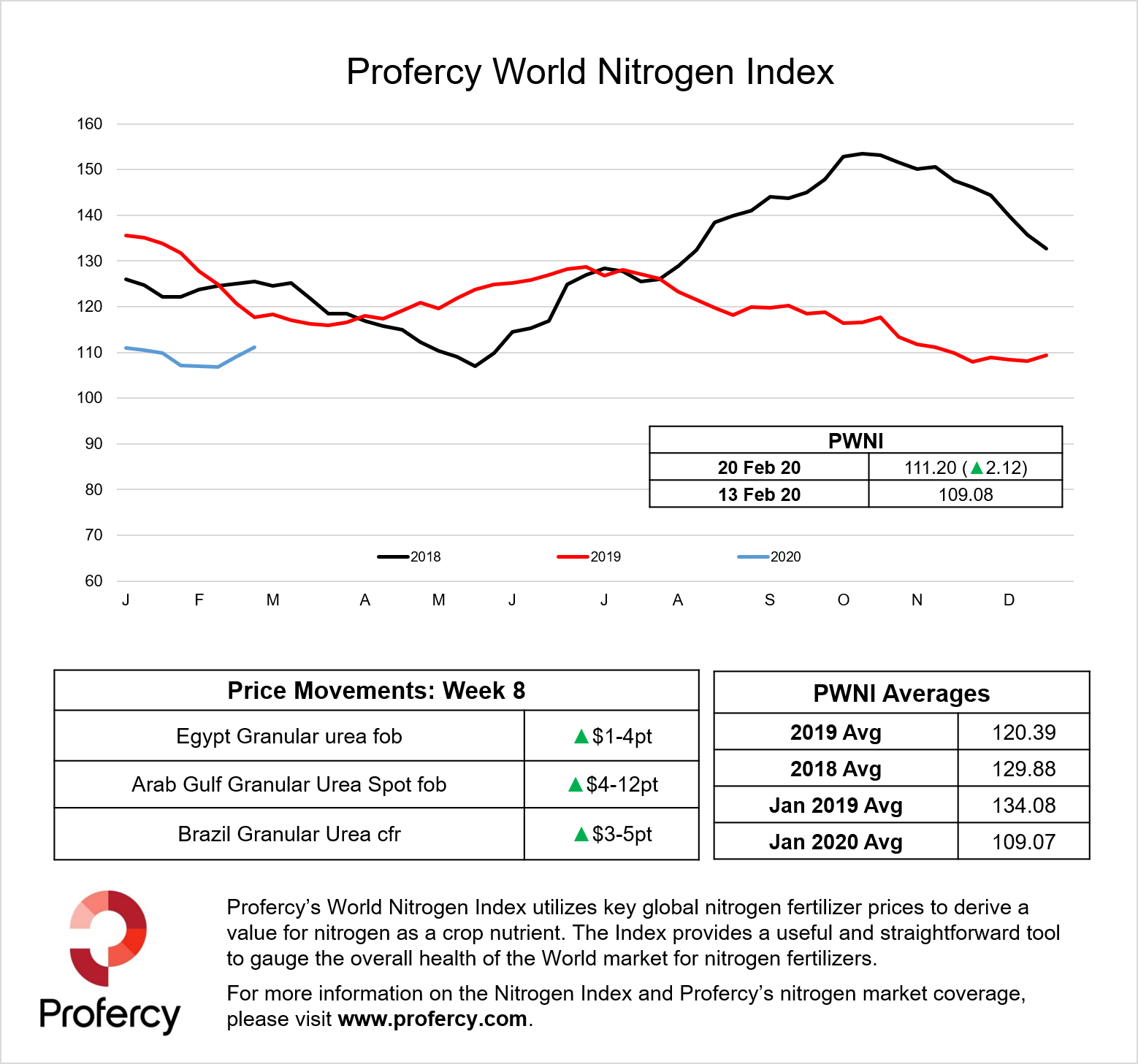 The Index is updated each week. An overview of the methodology can be found here.