Profercy World Nitrogen Index
Profercy's Nitrogen Index utilizes key global nitrogen fertilizer prices to derive a value for nitrogen as a crop nutrient. The Index provides a useful and straightforward tool to gauge the overall health of the World market for nitrogen fertilizers.
For the latest detailed market analysis on global urea, ammonia, nitrates and ammonium sulphate, you can sign up for a no-obligation trial of the Profercy Nitrogen Service. To do so, please click here.
Market Status: Firm
Week 29 2021 –PWNI sees first decline since May with urea business stalled ahead of Indian tender

After 10 weeks of consecutive increases owing to the surge in urea values, the Profercy World Nitrogen Index has declined slightly this week, falling 1.07 points to 218.10.

Prices in Brazil dropped by around $10pt to around $500pt cfr. In the US, prices were similarly lower and reflect $460-470pt cfr metric. High freight rates continued to impact fob netbacks.

Overall, activity in the urea market was limited ahead of the latest Indian purchasing tender. Market participants awaited news regarding whether more volumes would be supplied from China than in previous Indian inquiries. With pre-India rumours ranging from as low as 4-5 cargoes to 8-10 cargoes.

The wide differential between the domestic Chinese market and export prices has led to greater interest in export business as the market approaches the offseason, however, many suppliers remain wary that the government is keen to prioritise supply for the domestic market.

Following the close of the latest purchasing tender, India was offered just 1.65m. tonnes. This is below the 1.81m. tonnes offered in the previous tender and the second lowest volume offered in tenders this year.

The lowest east and west coast prices were around $510-517pt cfr with offers near this level very limited. This suggests that major volumes are unlikely to be supplied from China.

For a detailed overview of the latest developments in global nitrogen markets, as well as the latest regional market analysis and price assessments, you can receive a free trial of the Profercy Nitrogen Service.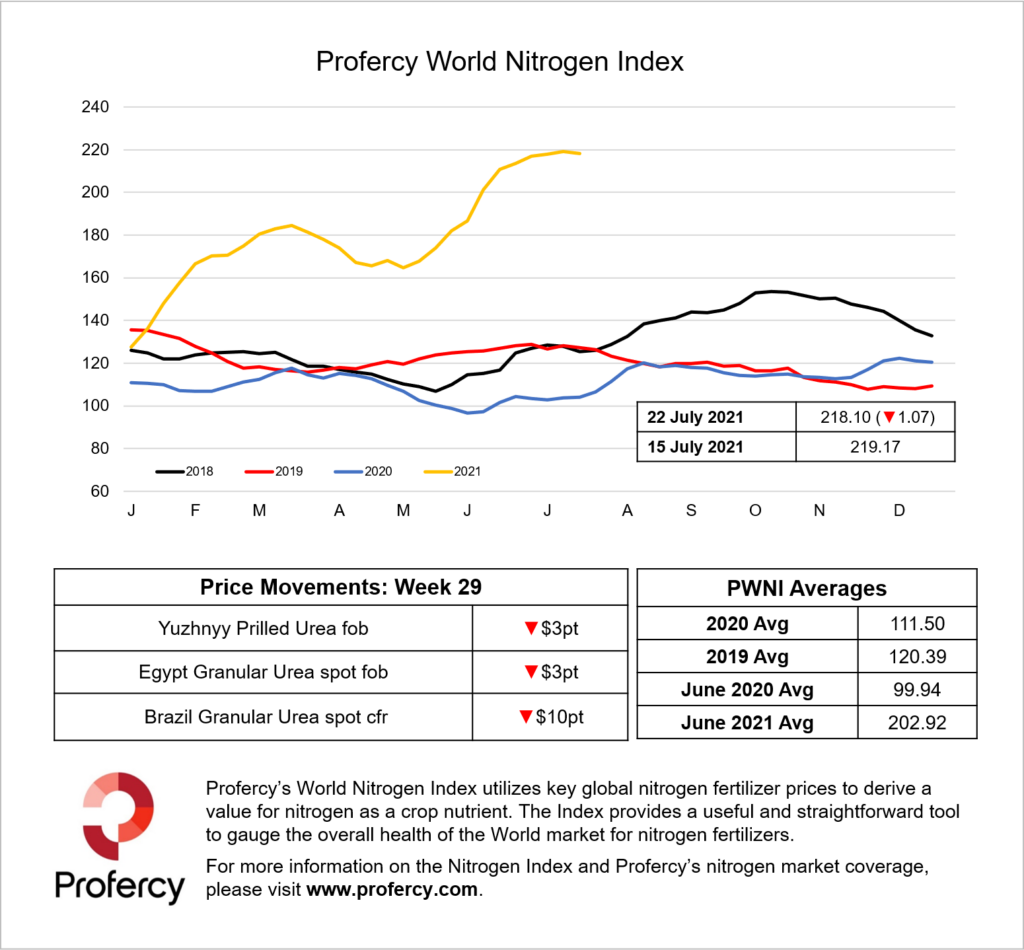 The Index is updated each week. An overview of the methodology can be found here.