Profercy World Nitrogen Index
Profercy's Nitrogen Index utilizes key global nitrogen fertilizer prices to derive a value for nitrogen as a crop nutrient. The Index provides a useful and straightforward tool to gauge the overall health of the World market for nitrogen fertilizers.
For the latest detailed market analysis on global urea, ammonia, nitrates and ammonium sulphate, you can sign up for a no-obligation trial of the Profercy Nitrogen Service. To do so, please click here.
Market Status: Stable to firm

Week 31 – 2-3 August 2018: India's return to the market restores granular urea prices

Unsurprisingly, details around the Indian urea purchasing tender dominated news most of this week. The tender supported pricing in regions that were beginning to show signs of weakness but overall, the immediate consensus appeared to judge it as more balanced than either bullish or bearish. Nonetheless, the Profercy World Nitrogen Index gained by 2.89 points this week to 128.94 points. At this point of the year in 2017, the index stood at 97.52 points.

Double digit gains for granular urea in Brazil and Egypt were largely behind the extent of the rise in the Index with most other regions registering modest gains as nitrogen markets firmed.

In Brazil, buyers returned to the market and accepted higher prices for granular urea, albeit in small volumes, as an immediate reaction to the Indian tender. Brazilian markets have been volatile of late with jagged price movements over the past few weeks. In late June, traders were able to achieve ever higher prices in Brazil as global markets rallied. However with India delaying its return to the market and Brazilian buyers stepping back, prices started declining. Upon news of fresh inquiry from India, prices quickly recovered gaining by up $25pt.

The full extent of the Indian tender is yet to be felt along with clarity over the exact volumes that will be purchased. The main beneficiary of the latest tender will be Iran. Basis lowest offers into India in the mid-$270s pt cfr west coast, Iranian suppliers will achieve fob prices around $255-260pt fob. This is $25-35pt above returns into other markets where Iranian product has been forced to compete at a heavy discount due to sanctions. The tender will also give Iranian suppliers the opportunity to exit the market for much of the next six weeks.

For a detailed overview of the latest developments in global nitrogen markets, as well as the latest regional market analysis and price assessments, you can receive a free trial of the Profercy Nitrogen Service.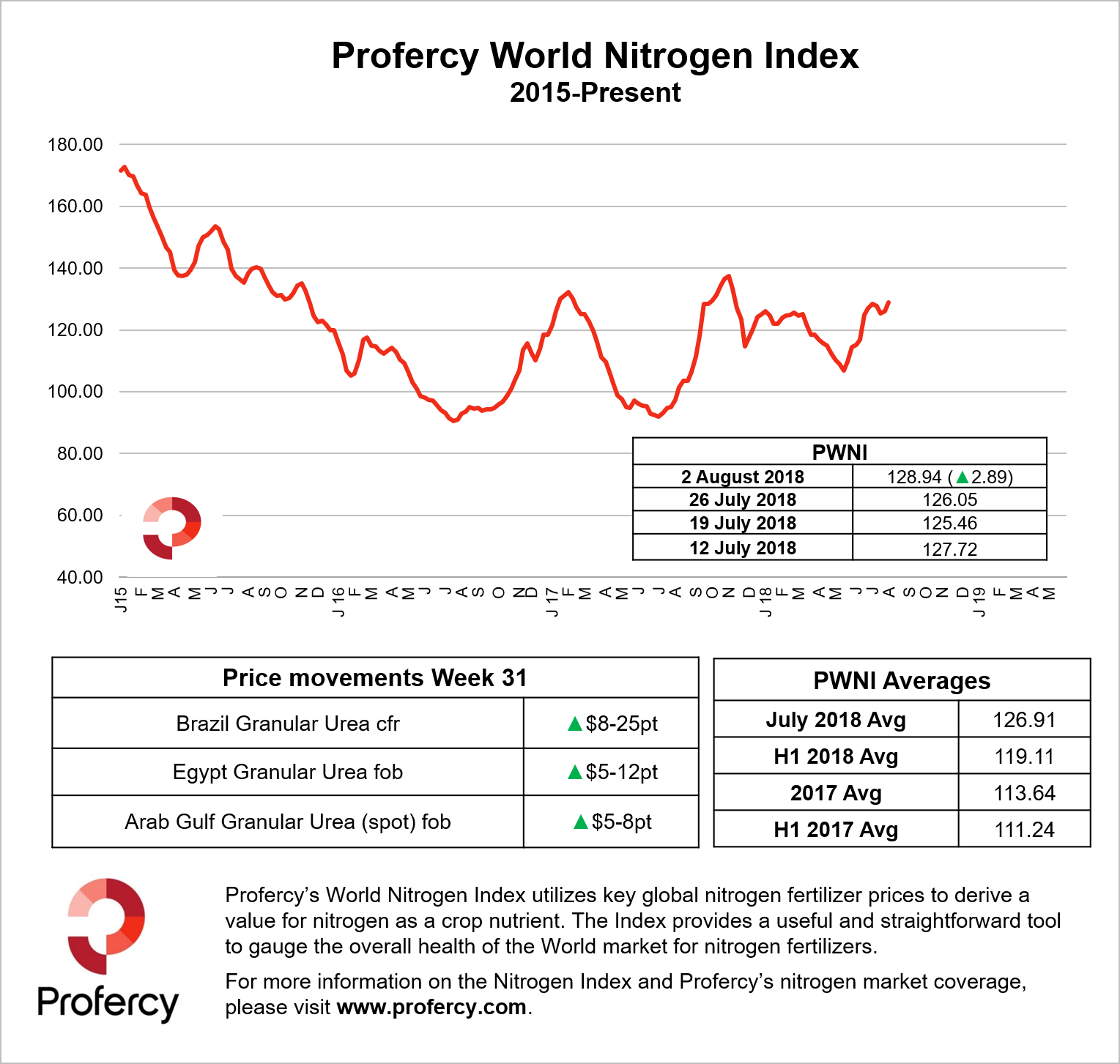 The Index is updated each week. An overview of the methodology can be found here.