Profercy World Nitrogen Index
Profercy's Nitrogen Index utilizes key global nitrogen fertilizer prices to derive a value for nitrogen as a crop nutrient. The Index provides a useful and straightforward tool to gauge the overall health of the World market for nitrogen fertilizers.
For the latest detailed market analysis on global urea, ammonia, nitrates and ammonium sulphate, you can sign up for a no-obligation trial of the Profercy Nitrogen Service. To do so, please click here.
Market Status: Soft
Week 7 2019: Downturn continues – Nitrogen Index loses almost 15 points since mid-January

There has been no respite for global nitrogen suppliers this week. The lack of liquidity is still a major challenge for urea producers. With Brazil and India out of the market, suppliers have been increasingly reliant on the US, Europe and Turkey. Buyers are in no hurry with February and March shipments available from North Africa, Nigeria and Russia, while Turkish buyers are receiving considerable volumes of discounted Iranian material.

In latest business, Egyptian fob values fell $10-13pt for major lots of granular urea while Baltic prilled prices fell to the mid-$230s pt fob, down $10pt, to support sales to Latin America.  Suppliers in the east have been reluctant to drop prices, but with Asian markets quiet, will no doubt need to move soon to place end-February/March availability.

The bearish sentiment is not exclusive to the urea market. Global UAN values are increasingly exposed to the US market due to limited demand elsewhere. Nola UAN values have fallen $10ps ton in the past week with the biggest domestic supplier revising down terminal values for February and March tonnes. However, offshore suppliers have quickly responded in an effort to secure US business.

The Nitrogen Index has lost 14.89 points since mid-January and currently stands at 120.75 points, over one point below the lowest level seen in February 2018 (122.10).

For a detailed overview of the latest developments in global nitrogen markets, as well as the latest regional market analysis and price assessments, you can receive a free trial of the

Profercy Nitrogen Service

.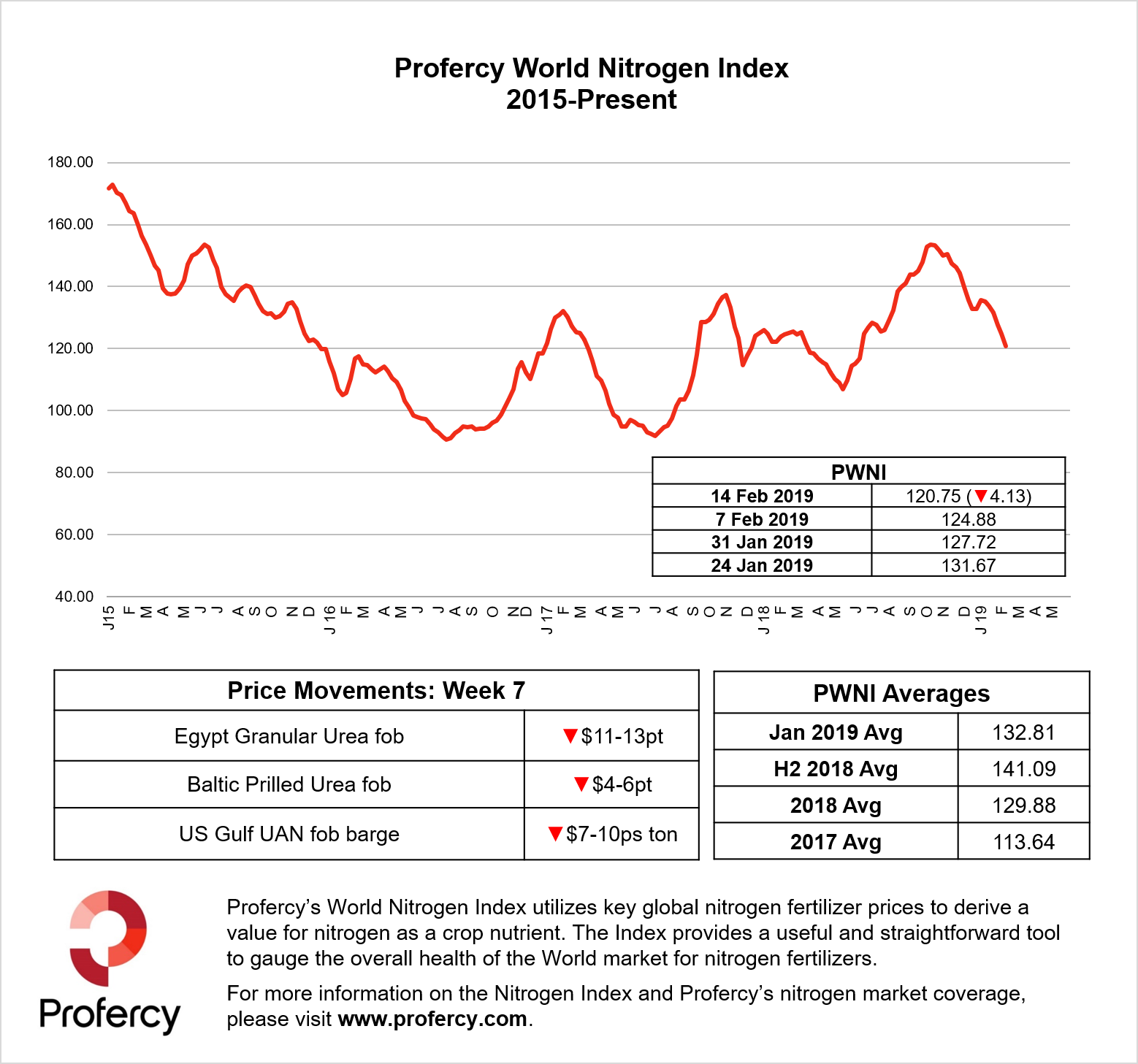 The Index is updated each week. An overview of the methodology can be found here.