Profercy World Nitrogen Index
Profercy's Nitrogen Index utilizes key global nitrogen fertilizer prices to derive a value for nitrogen as a crop nutrient. The Index provides a useful and straightforward tool to gauge the overall health of the World market for nitrogen fertilizers.
For the latest detailed market analysis on global urea, ammonia, nitrates and ammonium sulphate, you can sign up for a no-obligation trial of the Profercy Nitrogen Service. To do so, please click here.
Market Status: Stable
Week 41 2019: Market steady ahead of Indian purchasing tender

The Profercy World Nitrogen Index was stable with only a 0.10 point uptick week on week as global urea markets remained rangebound and moved in opposite directions.

In Egypt, prices increased by $4-5pt to the mid-$250s pt fob. The moves were largely a recovery with prices moving down from the mid-$260s pt fob a few weeks ago in the absence of European demand. By contrast, Arab Gulf prices declined, down $1-3pt with a November cargo committed to wc USA.

Similarly rangebound but opposing moves were noted in Brazil and the US Gulf. In Brazil, prices recovered as suppliers increased offers following the Indian tender announcement. Meanwhile, in the US, prices declined to below $240ps ton fob Nola for the first time since March. The changing logistical situation, with the hampering of movements along some routes of the Mississippi River while other waterways have or are due to reopen, is largely to the benefit of US producers and at the expense of Nola values.

Next week should afford further price clarity. MMTC is expected to buy a significant volume in next week's tender which will likely absorb available supply in the Arab Gulf and could be an outlet for FSU and Asian producers. The extent of Chinese participation will likely determine the supply/demand balance for the west in the weeks that follow.

The Profercy World Nitrogen Index gained a modest 0.10 points week on week to 116.57 points.

For a detailed overview of the latest developments in global nitrogen markets, as well as the latest regional market analysis and price assessments, you can receive a free trial of the Profercy Nitrogen Service.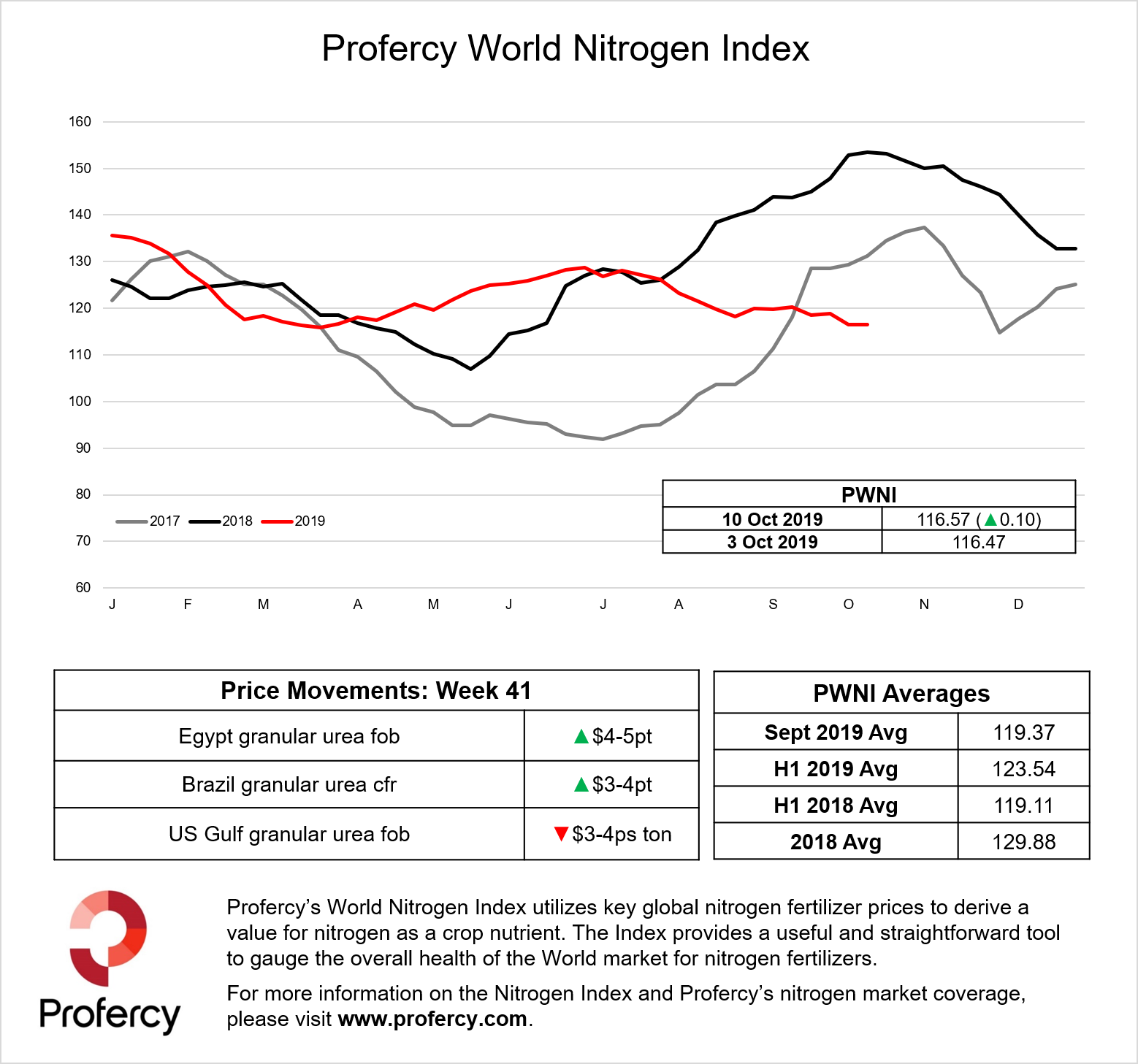 The Index is updated each week. An overview of the methodology can be found here.