Profercy World Nitrogen Index
Profercy's Nitrogen Index utilizes key global nitrogen fertilizer prices to derive a value for nitrogen as a crop nutrient. The Index provides a useful and straightforward tool to gauge the overall health of the World market for nitrogen fertilizers.
For the latest detailed market analysis on global urea, ammonia, nitrates and ammonium sulphate, you can sign up for a no-obligation trial of the Profercy Nitrogen Service. To do so, please click here.
Market Status: Stable
Week 27 2020 – PWNI edges lower on muted activity

The Profercy World Nitrogen Index edged 0.39 points lower to 102.96 this week, with little activity in the nitrogen markets to dictate price movements.

In the urea market buying activity remains slim. In spite of China re-entering the global market and lowering their offers, this has done little to entice significant buying thus far. Chinese prilled urea was awarded in Tanzania just over $220pt fob equivalent, and also sold in the Philippines at competitive levels. Only small volumes have been committed to India following the end-June inquiry, but China is expected to be a greater export force through Q3.

Interest in Egyptian granular at $240pt fob has also weakened, although producers are comfortable for July and continue to hold offers at this level for the time being. This despite limited demand from the offseason European market.

In the US Gulf, prices remain supported by the potential opportunity to re-export, with the window of opportunity for shipments to Latin America still open.

For a detailed overview of the latest developments in global nitrogen markets, as well as the latest regional market analysis and price assessments, you can receive a free trial of the Profercy Nitrogen Service.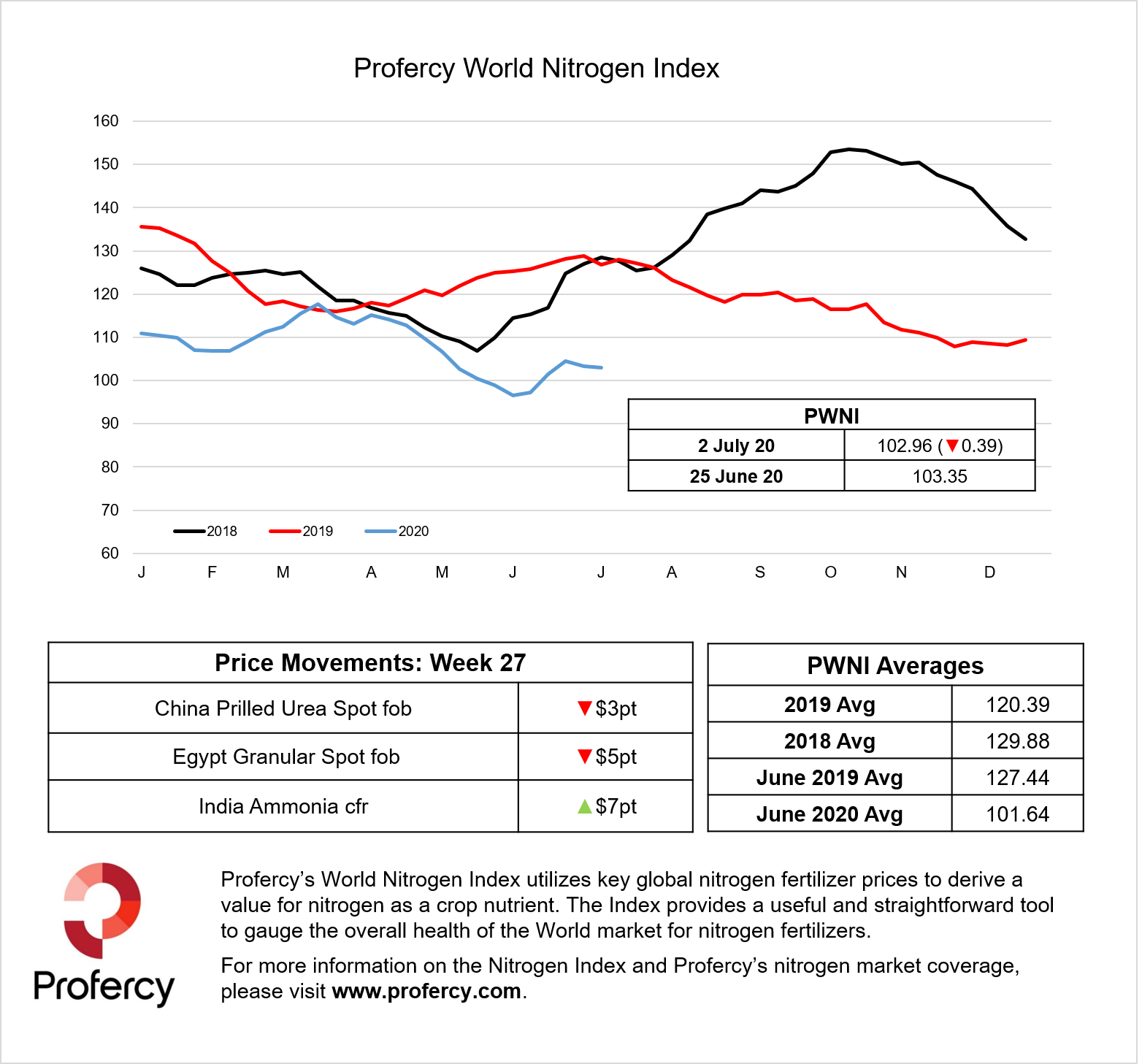 The Index is updated each week. An overview of the methodology can be found here.