Profercy World Nitrogen Index
Profercy's Nitrogen Index utilizes key global nitrogen fertilizer prices to derive a value for nitrogen as a crop nutrient. The Index provides a useful and straightforward tool to gauge the overall health of the World market for nitrogen fertilizers.
For the latest detailed market analysis on global urea, ammonia, nitrates and ammonium sulphate, you can sign up for a no-obligation trial of the Profercy Nitrogen Service. To do so, please click here.
Market Status: Stable to soft
Week 44 2020 – PWNI tracks sideways as urea market fails to react to India's record purchase

Confirmation of India's record urea purchase of 2.2m. tonnes late last week has not brought the upwards momentum to the market that many had previously hoped for.

While Chinese suppliers have been quoting and achieving higher levels for first half November shipments, the business concluded has been for traders needing to cover for India or for small volumes. There is as yet very little demand for second half November shipments in the east.

In the west, buyers in Europe and Brazil are yet to show any interest in making significant purchases, resulting in producers and suppliers lowering their offers as a result.

In Egypt, granular urea has been offered sub-$255pt fob with some sales taking place at these levels. While in Brazil, small volumes were heard sold from floating cargoes in below $260pt cfr. Offers for major volumes for later shipment have yet to be offered this low, but earlier business over $265pt cfr has not been repeatable in the past week.

The US Gulf saw November barge values edge around $5ps ton higher, however, US urea prices remain cheap compared to the rest of the market. Grain values are at high levels, and this could help to support Nola urea prices heading into Q1 2021.

With a mixed picture in the global urea market at present, the Profercy World Nitrogen Index this week tracked sideways, edging 0.39 points lower to 113.31.

For a detailed overview of the latest developments in global nitrogen markets, as well as the latest regional market analysis and price assessments, you can receive a free trial of the Profercy Nitrogen Service.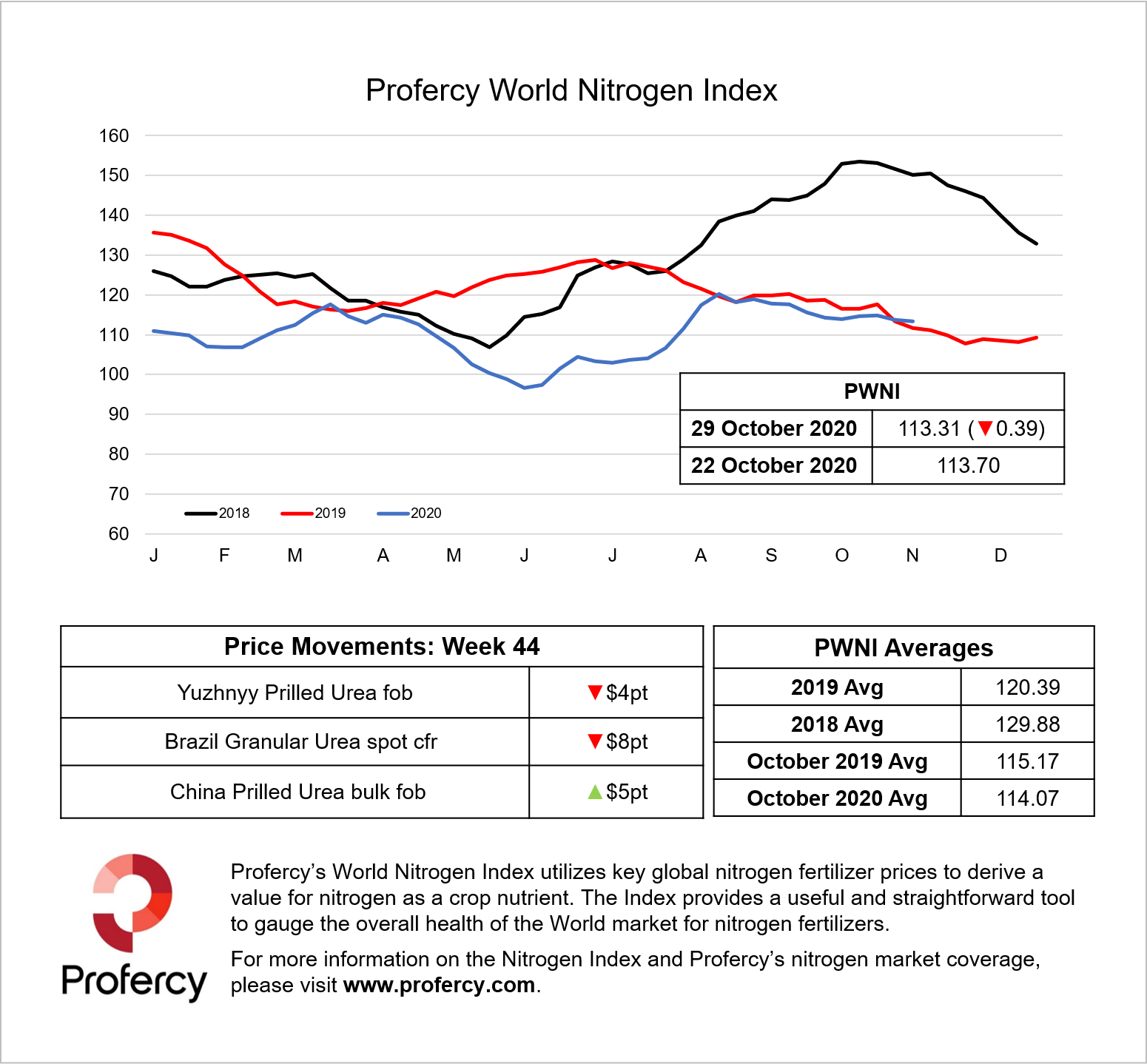 The Index is updated each week. An overview of the methodology can be found here.