Profercy World Nitrogen Index
Profercy's Nitrogen Index utilizes key global nitrogen fertilizer prices to derive a value for nitrogen as a crop nutrient. The Index provides a useful and straightforward tool to gauge the overall health of the World market for nitrogen fertilizers.
For the latest detailed market analysis on global urea, ammonia, nitrates and ammonium sulphate, you can sign up for a no-obligation trial of the Profercy Nitrogen Service. To do so, please click here.
Market Status: Soft
Week 23 2020 –

PWNI edges up on emerging buying demand in some markets

Following 8 weeks of declines, the Profercy World Nitrogen Index this week edged up by 0.74 points to 97.31, with buying demand emerging across some markets.

The urea market has been buoyed by an increase in buying activity in Brazil, in part owing to the appreciation of the Real against the US dollar, which has increased 5-6% week on week. These increases also prompted Algerian and Egyptian producers to seek higher prices.

The increased demand in Brazil has also supported sentiment in Nola, with barge values ticking higher as the week progressed. Continued efforts to re-export material from the US Gulf to the Latin American markets evident.

On the whole, global producers have been cautiously optimistic that India will offer a good outlet for end-June and July shipments, especially given limited export interested from Chinese producers to date.

Meanwhile, in the ammonia market buyers in the Middle East and SE Asia have been actively sourcing material as a result of production cutbacks in Indonesia and Saudi Arabia. This support in the market may, however, be short lived and not a sign of improving fundamental demand.  

For a detailed overview of the latest developments in global nitrogen markets, as well as the latest regional market analysis and price assessments, you can receive a free trial of the Profercy Nitrogen Service.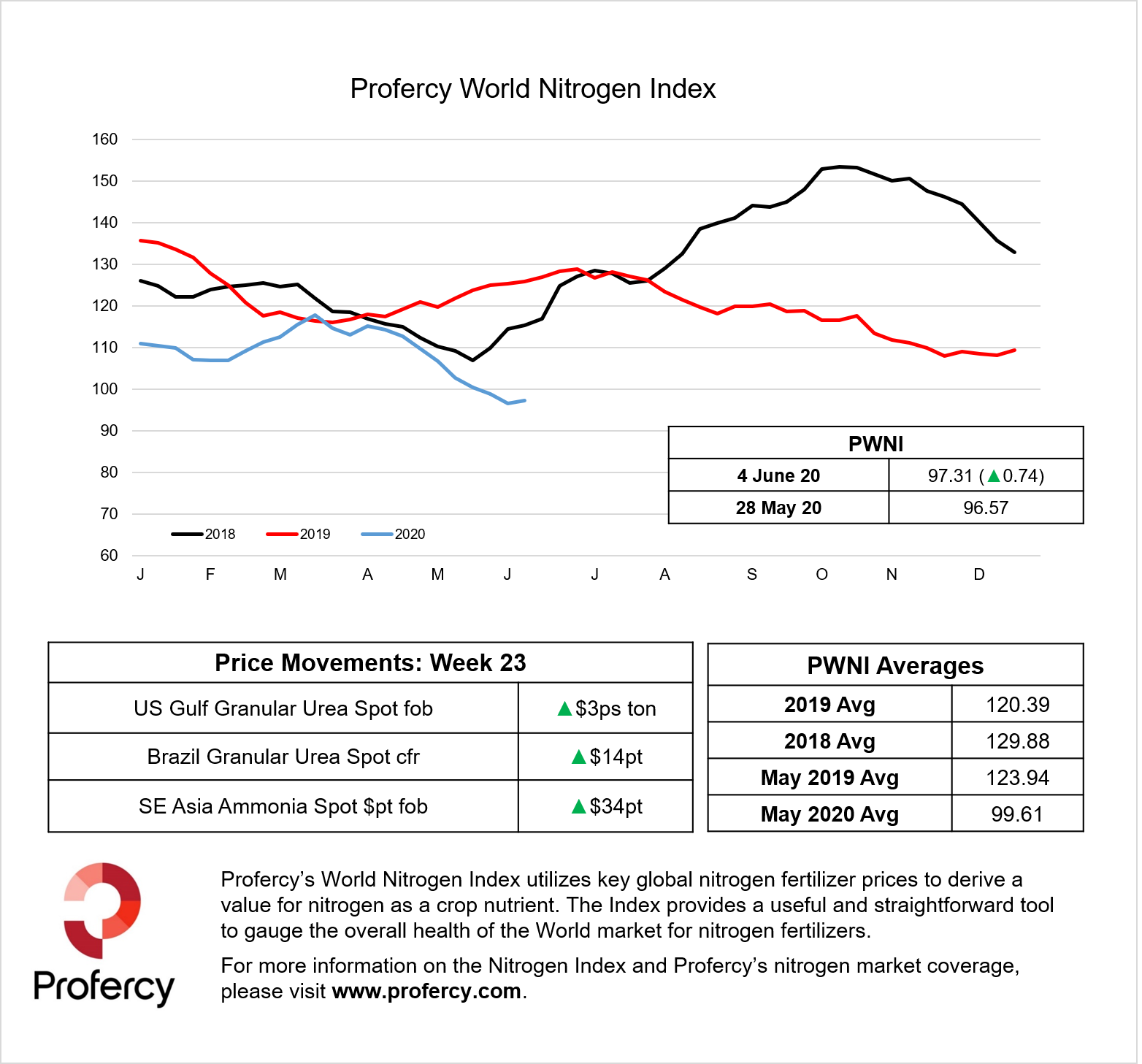 The Index is updated each week. An overview of the methodology can be found here.