Profercy World Nitrogen Index
Profercy's Nitrogen Index utilizes key global nitrogen fertilizer prices to derive a value for nitrogen as a crop nutrient. The Index provides a useful and straightforward tool to gauge the overall health of the World market for nitrogen fertilizers.
For the latest detailed market analysis on global urea, ammonia, nitrates and ammonium sulphate, you can sign up for a no-obligation trial of the Profercy Nitrogen Service. To do so, please click here.
Market Status: Soft
Week 39 2020 – PWNI declines as India's absence continues to weigh on the urea market

The Profercy World Nitrogen Index lost 1.29 points this week, falling to 114.30. In the urea market all eyes continue to point towards India. With the world's largest importer yet to announce a fresh purchasing inquiry, sentiment remains soft and lower urea values were heard in the east and west.

With news from India scarce, neither traders nor importers have been prepared to take positions for October, and shipments remain widely available at the producer level.

Furthermore, the slow European and Latin American markets have done little to aid Egyptian producers, with many this week cutting offers further in order to secure business for markets further afield. A bulk cargo for October shipment traded in the high-$250s pt fob for Bangladesh, with Mediterranean business taking place at much lower levels. This is a vast decline from a month ago, when business took place more than $20pt fob higher.

In China, lower offers were also heard from suppliers who are feeling the nerves ahead of the Golden Week holiday period. Shipments under the earlier MMTC inquiry are due to complete by 5 October. There have been few cargoes booked for shipment after this date.

Returning to the West, the Brazilian market has been steady, but slow. While in the US Gulf, deferred Nola barges have reacted to the bearish sentiment in the international market, with October values losing $10ps ton over the week to trade at levels last seen in late July.

For a detailed overview of the latest developments in global nitrogen markets, as well as the latest regional market analysis and price assessments, you can receive a free trial of the Profercy Nitrogen Service.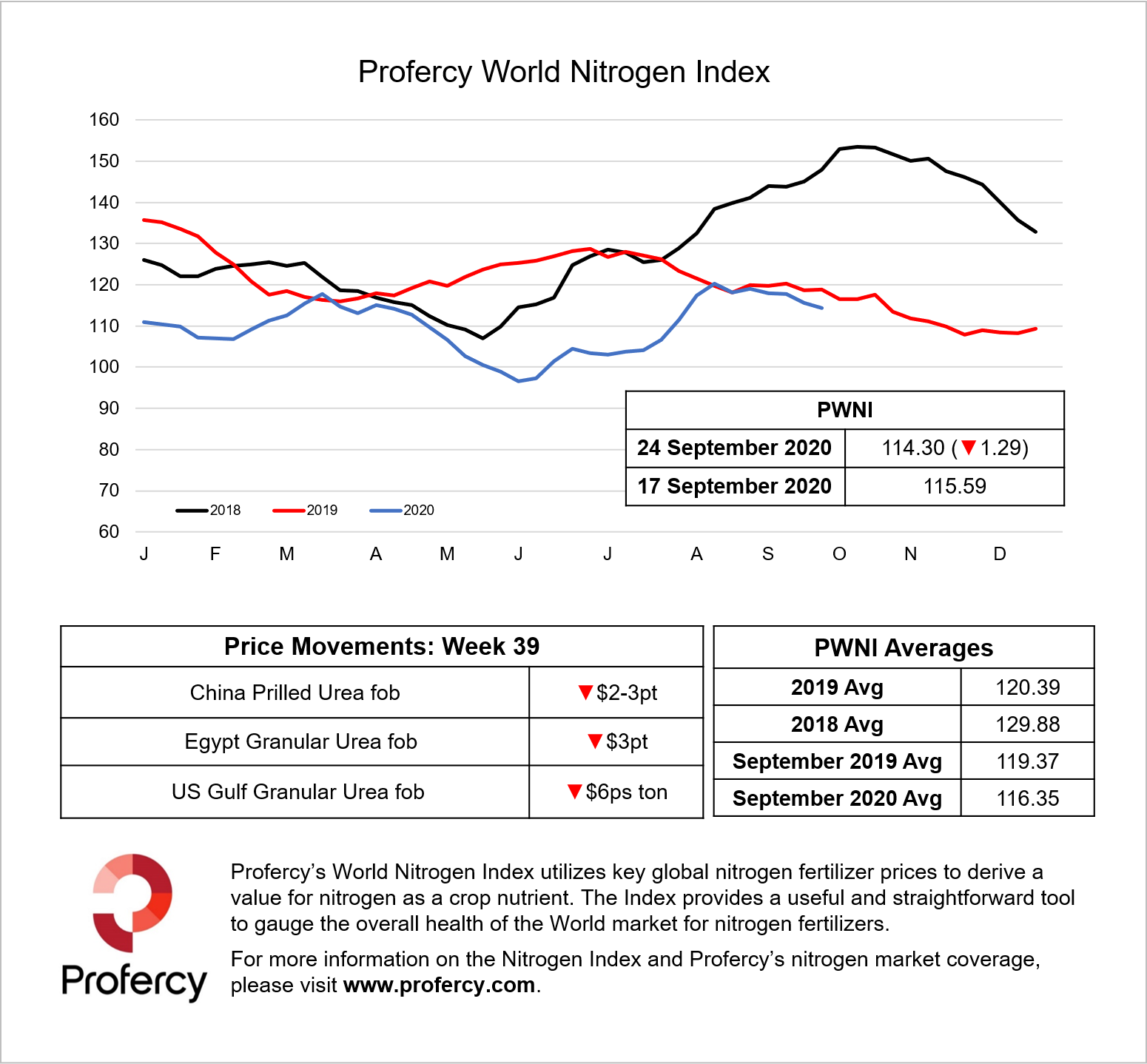 The Index is updated each week. An overview of the methodology can be found here.