Profercy World Nitrogen Index
Profercy's Nitrogen Index utilizes key global nitrogen fertilizer prices to derive a value for nitrogen as a crop nutrient. The Index provides a useful and straightforward tool to gauge the overall health of the World market for nitrogen fertilizers.
For the latest detailed market analysis on global urea, ammonia, nitrates and ammonium sulphate, you can sign up for a no-obligation trial of the Profercy Nitrogen Service. To do so, please click here.
Market Status: Soft

Week 50: Nitrogen Index falls over four points as global urea market remains under pressure

Ahead of the New Year holidays, global nitrogen markets continue to weaken. The Profercy World Nitrogen Index fell by 4.26 points week on week to 135.69 points. In the past two weeks, the Index has declined a combined 8.69 points and is now at levels last seen in early August.

Week on week, the key urea market drivers remain the same with values in Brazil declining and producers under supply pressure with outlets for large volumes sparse. Those with December shipments still available have been forced to accept lower levels while demand for January shipments is lacking. However, demand from Ethiopia and to a lesser extent Sri Lanka has lent some support to Middle East prices.

In contrast, the west has offered limited opportunities for suppliers. Prices in Brazil fell $10-20pt over the week, down an accelerated rate compared to the $5-10pt declines of the previous weeks. A combination of a lengthy line up and unsold volumes already on the water or even at port have weighed heavily on markets.

The reaction from the US Gulf to the lower Brazilian levels was muted with the weekly range narrowing from either side instead of a reciprocal decline. US markets are supported by demand from distributors and with terminal values trading at a premium of up to $40-50ps ton over Nola.

The US Gulf is now at a premium to Brazil. This is likely to attract at least some extra spot availability from the Baltic, North Africa and the Arab Gulf despite producers' wariness of the US price volatility.

For a detailed overview of the latest developments in global nitrogen markets, as well as the latest regional market analysis and price assessments, you can receive a free trial of the Profercy Nitrogen Service.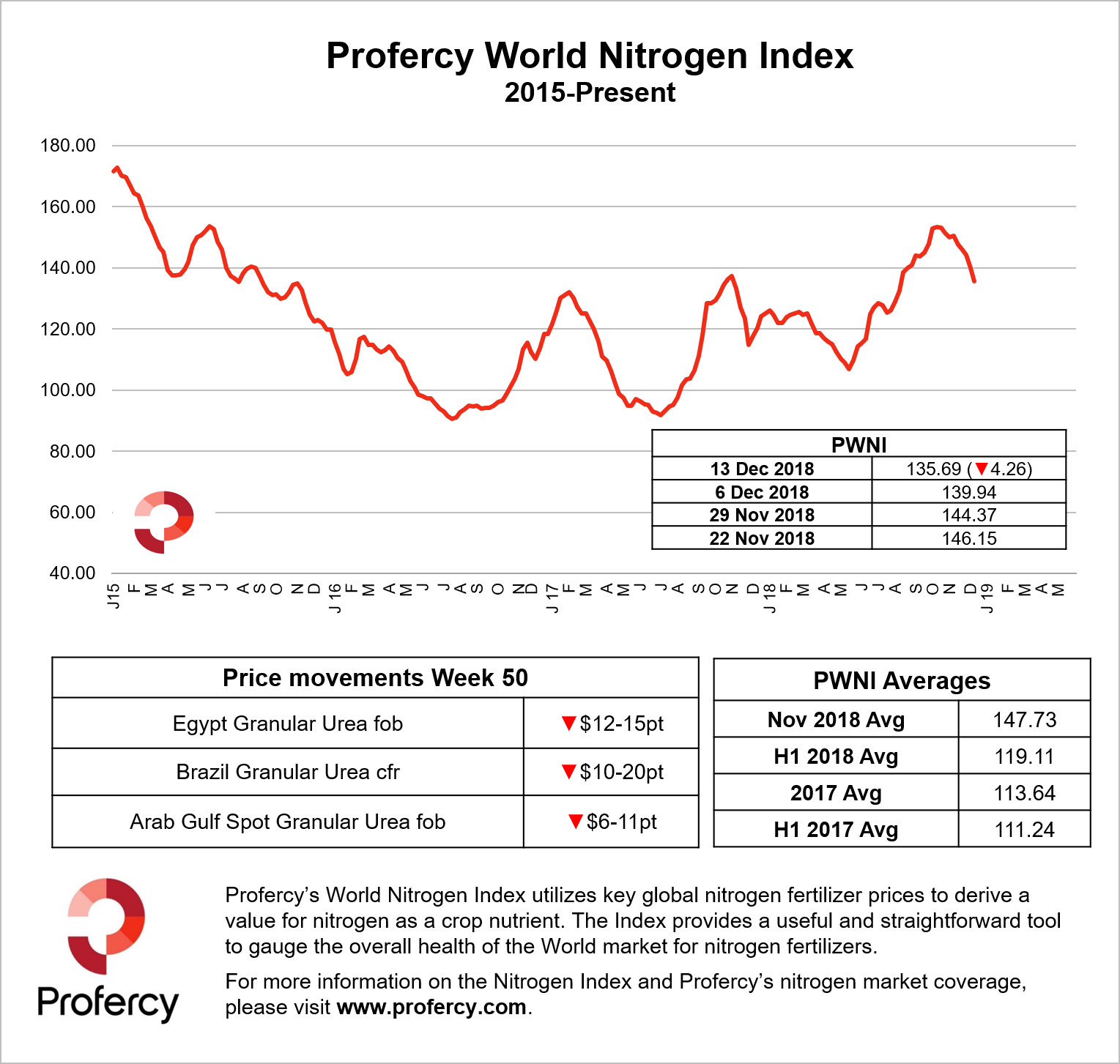 The Index is updated each week. An overview of the methodology can be found here.