Profercy World Nitrogen Index
Profercy's Nitrogen Index utilizes key global nitrogen fertilizer prices to derive a value for nitrogen as a crop nutrient. The Index provides a useful and straightforward tool to gauge the overall health of the World market for nitrogen fertilizers.
For the latest detailed market analysis on global urea, ammonia, nitrates and ammonium sulphate, you can sign up for a no-obligation trial of the Profercy Nitrogen Service. To do so, please click here.
Market Status: Soft
Week 34 2019: Sixth week of urea price declines as producers chase outlets

Urea producers in all major fob regions are being forced to reduce prices in order to build order books for September shipments. With buyers hesitant, there has been limited cfr business in the past week.

This week several producers in Egypt dropped prices $5-10pt to secure sales with over 150,000t sold by the end of the week. Traders are reported to have stepped in to cover short positions. In SE Asia, granular urea producers are also struggling to secure business with reports that some are coming under increasing supply pressure to sell prompt volumes.

In Brazil, further shipments of Iranian urea are planned in the coming weeks, complicating sales of non-sanctioned urea. Meanwhile, in the US Gulf, thin bits of business had been noted throughout the week with a sudden flurry of activity near the end of the week which saw at least 12,000 short tons traded in one day.

The urea situation is weighing heavily on the nitrates markets which are struggling to shake off the negative sentiment. Meanwhile, sulphates are unaffected by urea with prices moving according to separate fundamentals. Chinese standard caprolactam grade amsul prices declined $2pt to $116pt fob this week.

For a detailed overview of the latest developments in global nitrogen markets, as well as the latest regional market analysis and price assessments, you can receive a free trial of the

Profercy Nitrogen Service

.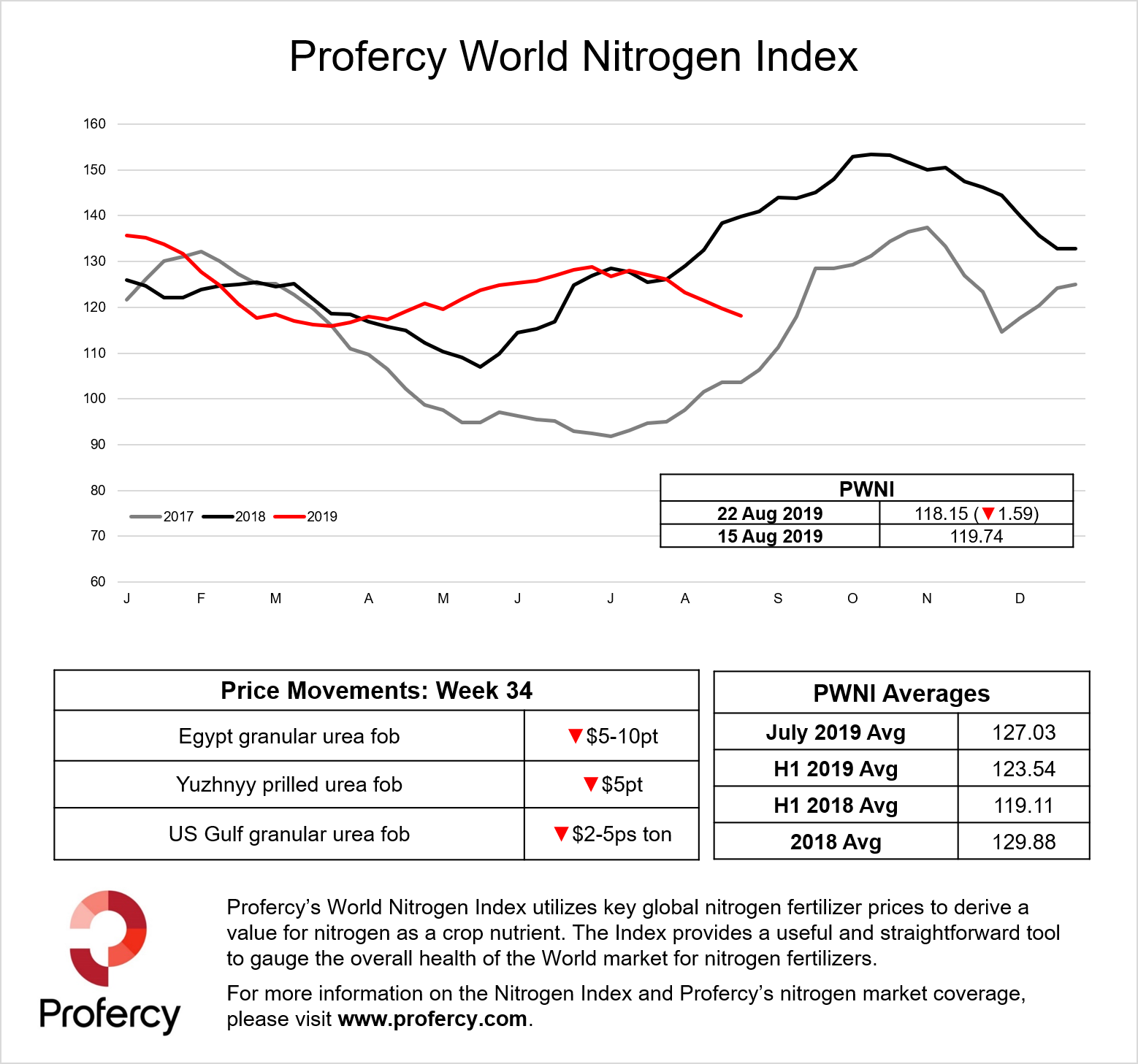 The Index is updated each week. An overview of the methodology can be found here.